Will Quake extend a 6-fight winning streak at UFC Vegas 22?
Gillespie to face Riddell
Lightweights Gregor Gillespie and Brad Riddell are to fight in the UFC Vegas 22 co-main event on March 20. Will Quake extend a 6-bout winning streak?
Gregor Gillespie stats
Gillespie began competing in MMA as a pro in 2014. His record stands at 13-1. The Gift became a ROC champion in 2015, defended the title twice and transitioned to the UFC in 2016. In the promotion, he won 6 consecutive clashes and earned 2 bonuses for the best performance. In 2019, Gregor faced Kevin Lee, the toughest opponent in his career. The contest resulted in Gillespie's loss by KO, and he moved down to 15th place in the UFC lightweight ranking.
Brad Riddell stats
Riddell started his MMA career in 2013 and amassed a record of 9-1. Quake won the Wollongong Wars title at welterweight in 2019 and signed with the UFC. He beat 3 opponents in the promotion: Jamie Mullarkey, Magomed Mustafaev and Alex da Silva Coelho. However, Brad is not listed in the top 15 lightweights. Riddell dropped the only bout to Abel Brites in 2018. He is currently riding on a 6-fight winning streak.
Gillespie vs Riddell stats
Gregor lands 41% fewer shots per minute, but Brad takes 12% more blows.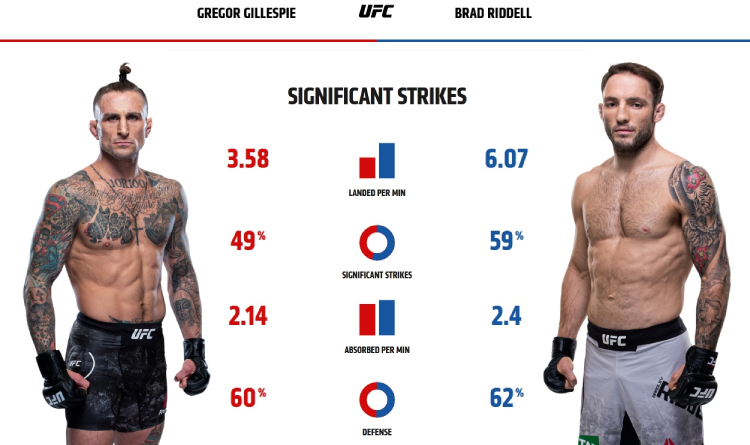 Gillespie outnumbers Riddell's takedowns almost 7 to 1. Besides, Quake, in contrast to his rival, has never made submission attempts in UFC clashes.
Gillespie vs Riddell preview
Brad participated in kickboxing tournaments and compiled a record of 59-10. Gregor coached in kickboxing; however, he never took part in competitions. Consequently, Riddell is a much more proficient striker. The Gift has a crisp boxing technique, but he rarely throws kicks. Quake employs a wider range of shots, and he has a higher accuracy rate.
Gillespie is a former NCAA Division I Wrestling champion and a 3-time Eastern Wrestling League gold medalist. He also has a blue belt in BJJ. Riddell earned a purple belt in BJJ, but he did not enter grappling tournaments. Thus, Gregor has more experience and expertise in wrestling.
Given Brad's edge in striking, he will definitely outperform his opponent on the feet. Nevertheless, Gregor is expected to eschew striking exchanges and focus on grappling. Considering The Gift's outstanding wrestling skills, he has a great chance of bringing the fight to the canvas and controlling his rival on the mat. Quake has a solid defence, but he will unlikely be able to deny all takedowns and eventually end up on the canvas. Brad's grappling experience will not be enough to compete with Gregor on the ground. In case Gillespie takes Riddell into deep water, he will win the contest.
Gillespie has a high finish rate – 85%, and his average fight time is 7:01. However, Riddell has a strong chin and a BJJ background, which makes him hard to be knocked out and submitted. In the light of this factor, Gregor is supposed to score victory via decision.
The most probable fight results
Gregor Gillespie to win by decision (12/5);
Total rounds over 2.5 (9/10).
Disclaimer: Fight analysis is not a betting tip or a gambling advice of any sort. Our experts determine the most likely outcome of a sporting event based on statistics and personal views. Therefore, the actual result of a competition may differ from the predicted.