Miocic vs Ngannou 2: will The Predator capture the UFC title in a rematch?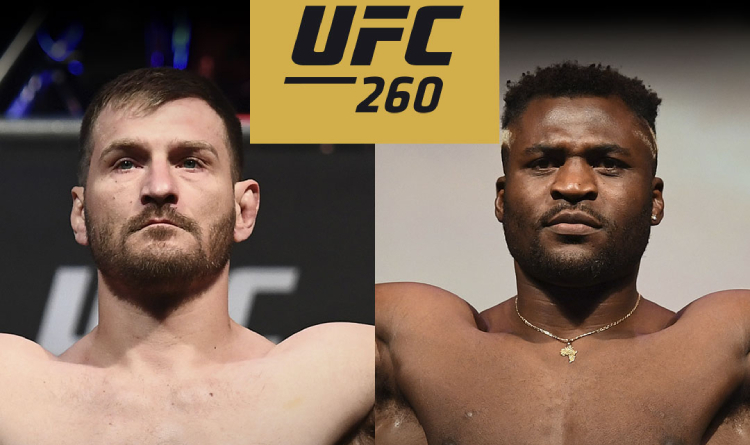 Miocic to face Ngannou
Heavyweight champion Stipe Miocic is to defend the belt against Francis Ngannou in the UFC 260 main event on March 27. Will The Predator capture the title in a rematch?
Stipe Miocic stats
Miocic has been competing in MMA since 2010. His record stands at 20-3. Stipe won the NAAFS gold in 2011 and transitioned to the UFC. He captured the promotion's belt in 2016 by defeating Fabricio Werdum. Miocic retained the title in 3 clashes but lost it to Daniel Cormier in 2018. A year later, Stipe took revenge in a rematch against Daniel and got the crown back. The third bout against Cormier resulted in Miocic's victory by unanimous decision. Stipe holds a record for the most consecutive title defenses at heavyweight (3).
Francis Ngannou stats
Ngannou started his MMA career in 2013 and compiled a record of 15-3. The Predator signed with the UFC in 2015. He won 6 fights in a row in the promotion and challenged Miocic for the belt in 2018. However, he dropped a unanimous decision. Then Francis suffered the third career loss to Derrick Lewis. Nevertheless, Ngannou came back strong – he scored victories in 4 following clashes and earned 3 bonuses for the best performance. Francis currently takes first place at heavyweight.
Miocic vs Ngannou stats
Stipe lands 120% more strikes per minute, but Francis absorbs 46% fewer shots.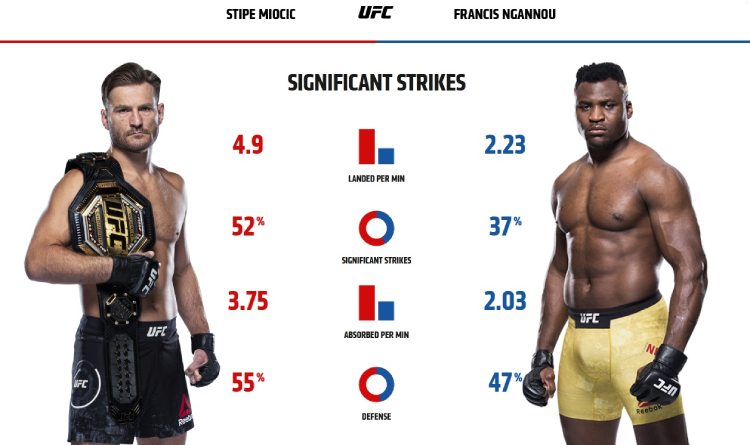 Ngannou, in contrast to Miocic, has never performed takedowns in UFC bouts. However, unlike his rival, he made submission attempts.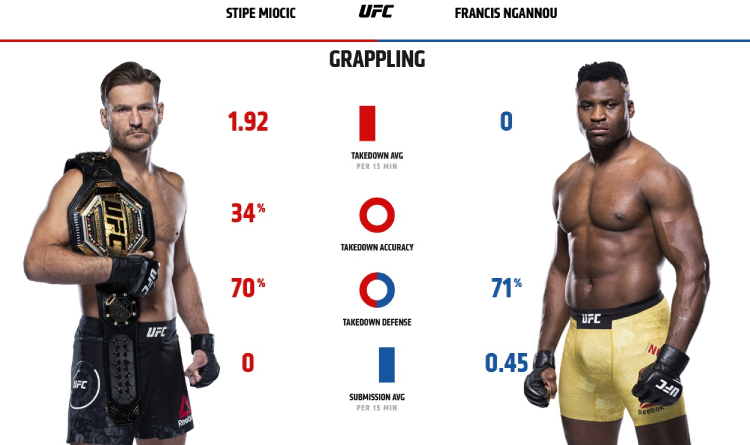 Miocic vs Ngannou 2 preview
Stipe went in for boxing, but Ngannou coached in striking martial arts only during MMA training. Nevertheless, both athletes have strong points. Francis has an edge in power, because he is the hardest hitting fighter ever tested in the UFC Performance Institute. Miocic is a much more accurate and versatile striker. Unlike Ngannou, who focuses solely on punches, Stipe throws kicks as well. Besides, Miocic has a better overall defence courtesy of good footwork and head movement.
Miocic competed in NCAA Division I Wrestling, while Francis did not participate in grappling tournaments. Therefore, there is a huge gap between the sportsmen's wrestling skills. Stipe has a low takedown accuracy, but his ground game is superior. Once he brings the fight to the canvas, Miocic controls his opponents and lands heavy shots, but he eschews making submission attempts.
In the first contest against Francis, Stipe dominated in 4 rounds, because Ngannou had troubles with cardio and slowed down significantly in the second heat. As a result, Miocic outnumbered his rival's strikes almost 3 to 1 and landed 6 takedowns. Given these stats in conjunction with Miocic's advantage in wrestling, he is poised to secure victory in case he succeeds in taking Ngannou into deep water. Stipe's knockout rate is 79%, and his average fight time is 11:29. Thus, Miocic is expected to defeat Francis by KO/TKO within 3 rounds.
The most probable fight results
Stipe Miocic to win by KO/TKO/DQ (47/20);
Total rounds over 1.5 (73/100).
Disclaimer: Fight analysis is not a betting tip or a gambling advice of any sort. Our experts determine the most likely outcome of a sporting event based on statistics and personal views. Therefore, the actual result of a competition may differ from the predicted.