Derek Brunson halted Kevin Holland's hype train at UFC Vegas 22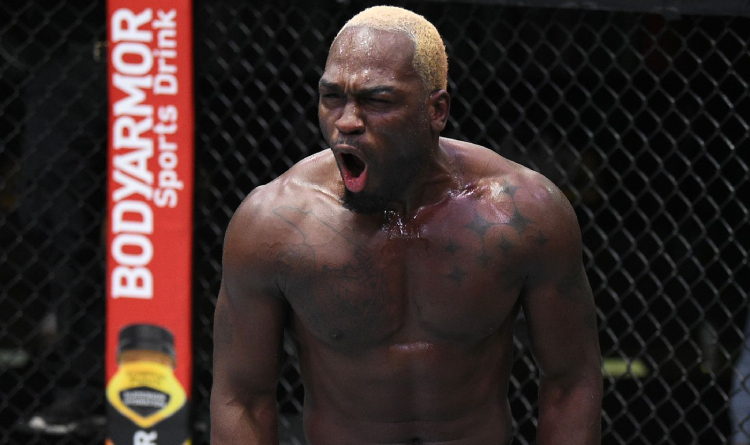 Brunson celebrating victory
MMA veteran Derek Brunson defeated rising star Kevin Holland and halted his hype train in the UFC Vegas 22 main event on March 20.
Brunson extended winning streak to 4 clashes
Derek opened up fast. He outnumbered Kevin's significant shots almost 3 to 1 in the first round. Nevertheless, Holland came back strong in the second heat – he landed twice as many power shots, but Brunson performed 2 takedowns and made a submission attempt. Derek turned the tables in his favor in the third round by bringing the fight to the canvas. He controlled Trail Blazer on the mat and delivered 3 times more significant blows.
In the fourth heat, both athletes landed an equal amount of power strikes; however, Derek brought the bout to the ground twice. Derek noticeably slowed down in the final round. He delivered 20% fewer significant strikes and failed to deny a takedown. As a result, all 3 judges scored the contest in favor of Brunson (49-45, 49-46, 49-46). Derek dropped the fifth heat on the cards and won the contest by unanimous decision.
Last year, Holland won 5 consecutive clashes and took 10th place at middleweight. Furthermore, several sports websites gave him an award "2020 Breakthrough Fighter of the Year". Nevertheless, Brunson managed to cut off Kevin's winning streak courtesy of his wrestling skills. In August 2020, Derek beat another bright prospect Edmen Shahbazyan by TKO. Brunson is 37 year-old, but given his 4-fight winning streak, he is about 2 wins away from getting a title shot against champion Israel Adesanya.