Top 5 Men's Singles players to watch out for at Wimbledon 2022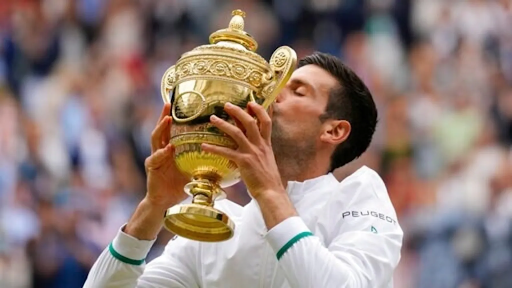 Novak Djokovic will be one of the favourites to win Wimbledon this year
Wimbledon is just a few days away, and tennis fans everywhere are anticipating the year's third Grand Slam. The tournament, regarded as the grandest of the Grand Slams, has always been a special occasion for both players and spectators.
This year, the tournament is due to take place from June 27 to July 10. The qualifying competition meanwhile will start on Monday and run through till Thursday. The competition that takes place at the All England Lawn Tennis and Croquet Club in Church Road, south-west London will see the 2022 edition become the 100th anniversary at that venue, and the 135th anniversary overall.
However, in April 2022, the All England Club announced that Russian and Belarusian players would not be allowed to participate in the 2022 Championships. This means that Russian players, including World No. 1 Daniil Medvedev and World No. 8 Andrey Rublev, will not be allowed to play at Wimbledon.
Further, the competition will also miss World No. 3 player Alexander Zverev as the German is out for the unseeable future after tearing 'several ligaments' in his foot during his semi-final French Open match against Nadal.
With a host of top shot performers missing, let's take a look at some of the players we need to keep a close eye on during the tournament whom we think can make a strong claim to the title –
#5 Rafael Nadal
35-year-old Rafael Nadal has confounded expectations by winning the first two Grand Slams of the year and is on course for the Calendar Slam for the first time in his career. The last man to win all four majors in the same season was Rod Laver in 1969.
Having not played in the competition for the past three years, his last two Wimbledon appearances have come in 2018 and 2019 where he was ousted in the semi-finals. Second seed Rafael Nadal won the Wimbledon Championships in 2008 and 2010. This is the first time in Nadal's long and celebrated career that he has won the Australian and French Open in the same year.
#4 Hubert Hurkacz
Hurkacz will be looking to build on his 2021 semi-final run at Wimbledon. The 6-foot-5 Polish player defeated Federer in straight sets in the quarterfinal, winning the third set, 6-0. Granted, it was only Federer's fifth tournament back (second on grass) after a year-long stint away.
But it is still something to marvel at because the last time Federer lost in straight sets at Wimbledon was 2002 and never, not once, had Federer been 'bageled' at Wimbledon and he did so at the hands of Hurkacz. Hubie has since reached at least the quarterfinal in seven events, both on hard and clay, making him a threat on a surface more suitable to his game.
#3 Marin Cilic
Last season, Cilic ranked inside the top 20 on grass for first-serve win percentage, averaging 15 aces per match. In terms of win percentage, Cilic's best surface is grass with a 71.3 win rate, though just three of his 20 titles have been won on grass. One, however, was the 2021 Stuttgart event, an ATP 250 tournament where he defeated notables like Denis Shapovalov and Felix Auger Aliassime.
Cilic is entering grass off a deep run in the French Open, losing to Roland Garros finalist Casper Ruud in the semifinal. Now he's on a more familiar surface with some rhythm and momentum. If he can extend on some of that, with a favourable draw, he could be a dark horse for Wimbledon. He's made at least the quarters on four occasions, including the 2017 Wimbledon final where he lost to Federer.
#2 Matteo Berrettini
Despite coming from injury, Matteo Berrettini has been a beast recently. He went on to win two consecutive titles this month – first winning the Stuttgart Open by defeating Andy Murray 6-4, 5-7, 6-3 in the Finals; he followed that up by winning the Queens Club Championship most recently after defeating Filip Krajinovic in straight sets to make himself one of the potential candidates to win Wimbledon this time.
In fact, even the 2021 season in grass courts was a good one for him winning the Queen's Club for his second grass title that year and followed that up with an appearance in the Wimbledon final, losing to Djokovic in four sets. He's ranked fourth on tour for grass serves and he could be a threat with his powerful forehand and that is why he is fondly known as the "The Hammer" by everybody.
#1 Novak Djokovic
Novak Djokovic is arguably the best on the grass right now. He has a 102-18 (85%) win/loss record on grass, with seven grass titles — six of those were won at Wimbledon, including last year's returning event after the 2020 tournament was cancelled due to the pandemic. In a season of big servers, Djokovic is the one man that neutralises the serving weapon.
By being the best returner on tour (and arguably of all time), Djokovic can keep a big serve tamed with his counter-striking ability. Entering this grass season, he may even have a chip on his shoulder with how things have gone for him this year after having missed the Australian Open, losing to Nadal in disappointing fashion at Roland Garros, now two behind from the slam title record and no longer being World No. 1. This is the perfect tournament for the Serbian to build on his legacy.