Reaching the 3rd round in Miami without having played a single match, Azarenka faced Kerber and defeated her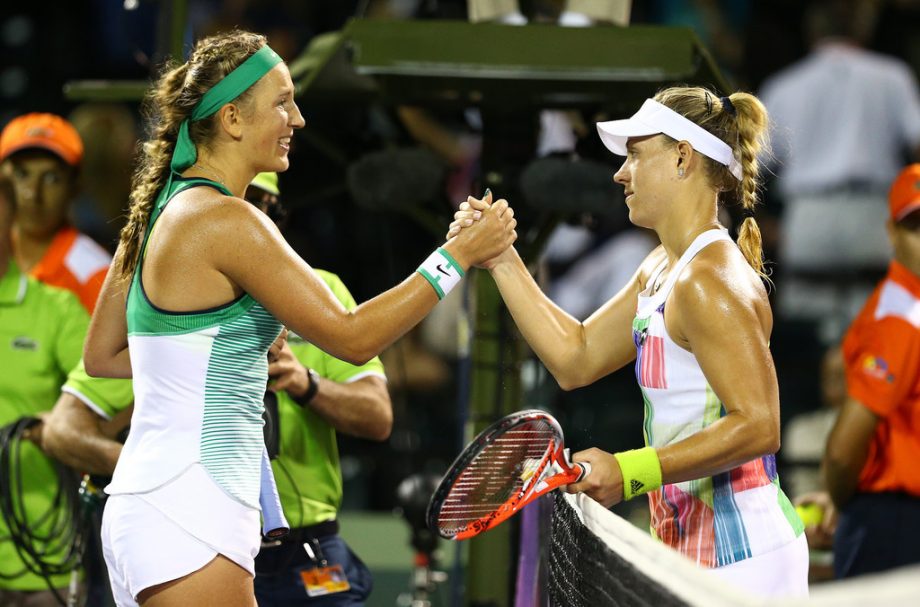 Azarenka and Kerber shake hands after their match together
It has been five days since one of the biggest American tournaments, the Miami Open on hard courts in Miami, the USA, from March 23rd to April 4th began. We remind you this tournament is a WTA 1000 (the winner will get 1000 points) and a prize fund of more than 3 million dollars.
As for the women's tournament draw, the situation is as follows. Yesterday Ekaterina Aleksandrova lost to Elina Svitolina, Veronica Kudermetova to Arina Sabalenka. Reigning champion Ashley Barty passed Aliona Ostapenko. Ana Konyukh, who returned to the tour last season after four elbow surgeries, defeated Roland Garros 2020 champion, Iga Swiatek.
It should be recalled the Belarusian tennis player Victoria Azarenka was the only one at the tournament to reach the 3rd round without having played a single match. Since the Belarusian is the 14th seed in the tournament, she automatically passed the first round. In the second, her rival – Laura Siegemund – withdrew from the tournament due to her knee injury. It meant Azarenka had to reach the third round but not even set foot on the American courts.
In the third round, it was the German Angelique Kerber who was her opponent. As you can see from the title, the Belarusian tennis player played her first match in Miami and won it successfully. In a short interview after the game, Azarenka commented on her victory over Kerber 7-5, 6-2.
"Matches with Angelique are never easy. She's perfect on the counterattack; she plays well on defense. That's why our match consisted of a lot of long rallies. I knew what to expect, so I was getting ready for a difficult match,"

she said.
Victoria also said that at first, she wasn't able to do anything. However, she didn't give up and kept searching for the right rhythm and approach. That, she said, is what she's most proud of. And then everything changed. The game gained momentum. She got a rhythm, and Azarenka started to move better. She attributed it to the right attitude and her character.
She also shared her expectations of facing reigning tournament champion, Ashley Barty.
"She's a very talented player. I've always been impressed with her game and the way she handles herself. She has a lot of variety in her arsenal, and she can do almost everything on the court. I think it's going to be a perfect match."
The match between the former world number one and the current WTA leader will occur on March 29th at 9 am American time.