Iga Swiatek overcomes Aryna Sabalenka's challenge to set up the finale with Ons Jabeur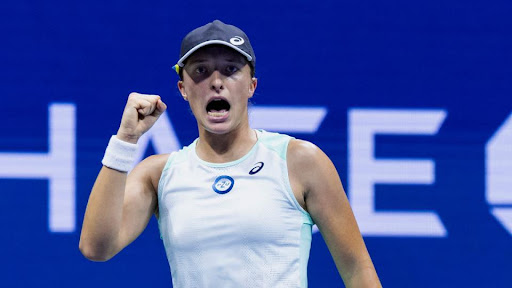 Iga Swiatek is all set to play Ons Jabeur in the finale of the 2022 US Open
The singles semi-finals of the 2022 US Open have wrapped up and we have found our two finalists for the women's singles category of the current championships. As expected the two favourites from the semi-final fixtures have progressed to the finale.
Whilst, top-seeded Iga Swiatek ousted 6th seed Aryna Sabalenka to enter into her maiden US Open final and second Grand Slam final this season, 5th seed Ons Jabeur of Tunisia needed just an hour and 5 minutes to clinch a dominant 6-1, 6-2 win over Caroline Garcia of France and make her maiden women's singles final at the Grand Slam in New York. Swiatek will meet 5th seed Ons Jabeur in the final on Sunday.
Let us take a look at all the women's singles semifinal challenges at the Wimbledon –
Ons Jabeur vs Caroline Garcia
World No. 5 Ons Jabeur put on a stunning show as she reached the women's singles final of the US Open 2022 after decimating 17th seed Caroline Garcia of France on Friday, September 9. The 5th seed from Tunisia needed just an hour and 5 minutes to clinch a dominant 6-1, 6-2 victory over Garcia, whose winning run in New York came to a crashing halt.
Ons Jabeur is the first North African, Arab, and Tunisian woman to reach the US Open final after the stunning show against Carolina Garcia in which she dropped just 17 points on serve and never faced a break point.
Ons Jabeur will play her 2nd successive Grand Slam final after having reached the Wimbledon women's singles final earlier this year. The new tennis icon from Tunisia, which is predominantly a football-loving country, hadn't reached a Grand Slam final in the first 9 years of her senior professional career but she has been to the final of 2 majors in a span of 3 months.
Ons Jabeur hadn't gone past the 3rd round in New York before she arrived at the Flushing Meadows last month but the Tunisian has hit peak form, losing only a set en route to the final.
Ons, who had partnered with Serena Williams in the lead-up to Wimbledon, defeated Serena-slayer Ajla Tomljanovic in the quarter-final to set up what seemed a tricky clash against Garcia.
Notably, the French player hadn't dropped a set en route to the semi-final. She was on a 13-match winning run after having won the WTA 1000 title in Cincinnati in August. She went through the qualifying rounds and eventually defeated Petra Kvitova in the final to win the crown.
However, Garcia had no answers to Jabeur's firepower and class on the big night in New York. The French star was visibly disappointed as she left the court quickly following the crushing defeat. Ons Jabeur, who missed an opportunity to win her maiden Grand Slam title after losing the Wimbledon final to Elena Rybakina, will now play Iga Swiatek looking to clinch her maiden Grand Slam title against the current World No. 1.
Iga Swiatek vs Aryna Sabalenka
World No.1 Iga Swiatek came from behind to beat 6th seed Aryna Sabalenka in a three-setter to storm into her maiden US Open final on Friday, September 9.
Swiatek overcame an early scare before finding her momentum to outclass Sabalenka 3-6, 6-1, 6-4 in the semi-final at Arthur Ashe Stadium. With the win, Swiatek has ensured herself a second Grand Slam final this season and will play 5th seed Ons Jabeur in the final showdown at Flushing Meadows on September 11.
Apart from pulling herself back from an opening-set defeat, Swiatek had to fight her way from a breakdown in the third set twice in a two-hour and 11-minute semi-final against a spirited Sabalenka.
The victory has helped Swiatek to maintain her lead over Sabalenka, who won during their first meeting last year at WTA Finals, but Swiatek went onto win all four of the contests between the two players this season. For Sabalenka, the US Open semi-final defeat marks her third narrow loss in a major last-four match, having lost at 2021 Wimbledon and 2021 US Open.
In a topsy-turvy semi-final, Poland's Swiatek started off the match well as she held to 1-0 in spite of an early double fault. Belarussian Sabalenka joined in no time and went on to break the top-seeded 2-1 before holding the next game. Sabalenka applied pressure back on Swiatek with a good hold of serve before taking the opening set in style.
Swiatek, who looked desperate to turn the match before it got too late, broke Sabalenka to love to start the second set. It seemed the break taken after trailing 0-1 helped the Polish star. The top-seeded player went on to secure eight straight points before Sabalenka threatened to end Swiatek's campaign. However, the No.1 produced a solid service game before closing the second set in her favor 6-1.
With all the momentum for the deciding set, Swiatek bounced back to hold a serve and coupled it with some brilliant winners. The third set kept on swinging between Swiatek and Sabalenka before world number one Swiatek prevailed.