Djokovic and Nadal stage impressive comebacks to advance to semis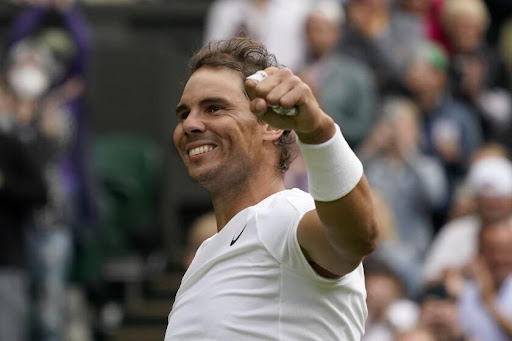 Rafael Nadal is set to play Nick Kyrgios in the semis
The men's singles quarter-finals of the 2022 Wimbledon Championships have wrapped up and we have found out our four semi-finalists of the current championships. As expected Novak Djokovic does make the cut but only after a gruelling tie against his Italian counterpart Jannik Sinner. The Serbian is now set to play Britain's Cameron Norrie who has progressed to the semis after beating Belgium's David Goffin.
Meanwhile, flamboyant Tennis star Nick Kyrgios scripted history after he reached his first Grand Slam semi-finals after beating Christian Garin in three straight sets. The Australian will now play Rafael Nadal has won the first two Grand Slams of the Season and is on the lookout to add his third of the year. The tennis superstar defeated USA's Taylor Fritz despite suffering an abdomen injury.
Let us take a look at all the men's singles quarterfinals challenges at the Wimbledon –
Novak Djokovic vs Jannik Sinner
20-time Grand Slam champion Novak Djokovic showed once again why he can't be written off when he is 2 sets down as he came up with another stunning fightback, this time in the men's singles quarter-final of Wimbledon 2022.
Novak Djokovic came back from 2 sets down for the 3rd time in Wimbledon history, as he saw of a stiff challenge from 10th seed and 20-year-old Italian Jannik Sinner. Djokovic has now won 10 5-setters in Wimbledon out of 11 attempts with his only defeat coming against Mario Ancic way back in 2006.
Djokovic won his 26th successive match in Wimbledon as he booked a place in the semi-final and kept his dreams of winning a 4th straight title at the grass-court Grand Slam. It was an 11th semi-final ticket for Djokovic at Wimbledon and a 43rd in Grand Slams overall.
Djokovic defeated Sinner 5-7, 2-6, 6-3, 6-2, 6-2. in a match that extended to 3 hours and 35 minutes. Djokovic looked completely deflated in the first two sets with his forehand failing him, but the Serb was fired up after a "little pep talk in the mirror" during a toilet break.
Djokovic hit only 3 unforced errors in the 3rd set as he vastly improved from the first two sets where nothing went his way. Djokovic was completely in charge as he was fired up and pumping the Centre Court crowd up on his way to another memorable victory.
In fact, Djokovic led the applause for Sinner as the Italian youngster was making his way off the Centre Court after a memorable campaign wherein he defeated Stanislas Wawrinka in the first round and knocked out 5th seed Carlos Alcaraz in the Round of 16.
Djokovic dominated Sinner in the last 3 sets, not giving an inch to the Italian who put on a brave show. The 20-year-old survived an injury scare when he twisted his ankle while trying to retrieve a drop shot in the 4th set. Djokovic was the first to check on the Italian, who recovered quickly only to go down fighting in the final set.
Cameron Norrie vs David Goffin
Britain's Cameron Norrie has qualified for the semi-final of Wimbledon 2022 after beating Belgium's David Goffin 3-6, 7-5, 2-6, 6-3, 7-5 on Court 1 on Tuesday, June 5.
Norrie didn't get off to the best of starts as he lost the first set as Goffin put him under immense pressure. Norrie, who is seeded ninth in the ongoing grass-court championship, came back to win the second set only to again go down in the third.
From there on, the British player needed to win both the remaining sets and hence didn't have much room for error. However, the 26-year-old Johannesburg-born tennis star held his nerve to come out trumps.
Norrie broke his opponent's serve five out of eight times and also churned out five sets. He also made four double faults, but that didn't cost him a whole lot.
Norrie also became only the fourth British man to reach the Wimbledon semi-finals in the Open era. Andy Murray, Tim Henman, and Roger Taylor are the other three to have reached the last four.
Nick Kyrgios vs Cristian Garin

Australian tennis star Nick Kyrgios reached his first Grand Slam semi-final after putting on a spotless performance against Christian Garin, a World No. 43 from Chile, in the quarter-final on Court One on Wednesday, July 6.
8 years after reaching his maiden Grand Slam quarter-final on the same grass courts of London, Kyrgios clinched a berth in the semi-final.
Nick Kyrgios needed only 2 hours and 13 minutes to beat Garin 6-4, 6-3, 7-6. The Australian star sat on his seat, slowly soaking in the applause from the Wimbledon crowd after achieving a significant milestone.
There is no doubting Kyrgios's talent but the mercurial tennis star has always finished on the wrong side of the results due to his inability to focus for longer durations, especially in Grand Slams. However, at the SW19 over the last two weeks, Kyrgios has put on a complete show, managing to stay calm and composed in the most difficult situations.
The Australian needed 5 sets to overcome a stern attack from Brandon Nakashima in the Round of 16. The World No. 40 clinched one of his biggest wins when he dumped out 4th seed Stefanos Tsitsipas in an ill-tempered match on Centre Court.
Rafael Nadal vs Taylor Fritz
22-time Grand Slam champion Rafael Nadal, on Wednesday, July 6, defeated USA's Taylor Fritz and advanced to the semi-final of the Wimbledon 2022. Nadal, who had won at SW19 two times, won the match 3-6, 7-5, 3-6, 7-5, 7-6 (10-4) at Centre Court.
Rafael Nadal brought out the famous warrior spirit in him as he fought through an abdomen injury to keep his Calendar Slam hopes alive. Nadal is gunning for his 3rd major title in 2022 after having won the Australian Open and the French Open.
Nadal reached his 8th Wimbledon semi-final after fending off a stunning fight from 11th seed Fritz and set up a blockbuster clash with Nick Kyrgios. The Australian showman defeated Cristian Garin in straight sets to reach his maiden Grand Slam semi-final.
Nadal started the match on an indifferent note after losing the first where he looked completely out of sorts. But the veteran came back to win the second set, but thereafter, he took an injury timeout as he seemed to have gone through issues with his abdomen.
It didn't get any easier for Nadal in the third set as Fritz romped home without having to break much sweat. In the fourth set, the Spaniard showed nerves of steel to come back from behind. Just when it seemed the set would go into the tie-break, Nadal held his serve and took the match into the fifth set.
The fifth set turned out to be a closely-fought affair. Nadal somehow managed to hold on and take it to a tie-breaker. From there on, Nadal brought forth all his experience and came up trumps.