BWF World Championships 2022 Day 1 Roundup: Lakshya Sen cruises to the 2nd round and more…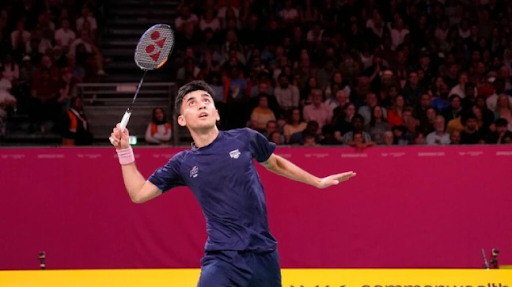 Lakshya Sen won his first round at the BWF World Championships
After a dream run at the 2022 Commonwealth Games, Indian shuttlers are back to their business with another big tournament at the BWF World Championships. With PV Sindhu not being a part of the World Championships due to a stress fracture on her left ankle, Saina Nehwal is up for the challenge of adding another medal to her tally.
Following victories in their respective first-round matches, young superstar Lakshya Sen and experienced Kidambi Srikanth will look to make history this time. Here are the highlights of Monday's matches:
Men's Singles
Lakshya Sen vs H.K. Vittinghus
BWF World Championships commenced on a spectacular note for India with Lakshya Sen defeating H.K. Vittinghus comfortably 21-12, 21-11 in Tokyo on Monday.
The young gun from India continued his winning run after winning gold in the Commonwealth Games 2022 in the men's singles category. He didn't have to break a sweat in beating his opponent in the first round.
Lakshya's next match will be against Luis Enrique Penalver on August 24. Winning this match will straightaway take Lakshya to the Round of 16.
HS Prannoy vs Luka Wraber
This match was also a one-sided affair with India's HS Pronnoy becoming victorious comfortably by 21-12, 21-11 against Austria's Luka Wraber. Prannoy didn't have to fight much in both sets, allowing him to grab victory in less than half an hour. His next match will be against Kento Momota of Japan.
It is not going to be an easy match for the Indian shuttler as Momota is known for his skilful and relentless style of play. Undoubtedly, it is also going to be home advantage for the Japanese shuttler.
Kidambi Srikanth vs Nhat Nguyen
CWG bronze medalist Kidambi Srikanth also entered the next round with a victory over Nhat Nguyen of Ireland, 22-20, 21-19. India's experienced shuttler had to fight to grab this victory. The first set was a close encounter, with the Irish shuttler getting almost through, but the experienced Srikanth made a terrific comeback with his couple of smashes to ensure his victory.
B. Sai Praneeth vs Chou Tien Chen
Sai Praneeth failed to get past the opening hurdle of the BWF World Championships as he lost to the World No. 4 Chou Tien Chen of Taiwan, 15-21, 21-15, 15-21 in little over an hour. Praneeth, who was a bronze medalist in the 2019 edition, gave his best in the clash but couldn't enter the next round.
Without any doubt, it was a tough draw for Praneeth, but he put up a brave effort after making a comeback in the second set. The 30-year-old won't join his teammates Sen, Srikanth, and Pronnoy in the Round of 32.
Women's Singles
Malvika Bansod vs Line Christophersen
Another result that Indian fans didn't want was Malvika Bansod's loss against the Danish shuttler Line Christophersen. The Indian shuttler went down by 14-21, 12-21 to make an early exit from the Championships. There was hardly any fight from Malvika in both the sets, hence, she had to end her campaign in the first round.
Women's Doubles
Ashwini Ponappa/Sikki Reddy vs Fathimath Nabaaha Abdul Razzaq/Aminath Nabeeha Abdul Razzaq
This match was a mere formality for the Indian women shuttlers as they comfortably beat Fathimath/Aminath of Maldives 21-7, 21-9 to enter the next round. The Maldivian duo didn't have any reply to the smashes from Ashwini Ponappa. 
Their next encounter would be against China's Chen Qingchen and Jia Yifan in the 'Round of 32'. This could be a hard-fought battle for the Indian shuttlers.
Pooja Dandu/Sanjana Santosh vs Ines Castillo/P.L.T. Regal
This was one of the interesting encounters witnessed on the first day of the BWF World Championships. After beating the duo from Peru 21-6 in the first set, it looked like the game would be finished in the very next set, but credit goes to the shuttlers from Peru as they made a remarkable comeback and won the next set 21-10.
The Indian duo held their nerves and beat them in the third set, 21-14 to clinch victory. They have now entered the Round of 32 where they will play against Shin Seung-chan and Lee So-hee of South Korea. This South Korean pair is a doubles specialist and would really be a tough opponent for the Indian baddies.
Mixed Doubles
Tanisha Crasto/Ishaan Bhatnagar vs Patrick Scheiel/Franziska Volkmann
Tanisha and Ishaan didn't have to fight much for their first-round victory over Scheiel and Volkmann, as they defeated them 21-12, 21-13 to enter the next round. The game culminated in just 29 minutes with hardly any chance given to the opponents to make a comeback.
The Indian duo will next meet 14th-seeded Supak Jomkoh and Supissara Paewsampran of Thailand. A victory here could take them to the Round of 16.
Men's Doubles
Arjun MR/Dhruv Kapila vs Kittinnupong Kedren/Supak Jomkoh
The Indian shuttlers became victorious in a hard-fought battle against Thailand's Kedren and Jomkoh. They defeated the Thais 21-17, 17-21, 22-20. All three sets were tight, but the last one was a game to watch out for.
Both the teams were not ready to leave the battle until the Indian duo snatched it at the last moment to make it a two-point difference. Arjun/Dhruv will now be up against Denmark's Ramussen and Astrup in the Round of 32.
Manu Attri/B Sumeeth Reddy vs H. Okamura/M. Onodera
A champion player from India, B. Sumeeth Reddy, lost his men's doubles match against the Japanese pair Okamura and Onodera in the Round of 64. He, along with his men's doubles partner Manu Attri, failed to make it to the next round as they were defeated by 11-21, 21-19, 15-21. The duo fought till the end, made several comebacks as well, but couldn't pass the opening hurdle.