Both Men's and Women's Team better their performance from last CWG: CWG 2022 Indian Hockey Roundup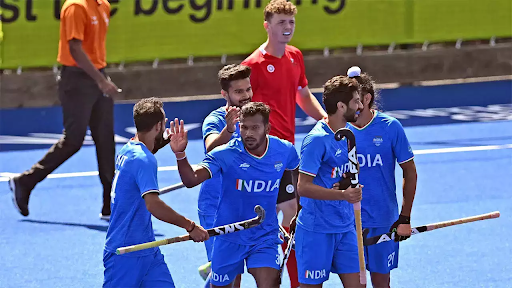 India finished on the podium in both the men's and the women's events in CWG 2022
As in previous editions, the hockey team's third attempt to unseat mighty Australia was thwarted in the final. After a 7-0 thrashing by the unrivalled Australian side, the Indian men had to settle for a silver medal for the third time in four years.
While Manpreet Singh and company would be content with a reprieve from a medal-less campaign in the Gold Coast CWG in 2018, the women's team reaped the benefits of their stellar form since the Tokyo Olympics by winning a medal — bronze — after 16 years at this stage.
After a lacklustre performance at the Women's Hockey World Cup, where they finished ninth, the team nurtured by Sjoerd Marijne and carried by Janneke Schopman received a huge morale boost in the Games.
Women's Team
There are several parallels between the Indian men's and women's teams' recent journeys: losing key members to retirement or injury, finishing third in the Asia Cups with junior players, finishing third in the FIH Pro League, and finishing fourth at the Junior World Cups.
They also lost a large portion of the support staff that worked with the teams leading up to and during the Olympics, though the chief coaches – Graham Reid for men and Janneke Schopman for women – ensured a welcome continuity at the top. Not surprisingly, performance and progress, as well as challenges, have followed a similar pattern.
The Indian women were expected to reach the semifinals in Birmingham, and they did so, but not without incident. The beginning was not promising; Navjot Kaur tested positive for Covid-19 and was forced to return.
The first two games against Ghana and Wales were comfortable, but the team appeared disjointed and without a plan, relying on their superior skills more than anything else. Ironically, the one game India lost in the group stage – to host England – was also its best performance in terms of game execution and playing as a unit.
It took a special effort from Lalremsiami to defeat Canada and advance to the semi-finals, but it also demonstrated how the team could collectively switch off in crucial moments that could come back to haunt it later. It would be a disaster against stronger teams, as India found out two weeks before the CWG when they finished ninth in the World Cup.
The inability to score after all the hard work in the middle was a concern, but the biggest let-down was India's penalty corner conversion, with Gurjit Kaur seemingly unable to score despite a slew of PCs created.
The Australian hurdle, which India famously overcame in Tokyo, was not without controversy before India blanked out in the shoot-out, but to be fair, India's tenacity could only take it so far against a clearly superior side on the day.
When New Zealand scored 18 seconds from time, it appeared to be another case of so-near-yet-so-far, but there was no denying goalkeeper-captain Savita Punia this time. Despite the absence of Rani Rampal, the team appears to be on the right track in its pursuit of the Asian Games next year, and there is no denying that the talismanic former captain may not return.
Men's Team
It wasn't as much of a roller-coaster ride for the men until the very end. Their path was much smoother, with the only hiccup being a 4-4 draw to England in the group stage after conceding three goals in the final 15 minutes. It was also one of the Indians' worst games, both in terms of performance and discipline. For once, the team appeared to have collectively lost its motive on the field.
While the English were equally guilty as the England men's team were the worst offender this edition, with 15 cards earned by 10 different players, more than any other side – it was a throwback to the Indian sides from more than a decade ago, and not a good one. Fortunately, the team appeared to have learned its lesson and returned to focusing on its game.
The semi-final against South Africa was a difficult match that demonstrated why playing a lower-ranked team that relies on tenacious, disciplined defence and quick sneaks into counter-attacks can be so dangerous. It was not India's best performance, but it was a far better one in terms of keeping frustrations in check and ensuring a medal after missing out on the podium four years ago.
Of course, the final was a flop; the players have admitted to being unable to play their own game and falling into the Australian trap, as well as being hurt by losing gold and making mistakes they should not have.
The 7-0 score line may suggest that Indian men's hockey is stuck in time, resurrecting the nightmare of the 8-0 loss in 2010. However, it is as much a testament to Australia's dominance as it is to India's inability to break the mental block in major tournaments. Apart from test matches and the Pro League, the closest India has come to defeating Australia in a major tournament was at the Champions Trophy in 2018, when Australia won on penalties.
To find a positive result for India, one would have to go back to the 2014 Azlan Shah Cup, which has traditionally been a season-opening tournament for most teams to test new faces. The last time these two sides met in a major tournament before CWG 2022 was in Tokyo in 2021 when India lost 1-7.
Dissecting what went wrong is impossible because India would have had to follow a plan to blame it. It was typical Australian hockey: quick, open, one-touch, and ruthless. They went for the jugular early on and never let up on the pedal.
The Australians never stopped coming, opening up space in the midfield and defence at will, wrong-footing defenders, shaking off marksmen with a twist and turn. It was a harsh lesson for the younger players on the Indian team that world dominance was a long way off.
However, against any other team, the Indians have proven to be more than a match, particularly in terms of fitness. Despite their naturally superior physical frame and height, Germany, the Netherlands, Argentina, New Zealand, and even Belgium have struggled to keep up on occasion.
The team has not rested on its laurels since the Olympics, and the benefit of a large group of probables training together for years is visible in the Pro League, with newer faces like Abhishek, Jugraj Singh, Pawan Rajbhar, Yashdeep Siwach, and Rajkumar Pal showing promising results. If only they could find a way to break Australia's curse.