Who is Erik ten Hag and is he able to lead Man Utd out of the crisis?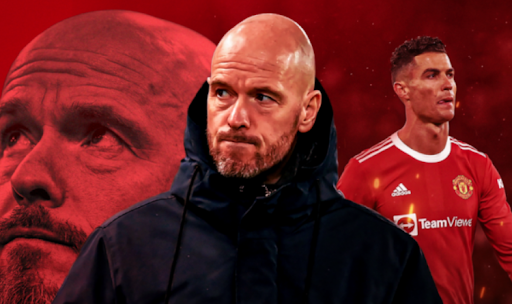 Will the Dutchman keep a powerful weapon in Ronaldo's form? That remains to be seen in the summer
Manchester United will finally have a permanent coach in the summer: the club recently announced the appointment of Erik ten Hag. We will tell you more about the new manager and try to understand his background to answe the question – is he really the right choice?
Ten Hag has been with Ajax since December 2017. Erik brought Amsterdam two golden doubles in the 2018/19 and 2020/21 seasons. It will not be possible to repeat the success this spring as Ajax lost in the Cup final to PSV (1-2). In Eredivisie, everything is under control: with 5 rounds to go, they are edging еру the same PSV by 4 points. The Amsterdam side are likely to take the title to make a beautiful farewell for the ambitious coach.
In Europe, ten Hag is remembered for a superb play-off performance in the 2018/19 UEFA Champions League. Ajax, brimming with talent, knocked out Real Madrid, Juventus and dramatically missed out on the final against Tottenham. Ajax have won all 6 matches in the group this season, but stumbled at Benfica in the 1/8.
"I know the history of this great club and the passion of the fans, and I am absolutely determined to develop a team capable of delivering the success they deserve."

he declared after the deal was announced.
Don`t miss out 👉: Manchester United announces Erik Ten Hag as the new manager
Mauricio Pochettino has long been the favourite to take the wheel of Manchester United. The Argentine was rated highly by Alex Ferguson personally.
Back in the days, having sacked Solskjær in November, United hoped to get Pochettino straight away, without waiting for the summer. United made an enquiry to PSG, but the French club were unwilling to let the coach go. But, as the the insiders speculate, Paris could have gone ahead had Pochettino himself taken the initiative. That did not happen.
From what was rumoured, it was the Spaniard who was voted for by the dressing room. However, the management seem to be planning a major rebuild in the summer, entrusting an advisory role to Ralf Ragnick, who has studied the club in detail over a six-month period. The opinion of the existing players has been ignored.
Sources highlight how ten Hag develops players and that he has built two vibrant and successful teams at Ajax. The club appreciated the Dutchman's passion, energy and enthusiasm. Working with Bayern's reserve team (2013 – 2015) has also served as a plus for Erik – there he had a great opportunity to learn a lot from Pep Guardiola. Now, he already has experience with big clubs in Germany and the Netherlands.
Red Devils legend Gary Neville reflected on the appointment of a new coach:
"Ten Hag worked in Bayern Munich when Pep Guardiola was there. We know the impact that had. He's won a couple of titles and cups in Holland. His style of play is good. He's got more experience than I think most people think at the age of 52."
"It's a massive jump but he's got a good coaching pedigree. He's not scarred and that's a good thing – he comes in fresh. I did a poll the other week and I was absolutely stunned – 220,000 people voted and 82 per cent were in favour of bringing him in over [Mauricio] Pochettino."

he revealed that the fans do have a lot of sympathy for the Dutchman.
"I knew that he would be favourite because you can smell it on social media. I think Manchester United fans are demanding a fresh start and a fresh name. They want something that's completely different that they've not had before, and that's probably gone against Pochettino in some ways." 
By the way, Wayne Rooney was considered for the job as one of Ten Hag's assistants, but Wayne has made it clear that he has no intention of swapping his position as manager at Derby for such a job.
Robin van Persie will also not join the new coaching staff for the simple reason that he has been unable to get permission to work in England.
Ajax assistant Mitchell van der Gag is expected to join ten Haag in Manchester. The specialist is also expecting Steve McClaren to join his staff. Erik was McClaren's assistant at Twente in the late noughties, while Steve himself had already worked for MU from 1999 to 2001.
Darren Fletcher, United's technical director, will also be on the coaching bench during matches. He was one of the contenders for the interim head coach job after Solskjaer's dismissal.
Speaking of the current situation – it is quite depressing. The team might be left without Eurocups at all if MU don't get their act together and cling to every 3 points.
Looking at the current drastic results, the relationship in the dressing room, the toxicity of the fans towards the players – Ragnick's words about 10 new transfers do not seem like an exaggeration at all.
"I outlined the requirements in advance about how I wanted to work. If those requirements had not been met, I would not have taken the job. Ultimately, I am responsible for the results. I don't want to be the sole ruler, I am in favour of cooperation, but controlling transfers was my demand,"

the Dutchman shared after his appointment.
Perhaps not qualifying for the Champions League and Europa League can also be taken positively – despite this unfortunate potential anti-record, the new coach will have plenty of time and resources to build a new system for the club, with a more thorough approach to detail and training. With the right investment and attitude – it could restart the fate of the Red Devils, who have no way of getting back on track as a great club after Fergie's retirement in 2013. Think back to Antonio Conte's first season (2016-2017), where after utter last season`s failure leading to an absence of European competitions, the Italian managed to win the Premier League with Chelsea.
And here's how the Italian specialist himself commented on the appointment:
"For sure we are talking about a big club, an important club. Don't forget that last season United were in second place and improve the squad with [Raphael] Varane, [Jadon] Sancho and [Cristiano] Ronaldo. It's strange but they've improved the squad and have done worse than last season. It shows it's not easy, particularly in England. In England it's a big job for every manager, the level is so high. When you're at Man Utd the pressure is massive. You have to fight to win trophies. It's not easy because other teams have the same idea."
"For all the excitement at another United rebuild, the reality is none of those currently occupying the top four would swap their coach for Ten Hag. The Dutchman must also reverse another worrying United trend. The club has become a graveyard for managers and players. Since Sir Alex Ferguson retired, no-one has gone there and improved their reputation. Ten Hag must overcome a weight of history which some of the most accomplished coaches of this and previous generations have found unbearable. The United job chews up coaches in a way it does not at their European and domestic rivals."

Jamie Carragher is not convinced that Eric will succeed.
The players are excited about the new coach and are waiting to start working with him:
"It's great news. He's a world-class coach who will help us a lot here. I've watched Ajax and they are a great team who play good football. We know he helps us a lot and hopefully next year we can win trophies."

said Fred.
Team goalkeeper David de Gea is definitely intrigued by the assignment:
"Very excited the club has made the decision so now we all know. We know what he has done for Ajax, he has nearly been in a Champions League final, won titles and he develops players, so I'm very excited. I think he plays very good football. t's good to know he is already watching the games and thinking about what he can do to change for us. I'm looking forward to working under him."
"I like his football. I'm pretty positive that with a full pre-season and having a chance to build and mould his own staff, and a new team"

Ragnick comments.Ten Hag will reportedly be allocated £120m to renovate the squad in the summer transfer window. That amount could increase if the Mancunians manage to sell someone this summer. Perhaps a bright future for the Mancunians is just around the corner.