UEFA's referee chief justifies the penalty on Raheem Sterling: "The decision was not a scandal"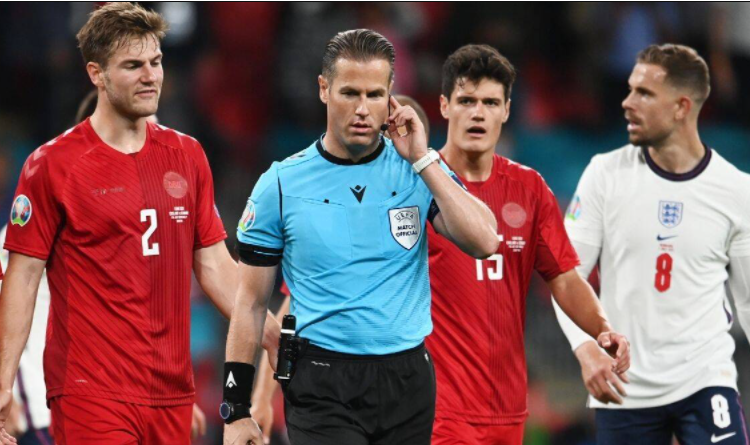 Danny Makkelie listening to the opinions of his brigade before pointing on the penalty-spot
The head referee of the Euro 2020 semi-final match between Denmark and England awarded a penalty at the 102nd minute for a foul on Raheem Sterling – which literally carried Gareth Southgate's side into the final. Many accused Sterling of diving and Makkelie of not looking through the VAR replay with his eyes. The head of referees at Euro 2020 assures that everything has been handled correctly.
Be sure to read the story 💥: Foul or dive: Raheem Sterling's controversial penalty in England's Euro 2020 win over Denmark has the football world talking
A few days after the Euros ended, the referees' boss, Roberto Rosetti, reported on their performance. Of course, the main issue was that very penalty.
There was definitely the contact, whether it should have been a penalty is for the referee to decide.
"Makkelie saw red defender No 5 – he didn't play the ball. The right leg of the defender, Danny saw the contact against the right leg of the white [England] player. This is what the referee saw in the field of play and VAR confirmed the decision: the Danish no. 5 defender didn't touch the ball. We can discuss the intensity of the contact of course but we always want the referee to be at the centre of the decision-making process."

– Roberto said.
The debates are understandable because there are borderline moments in football – when there is no obvious solution.
"It was not a scandal. It is something we can discuss, absolutely openly. Penalties are important, and we don't want soft penalties and I want to confirm this also for the future. UEFA wants serious penalties – serious, clear penalties. In this situation, there was a clear action of the defender, a clear impact – knee against knee – and the VAR intervention was something very, very, very difficult."
Interestingly, Pol van Boekel, who was Makkelie's video assistant in that match, publicly assessed the episode and hinted that he himself probably would not give such a penalty.
"The fact that Makkelie interpreted the episode as a penalty is not clearly his mistake. From one angle I saw the contact, so I could only confirm the correct decision. I think he judged the episode harshly, but I have to support the head referee in such a situation. That's the global protocol of the VAR,"

– Pol explained.
Don`t miss out 💥: UEFA Euro 2020 official Team of the Tournament revealed: Ronaldo and Pogba missed out
At Euro 2020 1,113 fouls were made across 51 matches at an average of 21.8 per game, lower than at the past four tournaments.
Of 276 VAR checks 28 corrections were made and all, when reviewed, proved right.