Tottenham Hotspur vs Manchester City. Prediction and Preview. Probable Lineups, Team News, Stats and more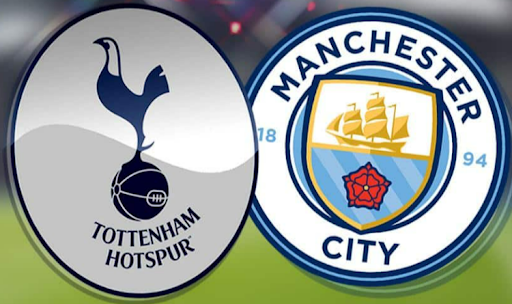 Tottenham Hotspur FC will host Manchester City FC in the English Premier League 22th-tour match at Tottenham Hotspur Stadium. The fixture will take place on Sunday, February 5, beginning at 22:00 IST.
Get ready for a Sunday showdown as two of England's top teams clash! Second-placed Manchester City, led by the legendary manager Pep Guardiola, takes on fifth-placed Tottenham Hotspur, managed by the charismatic Antonio Conte. Conte will be absent from the sidelines as he recently underwent surgery, but his players will be looking to give him something to cheer about with a crucial victory. Expect a high-flying encounter as City looks to solidify their title race with a win, while Spurs, with added motivation for their coach, aim to close the gap on the top four with a vital three points. With top-class players on both sides, including Kevin De Bruyne, Ilkay Gundogan for City, and Harry Kane, Son Heung-min for Tottenham, this match is guaranteed to be a feast for the eyes for football fans. Don't miss the action in London, Sunday's match is set to be a thrilling encounter filled with a lot of emotions.
Parimatch News will tell you everything you need to know ahead of the upcoming match.
Don`t miss out 👉: Chennaiyin holds down the violent forces of Odisha for a thrilling draw
Tottenham Hotspur News & Current Form:
The teams met two weeks ago in a rescheduled match. Tottenham then frustratingly lost the advantage of two goals by halftime at the Etihad and conceded 4 goals in the second half, the last goal being scored in the 90th minute. But today Anthony Conte's charges have a chance to take revenge. However, it seems that the Italian coach himself will not be able to lead the team, because he underwent surgery to remove the gallbladder just a couple of days ago. Will the team from London have enough motivation and strength to withstand such an opponent?
Coach posted on his social media:
"Thank you for your lovely messages. My surgery has gone well and I'm already feeling better. Now's time to recover. I can't wait to get back on the field with the team."
Manchester City and Tottenham have become a new English classic after a dramatic battle in the 2018/19 UEFA Champions League playoffs, and every new meeting since then has followed an incredibly exciting scenario. For both teams, the last matches in the championship and Cup have gone well, and since the last meeting, both the Spurs and the Citizens have only won and not even conceded goals, which is not very typical for them.
Tottenham won their last two games, against Fulham FC (0-1) in the EPL and Preston North End FC (0-3) in the Emirates FA Cup. In the last game Arnaut Danjuma, the Spurs rookie, made his debut. He needed only 20 minutes for his first goal for his new team.
Antonio Conte's soccer cannot be called spectacular. Tottenham often play according to the scoreline and put the result of the match above all else. They fulfill their attacking potential by playing on the opponent's transition phases, as evidenced by the second highest number of direct attacks in the Premier League and possession of the ball at 51%.
Spurs continue to hold on to fifth place in the league. The Londoners are nine points behind City and 14 points behind Arsenal. At the same time, Antonio Conte's charges have the third attack in the Premier League – 40 goals in 21 games. Meanwhile, the
Londoners concede a lot: 31 goals – the worst figure in the top 10. With such statistics it will be difficult to contain the best forward in the EPL Erling Haaland and his partners.
The last time Tottenham conceded this much was in the 2000/01 season, when after 21 games they had 32 conceded. With such a shabby defense, the Citizens have lots of chances to use. At the same time, Spurs can also upset any opponent, the last time such a high scoring performance was back under Mauricio Pochettino in the 2018/19 EPL.
This season, Tottenham has never managed to win against top contenders like Arsenal FC, Liverpool FC or Manchester City. The team collects its points mostly from easier teams.
Such an important game against City will take place at Tottenham's home stadium. But this does not make the task easier for the Londoners. Recently, their results at home are not satisfactory: three defeats in the last four matches. But there is an excellent and completely tireless Harry Kane in front, assisted by Son Heung-Min, who distinguished himself at the FIFA World Cup for the team of Korea, so the goals should be, as usual, in both directions.
By the way, Harry Kane participated in 300 English Premier League fixtures.
A new player, Pedro Porro, was recently signed from Sporting CP. Welcome to the club!
Manchester City News & Current Form:
As for Manchester City, the club had two confident matches after the derby defeat against Manchester United FC and secured two major victories. Arsenal lost their encounter with Everton FC (1-0), so the gap from the leaders can be reduced in case of a win. It was clear from the home game against Spurs that the Manchester team can add at any time, having excellent personnel potential.
Unlike Tottenham, Manchester City have not yet fallen out of the championship race this season. But while everyone expects Pep Guardiola's team to make a breakthrough and close the gap to Arsenal, it is still quite big.
Man City, as it once again turned out, is not all-powerful either. Before the last match against Tottenham, the visitors were knocked out of the League Cup, and then they lost to the Red Devils. This is the third defeat for Man City in the Premier League, previously they were beaten by Liverpool (1-0) and Brentford FC (1-2).
The Citizens are now on a three-game winning streak at home. After playing Tottenham, they beat Wolverhampton Wanderers FC (3-0) and Arsenal (1-0). And in the match with the Gunners had to work very hard, although Mikel Arteta in the FA Cup put out not such a fighting lineup as Guardiola.
Kane and Son have been playing well in recent matches. Those two are a nightmare for Man City. They consistently upset Guardiola's team. Dejan Kulusevski has taken his lead from them. Plus because of the game from the defense and the ability to adapt to the opponent Tottenham will get on the nerves of more than one favorite.
The home side under Conte are trying to play carefully with all of their opponents, even in home games. In recent years, Guardiola is increasingly likely to overthink and confuse his players in such games. Then there is a frantic search for Haaland in the penalty area to make some kind of difference.
Pep Guardiola achieves his goals by monopolizing possession (65% – 1st place) and combinational soccer with the highest pressure in the league. 43.8% of their pressure comes from the attacking third of the field, almost 12% more than Arsenal (31.2%).
City is the most productive club in the EPL. On the account of the reigning champion 53 goals in 20 games, and almost half of them belongs to Erling Haaland – the Norwegian has already scored 25 goals. Thanks to him, the team scored an average of 2.65 times in 90 minutes.
Perhaps after the success in the game with Arsenal in the Cup, City would not be remembered for a few days if not for the scandal with Joao Cancelo. The Portuguese defender fled to Bayern Munich FC just before the transfer window closed due to a conflict with Pep Guardiola. As a result, the Spaniard was left without the talented winger, which is unpleasant when playing on three fronts (EPL, Champions League and FA Cup).
Coach Pep commented the runaway of Joao:
"First, I wish him the very best. Next season I do not know what is going to happen. He made incredible figures in the last two Premier Leagues we won. After the World Cup, we made a pre-season and decided to play in some patterns a different way. And I liked what I watched, and I decided to give more time to the players that I saw on the pitch that I liked. I like that."
"Everyone has their own character and personality. Mine, yours, you, him and he likes to play. He's one of the players who trains the best. He loves to play. He is a guy who needs to play to be happy. And he decided, we decided together to let him go to Munich. He wants to play every single game and hopefully it will happen in Munich."
Manchester City played two more matches than Tottenham during a similar stretch, at the expense of the League Cup. Guardiola's team reached the quarterfinals there, unexpectedly losing to Southampton FC (2-0). But the willful victory over the Spurs, it seems, was a source of inspiration for the team – after losing the first half there the Citizens have already scored eight unanswered goals in 2.5 games.
About the injured Phil Foden coach said:
"I think Phil will be available this weekend. He has trained well these last two days."
However, things are not so optimistic for John Stones.
Three weeks, one month, more or less is needed for the recovery of the player.
Don`t miss out 👉: ATK Mohun Bagan vs Bengaluru: Preview and Prediction
Tottenham Hotspur form guide: W-W-L-L-W-W
Manchester City form guide: W-L-L-W-W-W
Tottenham Hotspur vs Manchester City Head-To-Head Record:
| | | |
| --- | --- | --- |
| Tottenham Hotspur | Draw | Manchester City |
| 65 | 36 | 66 |
February 2, 2020: Tottenham Hotspur 2 – 0 Manchester City (Premier League);
November 21, 2020: Tottenham Hotspur 2 – 0 Manchester City (Premier League);
February 13, 2021: Manchester City 3 – 0 Tottenham Hotspur (Premier League);
April 25, 2021: Tottenham Hotspur 0 – 1 Manchester City (League Cup);
August 15, 2021: Tottenham Hotspur 1 – 0 Manchester City (Premier League);
February 19, 2022: Manchester City 2 – 3 Tottenham Hotspur (Premier League);
Tottenham Hotspur vs Manchester City Predicted XI:
Tottenham Hotspur possible starting lineup (3-4-3): Lloris; Romero, Dier, Davies; Porro, Hojbjerg, Bentancur, Perisic; Kulusevski, Kane, Son.
Manchester City possible starting lineup (4-3-3): Ederson; Lewis, Akanji, Laporte, Ake; Gundogan, Rodri, De Bruyne; Mahrez, Haaland, Grealish.
Statistical preview of the match Tottenham Hotspur vs Manchester City:
Spurs' First XI average age is 28.5 yrs.
City's First XI average age is 27.3 yrs.
Tottenham have won their last 4 matches at home against this opponent.
Manchester City are unbeaten in 5 of their last 7 matches.
Tottenham are conceding an average of 1.20 goals per game in their last 5 games.
Tottenham are scoring in their last 3 games against this opponent.
Tottenham are scoring an average of 1.40 goals per game in their last 5 games.
Manchester City are conceding an average of 1.20 goals per game in their last 5 games.
Manchester City are scoring in their last 10 games.
Manchester City are scoring an average of 1.80 goals per game in their last 5 games.
What has been said before the match:
Cristian Stellinim, an assistant of Antonio Conte, who is temporarily in charge of the Spurs, said at his press-conference ahead of the game against City:
"We don't know yet when Antonio is coming back. Everything is possible. The surgery was good; he is recovering well. At the moment he is at home, so we have two days."
"They are a big team, a big beast for everyone. We must do our best to challenge them and to win the game. You have to be perfect to want a possibility to win this type of game against this type of team. You have to be perfect in their box, and in our box. In this position of the pitch, you decide the game. We have to be perfect in both."
"We analyze every team deeply. So if you take a look only at the results, you have an answer. But if you go deeply, you can feel that every time they are a big beast. Maybe the results are not what you expect, but they are Manchester City. It is no different from the past. When a big beast has a problem, you have to be more aware because they react. We know it'll be difficult, but we feel we can do it."
Pep Guardiola said:
"They [Spurs] were better than us. I have the feeling when we were there that we played decent games. They have the quality to punish you. They are a tough opponent. Maybe they haven't won titles but they are always in the Champions League and challenging for the top four."
"We are extremely happy with Erling Haaland and of course I think Tottenham are extremely happy with Harry Kane. What an exceptional player. What Harry Kane has done is amazing, the goals, the quality he has. Harry Kane remains one of the best strikers I have seen in my life. Not even winning. It doesn't matter. "
"It's like with managers. There are incredible, incredible managers that do not win titles, they are bad managers because they don't win the title? No. Sometimes it happens. I think Tottenham are happy to have him. We are extremely happy to have this young player like Erling that I think is going to give us many good years."
Tottenham Hotspur vs Manchester City Prediction:
The stage is set for a thrilling encounter as Tottenham welcome Manchester City to the Tottenham Stadium. And the most recent match at Etihad suggests that it will be a close game. The Lilywhites, buoyed by home advantage and a desire for revenge, will be eager to make a statement, but they face a daunting challenge against the in-form Citizens. Furthermore, the absence of gaffer Conte on the touchline will definitely affect adaptability and the capacity to react in case the initial match plan fails.
Tottenham's defensive frailties have been well documented this season, with 31 goals conceded, only five clubs in the league are worse in this aspect. Meanwhile, City have been in rampant form in front of goal, boasting the league's top-scoring attack with 53 goals to their name. Can Antonio Conte's men find a way to stop Pep Guardiola's side from adding to their tally?
History suggests that Tottenham are no pushovers against City. In 7 previous Premier League meetings, they've recorded 4 wins, 1 draw, and have tasted just 2 defeats. They've also found the back of the net in 6 of those games. Now, with City's attacking prowess, this match promises to be a true test of Tottenham's resolve. The visitors will be looking to close the gap on Arsenal and secure a crucial victory on the road.
Don`t miss out 👉: East Bengal ends winless streak with 1-0 victory over Kerala Blasters
Parimatch News staff prediction:
We say: Man City will win and the match total will be over 2.5 – Yes.