Top 5 possible destinations for Cristiano Ronaldo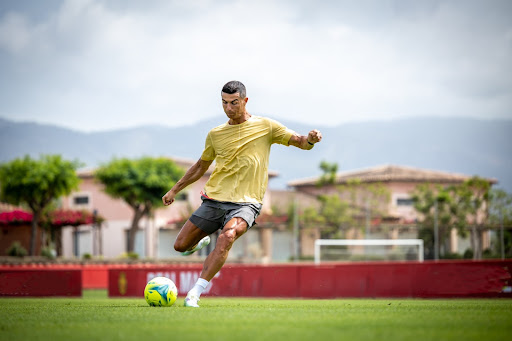 Cristiano Ronaldo is reportedly eager to leave Manchester United
Manchester United ace Cristiano Ronaldo has reportedly asked the club to allow him to leave should a suitable offer arrive in the lieu of playing Champions League football. Aged 37, Ronaldo still wants to compete for the biggest prizes in world football as he approaches the fag end of his career.
However, his current club are in the midst of a transition and having finished a disappointing sixth in the Premier League, United won't be competing in the 2022-23 UEFA Champions League. Many sources state that it is the driving force behind Ronaldo's urge to seek a move away from the club.
In the summer of 2021, the Portuguese legend made a stunning return to Manchester United but their abysmal campaign ended with them having to make do in the UEFA Europa League. Erik Ten Hag's men left for the first leg of their pre-season tour in Asia but the 37-year old decided to stay back citing family issues which could signal heartbreak for United fans who want the adored boy to spend another season with the Red Devils.
Thus, with the five-time Ballon d'Or winner's future up in the air and the striker reportedly seeking an exit, here are the top 5 clubs he could join this summer:
#1 Chelsea
Ronaldo has been heavily linked with Manchester United's Premier League rivals Chelsea, who, much like the Red Devils are also in a state of transition under the new ownership of Todd Boehly.
As per reports, agent Jorge Mendes recently offered the player to the Blues however, they are still monitoring the situation and no concrete moves have been made so far.
Chelsea coach Thomas Tuchel would most certainly request Boehly for a new striker with Romelu Lukaku having re-joined Inter Milan. A proven performer like Ronaldo would certainly be a valuable addition and he would help bridge the gap until the Blues can find a permanent replacement for Lukaku.
#2 Paris Saint-Germain
With PSG's objective to lift the prestigious UEFA Champions League title, Ronaldo may well be the last piece of the puzzle to land the huge prize.
They have the kind of money required to make Man United sit up and listen to offers for the 37-year-old. The only stumbling block perhaps would be the fact that PSG president Nasser Al-Khelaifi recently spoke about moving away from blockbuster transfer deals.
The Ligue 1 giants are already rumoured to be looking to ship away Neymar and in such a scenario, it's difficult to imagine them moving for another world-beater in Ronaldo.
#3 Real Madrid
Perhaps a homecoming could be on the card for Ronaldo who has been linked to his previous club Real Madrid.
Definitely, fans of the club would love to have the prolific striker back and that would be one heck of a romantic reunion, but only there's one catch – the Real Madrid hierarchy doesn't seem interested in rekindling their old love affair.
Real Madrid surely has the kind of money required to sign Ronaldo after their move for Kylian Mbappe didn't work out as planned, but such a move would be opposite to Los Blancos' transfer strategy in recent years of signing and promoting young talent.
#4 Bayern Munich
Bayern Munich has also been heavily linked to Cristiano Ronaldo and they certainly have the financial might to pull off such a transfer of such magnitude.
With Robert Lewandowski inching for a move away from the Allianz Arena, the Portuguese ace might be a welcomed addition as new star recruit Sadio Mane usually plays on the wings but has been leading the line for Liverpool over the last 12 months.
That being said, Bayern's CEO Oliver Kahn has revealed that Ronaldo wouldn't fit in their transfer 'philosophy'. He said,
"As highly as I rate Cristiano Ronaldo as one of the greatest, a transfer wouldn't be a fit with our philosophy."
#5 Inter Miami
Similarly, the most followed person on Instagram would have plenty of takers in the MLS, with David Beckham's Inter Miami a hotbed for superstars, given not just Ronaldo's sporting merit, but his marketable signature smile as well.
But, the speed and standards of football in the American league would be a huge step down from United. According to the latest reports, a Saudi Arabian club has also offered Ronaldo a bumper £105 million per year salary. However, that, again, would be a step down from Manchester United, which contradicts the whole purpose.
Thus, whichever club Ronaldo would like to join this summer, from the looks of it, Jorge Mendes has one heck of a task on his hands.