Top 5 Most Expensive Players in World Football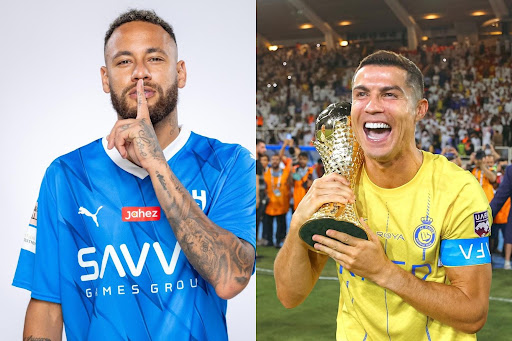 Neymar and Cristiano Ronaldo lead the list of combined transfer fees ever paid for players
Football is truly a global sport when you consider the crazy fan following of Cristiano Ronaldo, and Lionel Messi among others not just in the real world but also on social media. Both Ronaldo and Messi changed teams in 2023 and so did Neymar, the man who changed the transfer window forever.
Following his move to Al Hilal, the Brazilian superstar becomes the most expensive player of all time when considering the total sum of transfer fees clubs have paid to acquire the 31-year-old's signature. Neymar's transfer from Barcelona to Paris Saint-Germain for a world record fee of 222 million euros still stands tall but considering a market where players like Moises Caicedo are selling for more than 100 million euros the day when 200 million becomes a norm isn't far away in today's inflated market.
Coming back to the most expensive players in terms of the total sums paid by clubs, Neymar's €80 million move to Al Hilal makes him numero uno but after him, there's a player few could have guessed.
Here are the top five most expensive players in world football in terms of the combined fees paid by clubs:
#5 Alvaro Morata – €189 million
The Atletico Madrid striker has travelled all across Europe and could yet add more money to his total transfer fees if he ends up leaving the Wanda Metropolitano. The Spaniard is often maligned for his inconsistent form in front of the goal but that wasn't always the case.
When the 30-year-old broke through at Real Madrid, he was scoring regularly whenever given the chance to play. After a dazzling 2014 season, he joined Juventus making his first big-money move.
Morata was bought back by Real after just two seasons and he impressed so much upon his return that Chelsea shelled out €66 million making the Spaniard their record signing back then.
He would struggle to replicate his goal-scoring heroics at Stamford Bridge and was subsequently sold to Atletico Madrid for €35 million. After two seasons in Turin on loan, he is back in Madrid and he scored in Atletico's La Liga opener against Granada.
#4 Ousmane Dembele – €220 million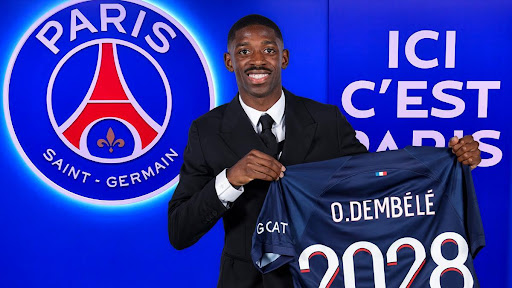 Another player who recently made a switch to Paris Saint-Germain for €50 million, at 26, Ousmane Dembele still has the chance to add to his total combined fees.
The Frenchman broke through at Stade Rennes' academy and after only one season, he was snapped by Borussia Dortmund for €35 million. His stay at the Signal Iduna Park was short-lived as he was off to Spain a year later.
When PSG signed Neymar, Barcelona shelled out an incredible €135m on the winger to replace the Brazilian superstar. Since then, the Frenchman has divided opinions, he is a supremely talented player no doubt about that, but he remains injury prone.
Now that he's replaced Neymar for the second time in his career, it remains to be seen how Dembele will fare in his homeland. Luckily for Luis Enrique's side, they got their hands on the winger cheaply thanks to his release clause or Ousmane would have featured higher on this list.
#3 Cristiano Ronaldo – €247 million
If not for his acrimonious exit from Manchester United earlier this year, Cristiano Ronaldo would have had an even more daunting figure beside his name since Al Nassr didn't have to pay any fee to land the Portuguese phenom.
That being said, the 38-year-old shattered the world record fee before all other players on this list. Ronaldo's story is not unknown to anybody as the teenage prodigy was spotted by Sir Alex Ferguson and he made his first big-money move to Old Trafford for €19 million.
After winning three English Premier League titles, three domestic cups, the UEFA Champions League, and the FIFA Club World Cup, Ronaldo decided to force a move to Real Madrid. United shipped CR7 to Real Madrid for a then-world-record fee of €94 million in 2009.
After winning two La Liga titles, four UEFA Champions League titles, four domestic cups, three FIFA Club World Cup trophies, and three UEFA Super Cup trophies, Ronaldo decided to try his skill set in another league.
After winning all there was to conquer, Ronaldo left Madrid to join Juventus for €117 million, and he'd rejoin United for a paltry €17 million in 2021. In Serie A, Ronaldo proved that age is just a number as he won the Player of the League award twice in his four-year stay becoming one of the few players to win the award in the EPL, the La Liga, and the Serie A.
After terminating his contract with the Red Devils, he signed for Al Nassr on a free transfer and recently won the Arab Club Champions Cup trophy showing no signs of a halt in his winning attitude.
#2 Romelu Lukaku – €333.4 million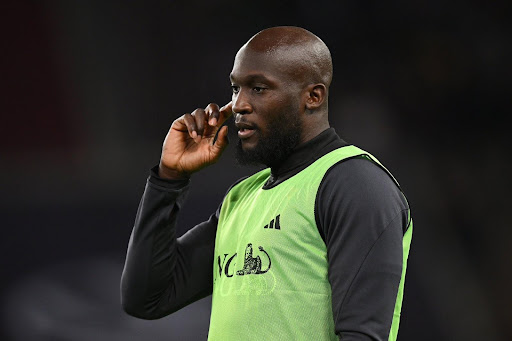 Romelu Lukaku has had an incredible career, he's won titles aplenty, but even after all the success, he has never quite managed to remain consistent enough to be considered in the category of world-class forwards.
Despite that, he was the most expensive player in terms of combined transfer fees until a few days ago, before Neymar took over the crown from the Belgian. The 30-year-old is not done though and is likely to add to his tally of €333.4 million as Chelsea is actively looking for a way to cut their losses on the striker.
Incredibly, Lukaku has never been at a single club for many three years and has played for six clubs in his senior career so far. Chelsea has twice spent a combined €128 million on the player and has had relatively moderate returns.
Manchester United and Inter Milan also shelled out considerable sums for the Belgian but his best years came at the San Siro. It remains to be seen where Lukaku will be heading next to revive his career.
#1 Neymar – €390 million
The Brazilian superstar holds the record for being the most expensive player of all time, and the total combined fees ever paid for a single player. After impressing as a teenager at Santos, his big-money move to Barcelona in 2013 for €88m helped the Catalans forge the famous MSN trio of Messi and Luis Suarez.
In 2017, the winger decided to step out of Messi's shadow as PSG activated his release clause of €222m, thereby changing the transfer market for once and forever. During his six seasons at Parc des Princes, Neymar racked up 173 appearances, winning 13 trophies and scoring 118 goals but is still scrutinised for failing to deliver the Champions League, the reason why he was signed by PSG.
The Brazilian has now joined Al Hilal for a blockbuster €90 million, and he has also earned himself plenty of perks such as a 25-bedroom mansion, a private jet, and many other luxuries per multiple reports.