Top 5 goalkeepers of the 2022-23 Indian Super League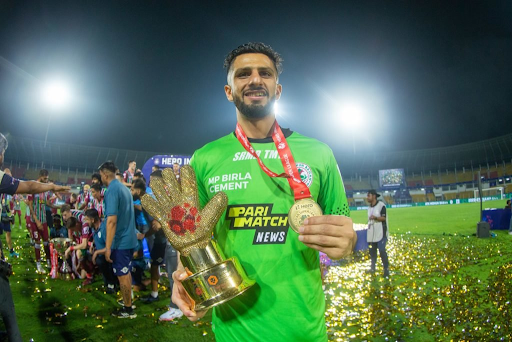 ATK Mohun Bagan's Vishal Kaith won the Golden Glove
The 2022-23 Indian Super League season had no shortage of the most important element of football, that is goals. A total of 345 goals were scored in 117 matches, with the average being 2.95 goals per match.
However, that number would have been a lot higher, had it not been for the fantastic goalkeepers of the league. It is because of these custodians that we saw 60 clean sheets in the league, which featured plenty of spectacular saves.
Let us have a look at the top five goalkeepers of the league:
#5 Gurmeet Singh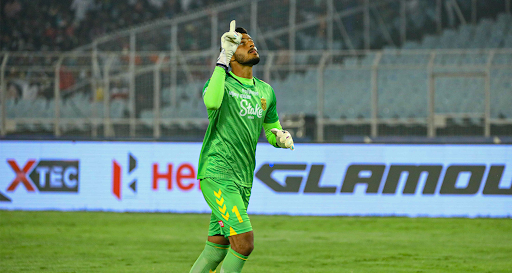 After arriving from NorthEast United in the 2021/22 season, chances were few and far in between for Gurmeet Singh. He played only 1 game last season and might have thought the 2022-23 ISL season will follow a similar theme, as the Nizams' first-choice custodian, Laxmikant Kattimani was in superb form.
But destiny played the old trick up its sleeve and Gurmeet got an opportunity when Kattimani suffered a serious injury. Since then, the Assamese lad has not given Manolo Marquez Roca any chance to complain. He has kept seven clean sheets – thrice against ATK Mohun Bagan, twice against East Bengal and once each against Bengaluru and Kerala Blasters. Besides that, Gurmeet also made 41 saves in 14 matches.
#4 Mirshad Michu
While the former NorthEast United goalkeeper was in red-hot form, the current custodian of the Highlanders, Mirshad Michu also had a season to remember. Though it is true that his team conceded the highest number of goals (55) and kept just one clean sheet, Mirshad was arguably the best player from the side.
Although he played only 10 matches, with the Highlanders' current manager Vincenzo Alberto Annese sticking with Arindam Bhattacharja, Mirshad has made 56 saves. His saves per game figure of 5.6 is the best among all goalkeepers in the league.
#3 Phurba Lachenpa
Phurba Lachenpa has made it to the Indian national team, and the call from Igor Stimac was definitely due, as the player has been in sensational form this season. The Mumbai City goalkeeper played a big role in the team's League Winners' Shield victory, keeping 7 clean sheets.
Two of those clean sheets came against Kerala Blasters, while the other five came against Odisha, Bengaluru, East Bengal, ATK Mohun Bagan, and NorthEast United. The Sikkimese player also made 64 saves in 21 matches, that is, 2.91 saves per game.
#2 Gurpreet Singh Sandhu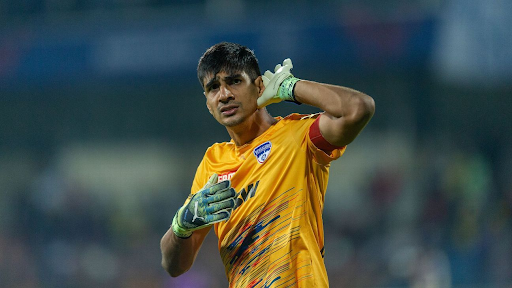 Lachenpa could be the most promising goalkeeper in the country, but Gurpreet Singh Sandhu undoubtedly remains India's first choice to be under the sticks. He was a massive part of the Bengaluru rejuvenation.
Gurpreet kept a total of 7 clean sheets this season – two each against Jamshedpur and Kerala Blasters, and the other three against NorthEast United, Goa, and Mumbai City. Besides that, it was his spectacular penalty saves which helped Bengaluru qualify for the final.
#1 Vishal Kaith
While all of the previous names on this list were highly reliable under the woodwork for their respective teams in the 2022/23 season, the best of the lot was undoubtedly the player who won the Golden Glove, ATK Mohun Bagan's Vishal Kaith. Had it not been for his consistency and brilliance, the Mariners might not have lifted the title.
He kept as many as 12 clean sheets, with his nearest competitor being at 7. Kaith kept three clean sheets against Odisha and two clean sheets each against East Bengal, Jamshedpur, and Hyderabad, while also not letting any goals in against three other teams – Bengaluru, Chennaiyin, and Kerala Blasters.