The Netherlands vs Argentina. Prediction and Preview. Probable Lineups, Team News, Stats, and more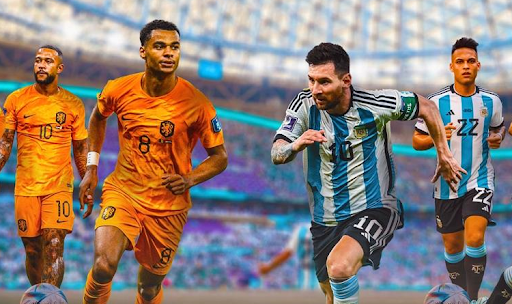 Argentina will meet with The Netherlands in the FIFA World Cup 2022 quarter-final match at the Lusail Stadium. The fixture will occur on Saturday, December 10, beginning at 00:30 IST.
The Qatar Mundial is approaching its exodus and it is hard to believe that the greater part of the premier football tournament is already behind us. Well, the good news is that all the fun is yet to come.
Not all favorites have managed to reach the quarter-finals, on the way to this stage we have witnessed plenty of eye-popping sensations, namely the eliminations of Denmark, Germany and Belgium from the group stage, followed by the even more surprising exit of tournament favorites Spain who suddenly began to show anti-football in the last-16.
In fact, not all quarter-final fixtures can be described as ultra-intriguing, but the game in Lusail between such mastodons of world football — the Netherlands and Argentina — certainly belongs in this category. The victor of this pairing will face the winner of the Croatia-Brazil clash and most fans seem eager to enjoy the American Clásico in the semis, yet the European contenders have their own plans for this stage of the tournament.
What is certain is that two formidable sides, striving for the highest objectives, will now collide on the pitch to get one step closer to the coveted trophy. Which side has the upper hand? Parimatch News will tell you everything you need to know ahead of the upcoming match.
Don`t miss out 👉: ATK Mohun Bagan vs Jamshedpur: Preview and Prediction
The Netherlands News & Current Form:
The Oranje were drawn in Group A, with Qatar, Ecuador and Senegal. As it was expected, the European team performed well, taking the top spot without a single defeat. Lads of van Gaal picked up seven points, with Senegal trailing behind having just 1 point less. In terms of goal difference, the Dutch have scored five goals in three games while conceding just one.
However, the path was not so easy. They won the first leg against Senegal 2-0 and this was followed by a concerning 1-1 draw against Ecuador which made the last game really pressurizing. Still, they have managed to quietly overcome Qatar on class (2-0) to enter the knockouts.
In the World Cup play-offs, the Oranges were destined to face a young and bold USA team. The game ended 3-1 in favor of the European team. Although the scoreline looks assertive, the shooting stats of 11-17 in favor of the US, possession of the ball 41% to 60%, and passes of 414-569 suggest that the Netherlands did not have the easiest game after all.
The reason for such a positive result lies in the fact that at the World Cup in Qatar Louis van Gaal employs a certain game style that helps to exploit all the main strengths of the team. In fact, the teams' playing patterns are radically different. While Argentina always take the lead and dictate the game, the Netherlands do not insist on ball possession and are willing to play second best, while being very good on the counterattack.
But this was not always the case. The Netherlands are known to many as an attacking team in the first place. You do not need to be a veteran fan to remember the likes of Arjen Robben, Wesley Sneijder, Robin van Persie. Since then, the Netherlands have undergone a generation change, a painful one – the team missed Euro 2016 and the 2018 World Cup. Just imagine, such a prominent team were unable to get past qualifiers for Mundial in Russia. Apparently, the fans were profoundly shocked… Fortunately, all the frustrations are in the past. Now the Oranje are back among Europe's strongest teams, but this is not the same team that went out and tried to crush their opponents right after the starting whistle. This Dutch team is different. Its main asset is its tactical preparedness, cohesive team movement and discipline.
The return to form of the injured Memphis Depay, his tandem in the attacking line-up with the main star Cody Gakpo and Denzel Dumfries on the right wing (with a goal and two assists against the USA) contribute to a very impressive attacking potential for the Netherlands. There is only one nuance: such a selection of players is not very suitable for positional attacks. Luckily, against the dominant Americans, they won't need to.
Talking about the 23-year-old forward from PSV, who was performing well in Qatar, it is worth noticing that already this summer we will see him in top European club, probably in England. There is a huge possibility that soon Gakpo will play for Manchester United.
"I thought about Man Utd last summer, but when that didn't happen, I didn't know anymore. I haven't heard from Manchester United yet. If they come, I will think about it with God's help"

He said.
In defense, the team under Louis van Gaal is traditionally good, although not without faults. Sometimes Daley Blind lingers on the wing too much which for example led to a 100% one-on-one moment from the U.S. team. We also remember when Depay suddenly pulled back and made an ideal cut pass to his woodwork. In the second episode, by the way, the Europeans were lucky that the Americans did not score. Before the match with Argentina, van Gaal clearly has something to talk about with his players. In 2014, he shifted away from the traditional Orange 4-3-3 to a scheme with three central defenders. This must be the case this time too.
The Netherlands and England resemble each other in some ways. There is no consistently beautiful game, but all the goals are still eye-catching, scored after great draws; and in the 1/8 there are three, which is a lot. With the utmost efficiency, there is no room for art for art's sake. A little pragmatism never hurts anybody, especially when the stakes are high.
Also, an advantage for the Netherlands is the coach. He is mature, charismatic, has been through everything in football, is not boring in his 70s, can take the pressure on himself, is very open and honest with the players. His illness (cancer) also creates a special emotion. The Dutch never tire of repeating that they play for Louis van Gaal.
Here, for example, is what Daley Blind said after the match against the USA when asked about the coach's condition:
"Of course, we are always mindful of that. From the very first day when we found out about cancer – we gave our all on the pitch. The coach even went to the hospital only at night, just to give us no reason to think he was ill. Everyone respects van Gaal. He never changes. We are happy to have him with us. He is a great man. We want to play for our coach, to win every game".
Most importantly, the experienced Louis van Gaal has managed to build a working mechanism. Every player in the Dutch national team knows at every moment what to do and how to do it.
And now Argentina will play against the Netherlands in the World Cup quarter-finals. There is a strong feeling that the current Dutch team could be a nightmare for the Argentinian team.
Argentina News & Current Form:
Argentina began their journey to the quarter-finals by playing in Group C. Coach Lionel Scaloni and his team were joined by Poland, Mexico and Saudi Arabia in the quartet. The Argentines scored six points, two ahead of the Poles and Mexicans, and three points ahead of Saudi Arabia. In the group stage, Argentina scored five goals and conceded only two.
Argentina started the World Cup with a 1-2 defeat to Saudi Arabia but then went on to score two 2-0 victories over Mexico and Poland.
In the play-offs, Argentina beat Australia 2-1. And this fixture was quite challenging to be fair, although on paper the scenario looked as though the favourites should have had no problems. Being up 2-0 after 57 minutes, the Argentine side still managed to almost let the Australians slip the game into extra time in the final seconds. Fans had a lot to be nervous about.
Now, out of the four quarter-finalists, Argentina has been the least impressive team so far. Such an issue arose right after the first shocking game against the Saudis. Their game seems to be the least streamlined, although the South Americans do a lot of hard work. Probably, Messi and Co. will try to convince the world that the Copa América trophy cabinet is not a coincidence.
It seems that the head coach Lionel Scaloni has finally decided on his starting line-up, as he has used the same players (with the exception of Angel Di Maria, who was injured) in the opening two games in a row. And the events on the pitch so far confirm the coaching choice. For example, starting the tournament as a main forward, Lautaro Martinez, who came on as a substitute against Australia, wasted so many scoring chances that it can hardly make Scaloni question the right decision to put Julian Alvarez rather than him in the starting line-up in this position. However, we could talk a lot about Argentina's World Cup 2022, but suffice it to say that their prospects depend almost entirely on how Messi performs. 
Which, in fact, has already happened twice. Another thing is that what works with Mexico and Australia will not work with the Netherlands and the other top sides. They need to come up with something else.
Lionel Messi, though, has a remarkable harmony of brilliance and performance: his two accurate corner kicks have decided the outcome of two of Argentina's toughest games. Yes, they did: formally, Julian Alvarez's goal was the winning goal against Australia, but it is clear that the result was decided by the first goal.
But Leo is already 35. He still has brains, lightness in his feet (his form is obviously good), but his pace is gone, he rarely presses, he often does not have maximum speed, in fact it was never the same as that of Mbappe, for example.
On Friday, Argentina will face a far more organized opponent than in any of their previous matches. The Netherlands team is excellent in defense and its players are able to be patient, which is also important. Maybe Lionel Messi will again find an opportunity for some extraordinary action, as he did against the Mexicans. But what if not? What if the Paris Saint-Germain star will have a bad day, or simply will not be allowed to show his worth. The Dutch defenders certainly know how to turn number 10 off. They are well aware of how dangerous the Ball-wizard is without pressure. Do the Argentines have any other options in attack other than banging their heads against the wall in the hope that their captain will do the magic? What they have shown in previous matches suggests that Leo Messi and his team could be sent home as early as Friday. However, the game will show.
The Netherlands form guide: W-W-W-D-W-W
Argentina form guide: W-W-L-W-W-W
The Netherlands vs Argentina: Head-To-Head Record:
| | | |
| --- | --- | --- |
| The Netherlands | Draw | Argentina |
| 4 | 2 | 3 |
May 22, 1979: Netherlands 0-0 Argentina (FIFA Celebration);
July 4, 1998: Netherlands 2-1 Argentina (FIFA World Cup);
March 31, 1999: Netherlands 1-1 Argentina (International Friendly);
February 12, 2003: Netherlands 1-0 Argentina (International Friendly);
June 21, 2006: Netherlands 0-0 Argentina (FIFA World Cup);
July 9, 2014: Netherlands 0-0 Argentina (FIFA World Cup).
The Netherlands vs Argentina Predicted XI:
The Netherlands' possible starting lineup (3-4-1-2): Noppert, Timber, Van Dijk, Ake, Dumfries, De Jong, De Roon, Blind, Klaassen, Gakpo, Depay.
Argentina's possible starting lineup (4-3-3): Martinez, Molina, Romero, Otamendi, Acuna, Fernandez, De Paul, Mac Allister, Di Maria, Messi, Alvarez.
Statistical preview of the match The Netherlands vs Argentina:
Netherlands' First XI average age 28.0 yrs.
Argentina's First XI average age 28.5 yrs.
The Netherlands are unbeaten in their last 16 matches.
The Netherlands are unbeaten in 5 of their last 6 home games against Argentina.
In the last 5 games Netherlands conceded on average 0.40 goals per game, and scored on average 1.80 goals per game.
Netherlands are scoring in their last 16 games.
Netherlands are without a goal in their last 3 games against this opponent.
In the last 5 games, Argentina is conceding an average of 0.60 goals per game, and scoring 2.40 goals per game.
Argentina have not conceded in 6 of their last 8 matches.
Argentina has scored in its last 11 games.
Argentina is unbeaten in 29 of its last 30 matches.
The Netherlands' team is ranked 8th in FIFA ranking.
Argentina's team is ranked 3rd in FIFA ranking.
What has been said before the match:
Angel Di Maria said:
"Louis van Gaal was the worst manager of my career".
Louis van Gaal commented on this:
"I am very sorry that Ángel di María once said that I am the worst coach he has ever had. Here next to me sits Memphis. He was also at Manchester Utd. And now we kiss on the mouth. We're not going to do that. But that's how it goes in football".
"We can become world champions. I am not saying that we will, but we can"

He also said.
"We can improve on the transition and keeping possession, but I have to say they were fantastic goals. The team goal (does he mean by Depay or Blind) was a thing of beauty".
"We suffered so much as we were dispossessed so often early on and that is not acceptable at a World Cup. If you play top-notch countries it is not acceptable".
"I get enough appreciation from the people surrounding me. I know the media do not always report in a positive way about me but that is a given in football. Some top countries did not progress and we have".
Coach Scaloni said about the upcoming match:
"Current Dutch team is not as brilliant as previous ones, but they are very clear on what they do. It will be a great match between two historic teams. One will be knocked out, we hope we go through".
Virgil van Dijk said:
"The difficult thing about him [Messi] is when we are attacking, he is chilling somewhere in a corner or something. You have to be very sharp in terms of defensive organization. They always looked for him to try to make it difficult for us on the counter. It is not me against him, or the Netherlands against him, but the Netherlands against Argentina. No one can do it on his own, we will have to come up with a good plan".
"We are not worried, but cautious of what Argentina can bring to the game".
"They are a fantastic team with fantastic players, and we are going to have to do well in all departments of the match".
"We also feel that our play in the last game could have been better, "We are all perfectionists and would like to have performed better. But what is nice is that we are still in the competition and playing in the quarterfinals".
"There is a hunger, dreams and a feeling that we really want to get it [the World Cup],"When you are in the quarterfinals you are only three games from glory. This is our opportunity. But obviously we have to get past an Argentina side with one of the best players of all time".
The Netherlands vs Argentina Prediction:
Louis van Gaal has installed a smart style of play for the Netherlands national team and this tactic brings results. The team's potential has yet to be unlocked, and it will be very different when playing against stronger opponents than the USA. Argentina's strength lies in Lionel Messi, whom the Dutch defenders and CDM's will effectively control for sure. Probably, a cautious awareness will characterize the play of both teams. This will be something of a match until the first goal, which we might ultimately never see in 90 minutes.
On paper, the Netherlands are closer to reaching the World Cup semi-finals right now. The team is more reliable in defence and disciplined in the attack. Argentina, on the other hand, are far too attached to their individual talents, which makes them unstable – the South Americans only play brightly for stretches. And they know about the counterattacking strengths of their rivals too, which suggests that there will be unlikely many goals scored.
Parimatch News staff prediction:
We say: The Netherlands will not lose in the regular time and the match total to be less than 3.5 – Yes.
Don`t miss out 👉: Hyderabad vs East Bengal: Preview and Prediction