Sweden vs Australia. Prediction and Preview. Probable Lineups, Team News, Stats, and more
Both teams have never won a World Cup, with Australia never getting further than the quarter-finals. Will they be able to please their fans in the final for 3rd place?
Sweden will meet with Australia in the FIFA Women's World Cup match for bronze medals at the Suncorp Stadium in Brisbane City, Australia. The fixture will take place on Saturday, August 19, beginning at 13:30 IST.
Parimatch News will tell you everything you need to know ahead of the upcoming match.
Sweden News & Current Form:
Sweden's women's national football team has never won a World Cup in its history, but it did win silver in 2003. The Blue and Yellows have also won bronze three other times, including at last year's World Cup in France.
At the Mundial 2023, they obviously would not refuse to perform even better, and at the end of the group stage of the tournament, this desire only increased, as they beat South Africa, Italy and Argentina with a total score of 7:1.
They created the main sensation of the tournament in the 1/8 finals, beating the USA on penalties – 1:0, in the main and extra time of the match there was a goalless draw, and then there was a dramatic penalty shootout, as a result of which the reigning world champions headed home.
This was followed by a 2:1 win over Japan. The Scandinavians opened the scoring in the match in the 32nd minute, the goal was scored by Amanda Ilestedt. In the 51st minute the Swedes doubled their lead. The author of the second goal was Philippa Angeldal, who successfully converted a penalty kick.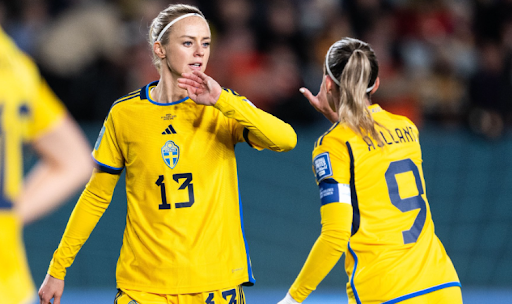 At the end of the match, in the 87th minute, Japan reduced the deficit thanks to a goal by Honoka Hayashi. Ten minutes earlier, Japan had failed to convert a penalty kick. The referee's final whistle recorded a victory for Sweden.
In the semi-finals, the Swedes fought against Spain, but conceded the decisive goal in the 89th minute, losing 1:2. As a result, the Scandinavians, like four years ago, stopped one step away from the decisive match. It should be noted that this defeat was the first for Sweden at the championship (4 wins and 1 draw in regulation time).
Don`t miss out 👉: Spain overcomes a stern Swedish test, England brushes aside Australia: 2023 FIFA Women's World Cup Semi-Final Roundup
Australia News & Current Form:
For the Australian women's national team, participation in the final part of the World Championships is an everyday occurrence, as they face too little resistance on the continent, so getting a ticket to the planetary championship is not difficult. Another thing is that they have never been further than the quarter-final stage before, and now they have managed to do it.
At the home tournament Matildas had a productive group stage, gaining six points out of nine possible, defeating Ireland (1:0) and surprisingly Canada (4:0), which allowed them to enter the play-offs from the first place.
In the 1/8 finals, the Aussies defeated Denmark 2:0, then surprisingly beat France 1:0 on penalties, but in the semi-finals, they suffered a 1:3 setback against England, with two goals conceded in the final 20 minutes of the game.
When it comes to absentees, Alanna Kennedy, Manchester City defender, who missed the semi-final defeat due to illness, will not be participating in this game either since she is experiencing delayed concussion symptoms. The experienced Claire Polkinghorne will hold her spot at center-back alongside Clare Hunt.
Captain of the Matildas Sam Kerr about her team's achievements at this World Cup:
"It really was a good battle against England. I mean, we play with and against these girls week in, week out, so we know they're all world-class players. We were up for it, they were up for it, and there really wasn't much in it in the end. But someone has to lose, and it sucks that it's us."
"It's hard now because the disappointment is so raw, but looking up into the crowd tonight, with 75,000 people here again, we can see that we've really captured the nation."
"The support we've had has been amazing and we'll do everything we can at the weekend to get those fans third place. The amount of people who've come out to support us, who've been there at our hotel, I'll say it again: it's been amazing. We never could have dreamed about this kind of support."
"So yeah, we have to pick ourselves up and go again. And we're going to do everything to win third. Tonight we'll need to process this but tomorrow we'll be back up, ready to go to Brisbane – and hopefully to make everyone proud."
"We want to win the bronze medal, to bring a World Cup medal would be amazing. It really feels like we have brought the nation together over football. It feels like we've done something amazing for the country, but there is definitely work still to be done."
"For us, this has been the most amazing four weeks of our careers. What's happened on the pitch but also off the pitch. The way the country has got behind us, we never dreamed this could happen."
Sweden form guide: W-W-W-W-W-L
Australia form guide: W-L-W-W-W-L
Sweden vs Australia Head-To-Head Record:
June 15, 2021: Sweden 0 – 0 Australia (International Friendly);
July 24, 2021: Sweden 4 – 2 Australia (Olympic Football Tournament);
August 2, 2021: Australia 0 – 1 Sweden (Olympic Football Tournament);
November 12, 2022: Australia 4 – 0 Sweden (International Friendly).
Sweden vs Australia Predicted XI:
Sweden's possible starting lineup (4-2-3-1): Musovic; Bjorn, Ilestedt, Eriksson, Andersson; Angeldal, Rubensson; Rytting Kaneryd, Asllani, Rolfo; Blackstenius.
Australia's possible starting lineup (4-4-2): Arnold; Carpenter, Hunt, Polkinghorne, Catley; Raso, Gorry, Cooney-Cross Foord; Kerr, Fowler.
Statistical preview of the match Sweden vs Australia:
Sweden's First XI average age is 29.0 yrs.
Australia's First XI average age is 27.5 yrs.
Sweden have not conceded in the first 90 minutes in 9 of their last 10 matches at the World Cup (7 wins, 2 draws).
At least three goals have been scored in Sweden's five previous games at this tournament.
Sweden have hit the opposition's goal in 6 of their last 7 games at the World Cup.
Australia have kept their goal safe in 3 of their last 4 World Cup games.
Australia have scored at least one goal in 9 of their 10 previous matches at this tournament.
The Matildas have not lost in the first 90 minutes in 7 of their last 9 meetings at the World Cup (5 wins, 2 draws).
Australia have had at least 5 corners in regular time in 6 of their last 8 matches at the World Cup.
What has been said before the match:
Peter Gerhardsson, coaching Sweden, about his team's spirits ahead of the decisive battle:
"We can still come third and that is what we will focus on, coach, players and staff alike. We will be focused on having the best possible team in the final match because we want to win. If you win the last game, you can be happy."
"There's no lack of motivation or anything. Like I said, the players are in a good condition. The only thing is that we've got an opponent on the other side that are also very highly motivated."
Head Coach of the Matildas Tony Gustavsson ahead of the 3rd place game:
"It's an extremely short turnaround to that game now. I know we're emotional, but we have no time to dwell on this one. We have a bronze medal game to play, we need to be ready."
"This is a third-placed game – we're playing for a medal. I'm going to make sure we have a line-up that is the strongest line-up we can have, but also the strongest finishing line-up."
"I'm going to plan what I think is best for the team in this one game, and not look at it as a bigger picture than that. We have gone with a strategy where we think relationships and continuity in tournaments is key. It's just a strategy we believe in."
Sweden vs Australia Prediction:
Australia finds itself in the Mundial semis for the first time in its history, a remarkable achievement for such a modest team by any measure. While basking in the aura of their home crowd, the Green and Yellow aspire to clinch the laurels, yet the path ahead is anything but easy. The formidable adversary they confront is none other than Sweden, a squad with a storied history of four podium finishes at global championships, thus possessing a wealth of experience in high-stakes encounters. Moreover, recent records indicate a trend favouring the Yellow and Blue, who have emerged victorious in their last two official face-offs, hinting at a potential continuation of this narrative.
Although the World Cup of 2023 has, on the whole, witnessed a frugal number of goals, the semi-finals defy this trend with a surprising flourish of scoring, despite the weighty importance of the occasion. As Sweden and Australia clash in the consolation final, the context is distinctively altered, with the cost of errors comparatively tempered. Following their intense and momentous displays in the preceding rounds, a measure of respite beckons, enabling both sides to offer the local audience an engaging and open bout. In light of these circumstances, the most prudent anticipation suggests an exchange of goals, resulting in a total of two goals.
Parimatch News staff prediction:
We say: Sweden (W) will take bronze; both teams will score and the match total will be over 2,5 – Yes.
Don`t miss out 👉: Manchester City vs Newcastle United: Preview and Prediction