Real Madrid vs Valencia. Prediction and Preview. Probable Lineups, Team News, Stats and more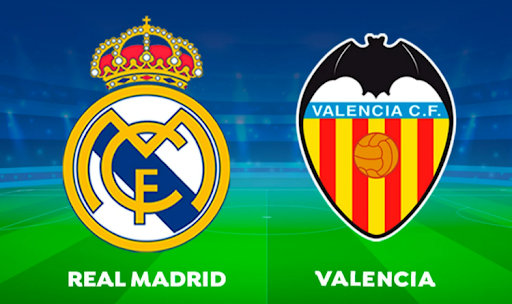 Real Madrid CF will host Valencia CF in the LaLiga 17th-tour match at Santiago Bernabeu Stadium. The fixture will take place on Friday, February 3, beginning at 01:30 IST.

What can we expect this Friday night? Parimatch News will tell you everything you need to know ahead of the upcoming match.
Real Madrid News & Current Form:
Real Madrid continue to chase FC Barcelona, but after the previous round, the position of Carlo Ancelotti's team became significantly more difficult. The players from the capital failed to beat Real Sociedad FC (0-0) at their home field and lost the crucial two points, although the Madrid team had many chances to score. Now they are five points behind the Catalans.
Here's what coach Ancelotti said after the game:
"It's a shame. We played very well and deserved to win. Had a good match and we only needed to score, we were close to it. I'm satisfied because the team played very well. We played 90 minutes at full throttle, with tension. Real Madrid didn't play as well as we would have liked, but we pressed. There was a high intensity of action until the very end."
The meeting with the club from San Sebastian was memorable not only because of the final result, but also because of another reason: the Madrid side failed to score for the first time this season. The last time the Galacticos failed to score was in May 2022 when they faced Real Betis FC (also 0-0). However, despite the setback, the Blancos are still at the top of the list of La Liga top scorers with 38 goals in 18 games. At the same time, against Barcelona Real concedes quite a lot – 16 goals compared to the opponent's 6.
Given the way in which team of Xavi is moving to the title almost without mistakes, the Madrid side needs to improve and not allow any more misfires. The good thing is that the Madrid side has a meeting with limping Valencia.
After Ancelotti's return, the club was able to surprise everyone with notable success in the form of winning both the Primera and the UEFA Champions League. The new temporada began just as solidly, but in the autumn the problems became apparent. And in January the team suffered a clear downturn, losing to Villarreal CF in the Primera and Barcelona in the Supercopa de Espana.
But you have to give credit to Ancelotti for showing that he can not only maintain the atmosphere in the locker room, but also correct the situation when necessary.
Real Madrid players have a very busy calendar. The team has yet to play in the Champions League. Taking into account the FIFA World Cup in Qatar, as well as the participation in several championships at the same time, the players will obviously accumulate fatigue. It will be very interesting to see how they will deal with this in the near future, but for now, the tasks are much more down-to-earth.
More recently, Real Madrid and Valencia met in the semi-final of the Spanish Super Cup. The main time of the meeting ended in a 1-1 draw. Karim Benzema opened the scoring in the 36th minute with a penalty, but after the break the Valencians equalized and the winner could be identified only in the penalty shootout, where Carlo Ancelotti's team won 4:3, without missing a single shot, while Real Madrid had many chances both in regulation time and in overtime. 
In the Super Cup final, Real Madrid lost to Barcelona 1:3 without a chance, scoring an own goal thanks to the efforts of Benzema, when everything was already clear. And with the same team Madrid are now fighting in the battle for the title of champion, in which the players from the capital so far are losing.
After the Super Cup, Real Madrid won the away match in the 18th round against Athletic FC 2-0, scoring a goal in each half with Karim Benzema and Toni Kroos as the authors of the goals. The team also has two wins in the Spanish Cup, beating Villarreal (3-2) and Atletico de Madrid (3-1).
In the last meeting against Atletico de Madrid, Ferland Mendy, the Blancos' left-back, suffered a thigh injury. He is out for two months because of the injury.
David Alaba and Lucas Vázquez will also be unable to play in the upcoming match.
Valencia News & Current Form:
Last week, Valencia lost tournament points in a last-minute duel with Real Valladolid CF (0-1). The team continues to chase its first win since the World Cup in Qatar, but before this duel was left without a head coach. By the way, it was after the last fiasco that coach Gennaro Gattuso left the club earlier this week.
The decision on his resignation came after a lengthy conversation with the management, during which the 45-year-old coach insisted on the need to strengthen the squad.
Usually, replacing the coach helps the team to cheer up and show bright soccer in the first match after the reshuffle. However, Real Madrid are not the best opponent to get back on the winning track.
Valencia captain Tony Lato admitted after the game that these are difficult situations, with the team not winning on the road since early October. Moreover, in three of their four matches, they conceded after the 85th minute, which ultimately cost them four points in LaLiga.
Temporary boss Voro Gonzales, who has been Valencia's caretaker for several previous periods over the past 15 years, will desperately need his players to play from the first to the last second. In 18 rounds, the Bats have recorded five wins and draws each, corresponding to 20 points and 14th position in the standings.
Valencia played more than decently against Real Madrid in the Spanish Super Cup semi-finals, losing only on penalties. Playing second number two on defense, it conceded a goal near the end of the first half from the penalty spot due to a foul by Eray Cömert, but after the break Samuel Lino managed to level the score. Later, Valencia had to defend against a superior and experienced opponent, and it succeeded. Its goalkeeper Giorgi Mamardashvili was to be thanked for saving the team in difficult situations. The penalty shootout loss was due not only to fatigue, but also to sheer bad luck. But Valencia showed that they could hold their own against a more classy opponent for even 120 minutes, playing second-string.
The Ches conceded 16 goals during that stretch, while scoring only 12 themselves. Obviously, the acquisition of Justin Kluivert and Edinson Cavani did not help Valencia solve their performance problems. However, it is not surprising, since the Uruguayan striker is already 35 years old. Not just scoring, but steadily keeping up the level in such an age can not everyone.
Thierry Correia, Nico González and Jaume Doménech, who has a knee injury, will not be able to take to the pitch.
Real Madrid form guide: W-L-W-W-W-D
Valencia form guide: L-L-W-D-L-L
Don`t miss out 👉: Chennaiyin vs Odisha: Preview and Prediction
Real Madrid vs Valencia Head-To-Head Record:
| | | |
| --- | --- | --- |
| Real Madrid | Draw | Valencia |
| 17 | 9 | 5 |
January 8, 2020: Real Madrid 3 – 1 Valencia (Supercopa de España);
June 18, 2020: Real Madrid 3 – 0 Valencia (LaLiga);
November 8, 2020: Valencia 4 – 1 Real Madrid (LaLiga);
February 14, 2021: Real Madrid 2 – 0 Valencia (LaLiga);
September 19, 2021: Valencia 1 – 2 Real Madrid (LaLiga);
January 8, 2022: Real Madrid 4 – 1 Valencia (LaLiga);
January 11, 2023: Real Madrid 1 – 1 Valencia; 4 – 3 after penalties (Supercopa de España).
Real Madrid vs Valencia Predicted XI:
Real Madrid possible starting lineup (4-3-3): Courtois; Nacho, Militao, Rudiger, Alaba; Kroos, Camavinga, Modric; Valverde, Benzema, Vinicius Jr.
Valencia possible starting lineup (4-3-3): Mamardashvili; Foulquier, Comert, Diakhaby, Gaya; Musah, Guillamon, Moriba; Kluivert, Cavani, Lino.
Statistical preview of the match Real Madrid vs Valencia:
Real Madrid's First XI average age 29.3 yrs.
Valencia's First XI average age 25.2 yrs.
Real Madrid are unbeaten in 7 of their last 9 matches.
Real Madrid won their last 4 head-to-head games.
Valencia have scored in their last 3 games against this opponent.
Real Madrid conceded an average of 1.20 goals per game in their last 5 games.
Valencia conceded in the last 3 games.
Valencia have scored an average of 1.60 goals per game in its last 5 games.
Valencia have conceded an average of 1.40 goals per game in its last 5 games.
Real Madrid are scoring in your last 24 games against this opponent.
Real Madrid have scored in 26 of its last 27 games.
Real Madrid are scoring an average of 1.80 goals per game in their last 5 games.
The total value of Real Madrid's squad – $849mln, while Valencia's – $250 mln.
What has been said before the match:
Carlo Ancelotti about transfer activity, about tight schedule, and rivalry with Barcelona:
"We didn't dip into the winter market because we didn't need to. If you plan your squad well in summer then you don't need to use the winter market. When you sign in January it means something has happened, which could be an injury, but we're fine."
"It's an incredible schedule, because LaLiga, RFEF, FIFA and UEFA all want to have their competitions. It's a shame because the players can't stop and rest. We're excited and the players are too to fight for everything. This club doesn't take any matches off and we try to win every competition. But, the schedule is too much and there is a limit."
"Something has been missing in some games, but we're on track with last year's points tally. Barcelona are doing better. We're confident that we can fight until the end. We've improved and are playing at a very good level. We can fight and we're going to fight for everything. The squad is beginning to look very good and the month of January could have been more problematic, but it's been quite good. The good things are going to come for us now."
About a change of coach in Valencia, Carlo said:
"When a coach is changed, it's not just due to the coach's mistakes, but also to change something in the team's direction. We'll be up against a very motivated team. Being sacked is part of our job as a coach. I don't think there's any coach who hasn't been sacked from his clubs. Guardiola is the only one, but if he keeps on coaching, he'll be sacked one day. I've been sacked from a lot of places, but I'm still here. Some things are worse".
Voro González, who is now in charge of Valencia commented the situation in the club:
"Unfortunately, it is not a new situation. I assume it with the usual responsibility. It requires work and the responsibility that comes with this position of being Valencia CF coach, to improve the situation and for the team to get out of the positions that are dangerous as soon as possible."
"This is a very big responsibility for me. If the club thinks I can contribute something, I don't doubt taking on the task. I am who I am. Now I'm going to sleep less. It is an issue that I have to face and I will face it."
"The club has confirmed to me that I will be here until the end of the season. What makes me optimistic is that there are many games left and the team and the coaching staff have to take a step forward. With that, we will overcome the situation. There are many teams close to relegation. There is no fear. There are 20 games left and we are going to fight."
"We have a very difficult game, but also an attractive one that every footballer wants to play in. We competed very well in the Supercopa against them. We know how difficult it is to play them away from home, but we have all the enthusiasm in the world to compete and make it difficult for them. We know where we are, but these are games that everybody wants to be in and they want to take a step forward. We have to take advantage of that and go there with full enthusiasm and confidence to compete."
Real Madrid vs Valencia Prediction:
A win for the visitors in this game would be something of a sensation, as the club has been awful in recent games, and things are unlikely to get any better without their head coach.
Real Madrid, in turn, are also not in the best of form. However, not only the class and experience of the players are in favour of Los Blancos, but also the solid support from the home stands will give the reigning Spanish champions plenty of motivation to win the upcoming game. And these 3 points are needed like air for Carlo Ancelotti, as another loss could give Barcelona a 7-8 point lead and it would be difficult to overcome that deficit, even in half a season, given the current potency of the Catalans.
In order to win, it's time for the team's leaders, Benzema and Vinicius Jr, to step up. Between them, they have scored 15 league goals this season but Karim has been the only one pulling Madrid forward in La Liga recently. The Brazilian's activity is lacking in order to consolidate the victories. All the more reason to need goals as the opponents have the biting Edinson Cavani in attack – El Matador has already scored five times for the Bats.
Don`t miss out 👉: Kerala Blasters sign Danish Farooq from Bengaluru on deadline day
Parimatch News staff prediction:
We say: Real Madrid will win and the match will be over 2.5 – Yes.