Real Madrid moved top of La Liga with an essential victory over Barcelona in an El Clasico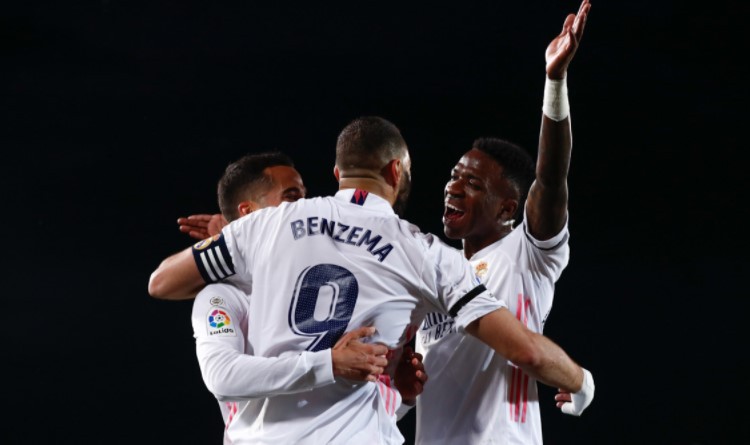 Karim Benzema who is a key player for Real Madrid this season is celebrating with teammates
Real Madrid beat Barcelona 2-1 in the 30th La Liga tour. It was Los Blancos` third consecutive victory in El Clasico, which helped them climb to the top spot. But still, Atletico, who led La Liga by 10 points as recently as 31 January, can reclaim first place with victory at Real Betis on Sunday.
The Royal Club managed to secure the result in the first thirty minutes of the match.
The clash started with Karim Benzema`s sublime near-post flick in the 13th minute, it was his ninth goal in his past seven La Liga games. After that Los Blancos doubled their lead before half-time through Toni Kroos' two-time deflected free-kick.
Don`t miss out 💥: Benzema could face up to 5 years in prison for alleged blackmailing Valbuena.
After that, Mingueza managed to play one back for Barca and the Blaugrana had 30 minutes to find an equalizer.
The tensest part of the match began. It was all mostly determined only by the force majeure that the Merengues had to deal with: the injured Lucas Vazquez, a red card to Casemiro, and the unexperienced youngsters came on the pitch after substitutions. In the final minutes, the fans' nerves were fraying
To be fair, Barça could have quietly snatched a draw thanks to some dangerous chances, but the woodwork saved Thibaut Courtois from a goal that would have robbed the Merengues, according to Zidane, of a 'generally deserved victory': midfielder Ilaix Moriba's well-struck shot came back off the crossbar in stoppage time as the hosts held on.
Also, there was a hugely controversial moment when Ferland Mendy pulled Martin Braithwaite's arm inside the box, but both the referee and VAR felt there was no penalty.
Emotions were running high in the second half and the camera snapped out at Lionel Messi, who was pummeled by a major shiver of worry. It might have just been the cold, as the Argentine went to change his jersey, but it did not help to improve his performance
As always in matches of this calibre there is a lot of pressure on the refereeing team, a curious thing happened:
Luka Modric made his way off the pitch, with the Barcelona legendary central defender Gerard Pique (who is injured) having come down from the stands to wait on the sideline. Real Madrid midfielder realized that Pique was going to do more than just give the players coming off a high five.
"You're waiting for the referee to complain, eh?"

the Сroatian said to Pique.
"Well, four minutes [only for added time]…"

Pique replied.
"How many more do you want?"

Modric responded as he threw his arm up in the air in disbelief.
Barcelona manager Ronald Koeman commented:
"I think everyone who saw the game will see that we can be very unhappy with the result. I think we weren't good at all in the first 45 minutes. We weren't good in attack or in defence, but in the second half we improved. We need to be better when making key decisions. They're decisions that can cost us the game and in the end they did."
He also pointed to Jesus Gil Manzano and his team controversial decision not to award a penalty at the end of the match:
"For me, it's a clear penalty. Everyone saw it. I don't understand how the linesman can be ten meters away and not call it. The way Martin falls it has to be a foul. Maybe the ref can't see it, but we have VAR for situations like this. It's better to not say anything else about it. The team is doing well mentally."
After El Clasico, he tweeted these points once again to make his thoughts clear:
Real Madrid manager Zinedine Zidane said after the match:
"I feel very happy. We started the game very well. It was a very complicated match overall, but it was a deserved victory. I think we could have scored a third goal, but it's an important win. We did our job today."
Don`t miss out 💥: Liverpool players faced racial insults after Сhampions League game against Real Madrid.
Barcelona have never won La Liga after two defeats to Real Madrid in the season. It happened for the first time since the 2007/08 campaign.
Ronald Koeman's unbeaten streak of nine games in all competitions came to an end. In the Spanish championship, the Catalans have not lost since last December, a streak of 19 matches.
Casemiro has been sent off for the second time for Real Madrid after 478 fouls in all competitions.
Benzema has scored his last seven league games (nine goals) becoming the fourth Real Madrid player to score at least seven games in a row in this competition this century.