Premier League Team of the 2021/22 Season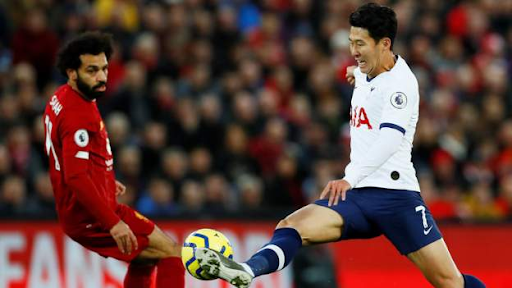 Mohamed Salah and Heung-Min Son jointly won the Premier League Golden Boot
The 123rd edition of the English top-flight has the exact same ingredients as the previous 122 editions – enthralling matches, nerve-wracking battles and last-minute table changes. It was effectively proved once again why many claim the Premier League to be the best league in the world, but in this article, our focus is on the best players.
Given that they won the league, it is not a surprise that three Manchester City players have made it to the team, but four of Liverpool's stalwarts have been included as well. Besides them, we have selected four other exceptional performers who were as reliable as they were magical.
Check out the 2021/22 Premier League team of the season lined up in a 4-2-3-1 formation:
Goalkeeper – Alisson Becker
Liverpool's goalkeeper Alisson Becker had yet another fantastic season for the Reds and played a crucial role in his team's pursuit of the title, though it ultimately did not bear fruit. With 20 clean sheets, he joint-topped the clean sheet charts alongside Manchester City's Ederson Moraes. However, he was influential in his team's success, given that while Ederson made 60 saves, Alisson made 76 saves. Besides that, he also made more high claims and had more punches than his Brazilian teammate.
Defenders – Trent Alexander-Arnold, Virgil van Dijk, Thiago Silva, Joao Cancelo
Though he is only 23 years of age currently, it seems Trent Alexander-Arnold has already reached his peak for he keeps on delivering for Liverpool consistently. He made 12 assists this season, which happens to be the most by any defender and second-highest overall. Besides that, he was among the 16 players who made over 2,000 passes this season.
Liverpool might not have won the competition, but they did have an amazing season and it is not a surprise that Virgil Van Dijk is the third consecutive Red who makes our list. Besides playing a big role in his team's 20 clean sheets, the Dutch central defender also ranked joint-first in terms of blocks by any Liverpool player (14). Besides that, he also made 31 interceptions, won 117 aerial battles and made 107 clearances.
Thiago Silva is currently 37 years of age, but one would not say that by seeing how he plays week in and week out. Amid a difficult season where Chelsea faced turbulence both on and off the field, the Brazilian veteran was one of the few players who remained supremely consistent all throughout the season. He topped the Blues charts in many different aspects, which includes – blocks (31), interceptions (44), aerial battles won (57) and clearances (95).
The first player from the champions on our list is Joao Cancelo – the versatile Portuguese defender who had an excellent season as a left-back for Manchester City. He gave seven assists and combined effectively in defense as well. Among the players in his team, he made the most interceptions (59), stood second in terms of aerial battles won (57) and was fourth in terms of clearances (31). If that is not impressive in itself, he made the most passes (2.951) by any player this season and also got the most touches (3,908), which speaks volumes about his involvement.
Central Midfielders – Rodri, Declan Rice
Rodri's story is similar to Cancelo's, in the sense that he too has been very influential in the Cityzens' success, but has not particularly been in the limelight. He is among the only three players who made over 2,800 passes this season and came second in terms of the most number of touches (3,246). Besides that, he also won the most number of aerial battles (87) by any player from Pep Guardiola's team, while he also made 42 clearances.
West Ham United had an excellent season as they finished seventh and also made it to the semi-finals of the 2021/22 UEFA Europa League. While they have had many spectacular performers, it will be safe to say that they would have been half as impressive, had it not been for Declan Rice's consistency and commitment. He was the Hammers' best player in terms of overall passes (2,153), touches (2,650) and also interceptions (63). Besides that, despite being a midfielder, he won 42 aerial duels for his team.
Attacking Midfielders – Mohamed Salah, Kevin De Bruyne, Heung-Min Son
Mohamed Salah might have won only one Premier League title in his career, but he won his third Premier League Golden Boot, albeit with Tottenham Hotspur's Heung-Min Son. He scored 23 goals, but when it comes to the overall contribution, the Egyptian King is head and shoulders above as he also got the most number of assists (13) and also the most number of shots (139). Besides that, he also gave the most number of through balls (18) by any player from Jurgen Klopp's team.
Kevin De Bruyne won his second Premier League Player of the Year award this season, and for very justifiable reasons. The Belgian midfielder scored the most goals by any player from his team (15) and also gave the most assists (8). He also made 78 attempts this season, highlighting his relentless urge to find the back of the net, and gave 20 through balls to further bolster his already exceptional numbers.
At one stage in the season, it seemed that Tottenham Hotspur does not have any chance of making it to the top four, but they eventually did and lion's share of the credit should be given to Son. The inspirational South Korean attacker netted 23 goals to finish joint-first in the goal-scoring charts alongside Salah, while he also gave seven assists. He also had 86 shots this season – more than De Bruyne.
Striker – Harry Kane
Though he scored six goals less than last season, Harry Kane still had a fairly satisfactory season for Tottenham Hotspur. He scored 17 goals – less than only Salah, Son and Manchester United's Cristiano Ronaldo. However, we have selected the English goal machine ahead of the Portuguese icon for our list for his overall game. He was Spurs' best player in terms of assists provided (9), shots (133) and through balls (22).