Newcastle United vs Manchester City. Prediction and Preview. Probable Lineups, Team News, Stats, and more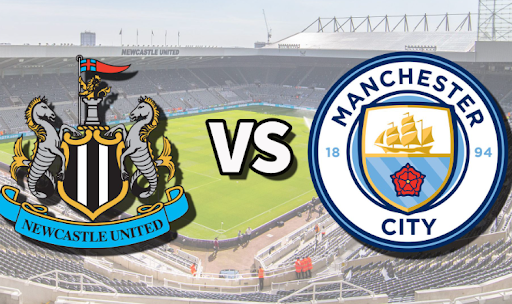 The Citizens go on a streak without 8 losses, while Newcastle have recently had 3 straight losses. Will the Magpies be able to hold out against the treble holder?
Newcastle United FC will host Manchester City FC in the EFL Cup 3rd round match at the St. James Stadium. The fixture will take place on Thursday, September 28, beginning at 00:30 IST.
Parimatch News will tell you everything you need to know ahead of the upcoming match.
Newcastle United News & Current Form:
The Magpies have had a poor start to the season. For six rounds of the English Premier League they have three defeats and three wins. And the charges of Eddie Howe lost to direct competitors – City (0:1), Liverpool FC (1:2) and Brighton & Hove Albion FC (3:1). But they got back on Aston Villa FC (5:1) and Sheffield United FC (8:0).
It is noteworthy that all eight goals were scored by different players – Sean Longstaff, Dan Burn, Sven Botman, Callum Wilson, Anthony Gordon, Miguel Almiron, Bruno Guimarães, Alexander Isak. No one has ever accomplished such a feat in EPL history before.
As a result, Newcastle occupy the eighth line of the championship of England. Despite three defeats, the club has a good goal difference: 16 goals scored, 7 conceded. Only Brighton (18) scored more often.
Newcastle managed to break the series of failures, defeating Brentford FC with a score of 1:0. Then the Black and Whites played their first UEFA Champions League match in 20 years. The team drew 0:0 with AC Milan but looked timid against their opponents.
The Rossoneri had 25 shots, eight of which were on goal. The Magpies responded with just one shot on frame, with only six attempts. Had it not been for Nick Pope, the game could have ended in defeat.
Talking about the most prolific players in the team, Wilson tops the list with four goals. In second place is Isak (three), and Gordon with two goals and a couple of assists. Top assist man is Kieran Trippier with three assists.
Last season Newcastle were close to winning the Carabao Cup trophy. The Magpies made it to the final, but lost to Manchester United FC in the decider (0:2). It was the team's best performance ever in the cup. Joe Willock and Joelinton will miss the upcoming match due to earlier injuries.
Manchester City News & Current Form:
The Citizens have produced a perfect start to the season. After a misfire in the FA Community Shield decider against Arsenal FC (1:1, penalties 1:4), the Blues have not lost once.
They beat Sevilla FC (1:1, penalties 5:4 ) in the UEFA Super Cup, and have won their six EPL rounds by a combined score of 16:3. No-one in the league has conceded less than Man City, while only Brighton (18) have scored more.
In the Champions League, Pep Guardiola's men also started with a victory – at home over Crvena Zvezda (3:1). The Serbs were the first to score in 45 minutes. But then they conceded twice from Julian Alvarez and once from Rodri.
In the last match the Citizens beat Nottingham Forest FC, scoring twice by the 14th minute of the game – 2:0. Rodri received a straight red card, but, according to the coach, has already apologized for his behavior.
The team's top scorer is Erling Haaland. The Norwegian has eight goals and one assist. Alvarez has four goals and three assists. Rodri has three shots and one pass.
In a recent interview, Guardiola spoke out about his best striker. He joked that he can't sleep well if Haaland doesn't convert chances. He also mentioned that Erling could have already scored 14 or 15 goals if he didn't miss some chances. According to Pep, he always knows when the team is playing well by the scoring opportunities of the Norwegian. If there are a lot of them, then everything is fine.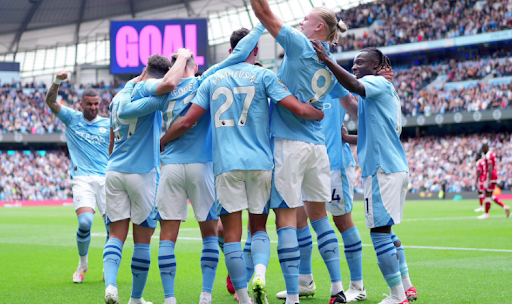 Guardiola has a serious injury problem. John Stones, Mateo Kovacic, Bernardo Silva, Kevin De Bruyne are out of the squad. But Jack Grealish has recovered. However, even without four top stars, the Blues are overlooked by their opponents. Manchester City will probably make a deep rotation, citing the tight schedule and limited squad, as they have a league game in 3 days.
In the last draw of the League Cup, City reached the 1/4 finals, where they were knocked out by Southampton FC (0:2). For that match Guardiola put out half of the reserve squad. The last time the Citizens took the trophy was in 2021, defeating Tottenham Hotspur FC in the final (1:0).
Don`t miss out 👉: Resilient Jamshedpur holds East Bengal to a goalless draw
Newcastle United form guide: L-L-L-W-D-W
Manchester City form guide: W-W-W-W-W-W
Newcastle United vs Manchester City Head-To-Head Record:
| | | |
| --- | --- | --- |
| Newcastle United | Draw | Manchester City |
| 72 | 41 | 76 |
May 8, 2022: Manchester City 5 – 0 Newcastle United (Premier League);
August 21, 2022: Newcastle United 3 – 3 Manchester City (Premier League);
March 4, 2023: Manchester City 2 – 0 Newcastle United (Premier League);
August 19, 2023: Manchester City 1 – 0 Newcastle United (Premier League).
Newcastle United vs Manchester City Predicted XI:
Newcastle United's possible starting lineup (4-3-3): Pope; Trippier, Schar, Botman, Burn; Longstaff, Guimaraes, Tonali; Murphy, Isak, Gordon.
Manchester City's possible starting lineup (4-2-3-1): Ortega; Lewis, Akanji, Ake, Gomes; Nunes, Phillips; Foden, Alvarez, Grealish; Haaland.
Statistical preview of the match Newcastle United vs Manchester City:
Newcastle's First XI average age is 27.4 years, City's First XI average age is 25.5 years.
The total value of United's squad is 598 mln euros , while the value of Man City is 1.18 bln euros.
Manchester City conceded an average of 0.80 goals per game in their last 5 games and scored an average of 3.00 goals per game.
In the last 5 games, Newcastle conceded an average of 1.00 goals per game and scored an average of 2.20 goals per game.
Manchester City have an eight-match unbeaten streak.
Manchester City have won eight of the past nine meetings with Newcastle United.
What has been said before the match:
Coach of the Magpies Eddie Howe about the feeling after Sheffield United game, not conceding for 3 games in a row and the upcoming game with Man City:

"Initially after the game, the feeling was very good in the dressing room. The atmosphere has always been good around the group, the spirit's high, but nothing can replicate scoring goals, feeling good about the team."
"I thought the team functioned really well, there was a confidence and a really nice rhythm about the team and long may that continue. You score eight in one game, you hope we haven't used all our goals up, but it was great to see."

"Of course, Nick Pope was outstanding against Milan which helped us keep a clean sheet that day, but sometimes you'll need different things to keep the opposition out and who knows what it will be tomorrow. But those qualities are so important to us."
"I think the upcoming fixture is the draw that no-one wants because for me they're the best club team in the world and have been for some time. So I think the test is there for us. We don't underestimate it but we also want to attack it and show that we have strength in depth as well and we can compete on various fronts. I think this is an ideal place to try and show that."
Pep Guardiola about the lack of rest during the season, having lots of injured players and future fixtures :
"It's nice to have that ambition of winning titles but the ambition is the next game. Maybe in April or May and if you're in all the competitions you think about it, but right now at the end of September to think of a title is a mistake."
"No it's not mentally. This isn't the problem because all the players want to fight for the title and as long as we can, being in the competitions until the end is the best."
"The problem is a lack of rest. The problem is the season comes two or three weeks off, this is not a lot, it's nothing. This is the problem. The players play to win the games and fight for the titles, this is the reason what we're looking for and fighting for."
"The problem is a lack of rest, year upon year. In the future the Champions League is longer and with more teams, it is what it is. I can complain but then forget it and go to the competition."
"But now it's an exceptional situation. We have a lot of players injured and a lot of players with a lot of minutes with the national teams and our team and you have to rest.
"Tomorrow is important but the Wolves, RB Leipzig and Arsenal games are much more important. That's why you have to see and the guys who didn't play much will play and the rest we will see what happens and try to make a good starting eleven."
"We will travel there to win the game, there is no doubt about that. But I have to take into consideration the amount of effort in this period, with a lot of minutes for many players. And we have to avoid more injuries again otherwise we'll be in trouble."
Newcastle United vs Manchester City Prediction:
Newcastle United has suffered eight defeats in their last nine matches against Manchester City in all competitions. However, Eddie Howe's side now have a great opportunity to improve the statistics as the EPL leader will not be able to count on Rodri. The Spanish player is suspended, he handles a lot of work in the center of the pitch and is a crucial player in Pep Guardiola's set play. The absence of the core player will not go unnoticed.
Nevertheless, Pep's team looks the favorites, albeit not that clear. The Citizens have had a great start to the season, they haven't conceded in any game, they are excellent both offensively and defensively. But unfortunately, they are likely to rotate the squad for the League Cup because of the busy schedule. Will the Catalan resort to it? It is unlikely to be in this game. Newcastle will be playing Burnley in the next game, and Man City will be playing Wolverhampton. It's better to give your best here, because the trophy is always important. And then in the EPL you can afford to play in economy mode, because the opponents allow you to be relaxed.
In this case, the victory of the sky-blues is much more believable. They are more stable, have more experience and run with a winning streak. Yet, Newcastle show a rigorous defensive game and have not conceded in three consecutive meetings as well. In addition, the Magpies take the fight in high spirits, because at the weekend they managed to defeat the Blades by scoring 8 unanswered goals. But the euphoric easy game can exhaust them emotionally and delude them to some degree. It's a long recognised pattern. A win for Guardiola's team looms as a foreboding shadow over the pre-match layouts. We also do not rule out a high goal scoring performance for the upcoming game.
Parimatch News staff prediction:
We say: Manchester City will not lose and the match total goals will be less than 3.5 – Yes.
Don`t miss out 👉: Mohun Bagan Super Giant vs Bengaluru: Preview and Prediction