Newcastle United vs Borussia Dortmund. Prediction and Preview. Probable Lineups, Team News, Stats, and more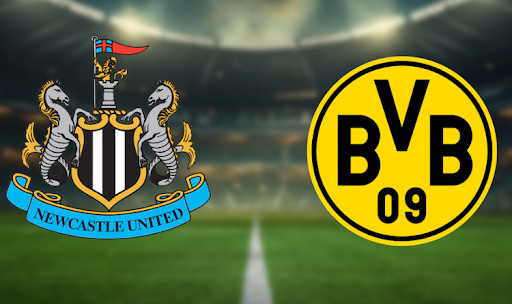 Newcastle made a sharp start in the group stage of the Champions League and in the last match they crushed PSG with a score of 4:1. Will the Bundesliga side repeat the fate of the Parisians?
Newcastle United FC will host Borussia Dortmund in the UEFA Champions League Group F 3rd round match at the St. James Park Stadium. The fixture will take place on Thursday, October 26, beginning at 00:30 IST.
Parimatch News will tell you everything you need to know ahead of the upcoming match.
Newcastle United News & Current Form:
After years of absence, Newcastle have finally become a member of top soccer society again. Thanks to investors from Saudi Arabia, who bought the club and have already invested considerable funds in it.
In the off-season, more than 150 million euros were allocated for the acquisition of players, the most important transfer was the transfer of AC Milan midfielder Sandro Tonali. At that time nothing was known about the group rivals in the Champions League, but after the draw it turned out that the English weakened one of the competitors.
At the same time, just a week ago a scandal related to Tonali broke out. It turned out that he was betting in an illegal bookmaker's office while still being a Rossoneri player, moreover, he bet on his club. As a result, in the best case everything may end with a one-year suspension of the player.
The decision on the part of the Italian Football Federation and UEFA has not yet been made, so Tonali was in the squad for the last match of the Magpies in the championship and even came on as a substitute. But everyone is well aware that the Italian has not long left to play, a ban will soon follow. It can not be said that for Newcastle it will be a disaster, but the fact itself is very unpleasant.
Eddie Howe expressed his support for Sandro Tonali in an interview. The club's mentor is satisfied with the Italian's attitude to training, despite the psychological pressure. He suggests not to forget that the player now has a difficult period and he needs help to overcome difficulties.
Also, specialist Howe has already proved that he is able to quickly find a common language with players, create a working environment in the team without scandals and achieve results. Therefore, it is not surprising that the Newcastle coach is considered as a possible replacement for Gareth Southgate in the England national team after the EURO 2024.
After finishing last EPL season with a fourth-place and, consequently, a long-awaited return to the Champions League for the first time since 2003, the team faced problems at the start of the current championship.
Having started with the defeat of strong Aston Villa FC (5:1), United received in the rivals Manchester City (1:0) and Liverpool FC (1:2), losing to both grands. At the same time, the Merseysideiders, just like the year before, snatched victory from the Magpies in compensated time.
Probably, such an upsetting defeat knocked the players out of their rut a bit, but after the third consecutive loss against Brighton and Hove Albion FC (3:1), things got better. Over the next eight matches, Newcastle conceded only three goals and drew only twice, winning the rest of the games.
They also picked up a few landmark victories at once. For example, Howe's charges set a record in the English Premier League, defeating Sheffield United FC with a score of 8:0. Eight different players scored in the gates of the Blades, which is a unique achievement for the EPL.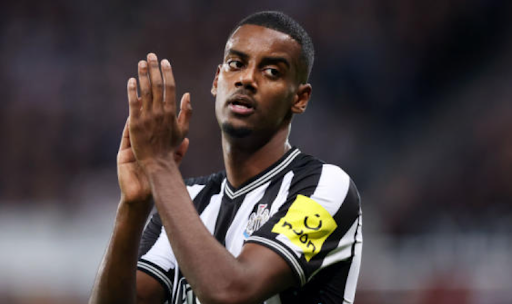 Then Newcastle knocked Man City out of the English Football League Cup (1:0). As a result, after nine rounds, the club is on the 6th line in the top division table, having gained 16 points.
In the Champions League, Newcastle have big-name opponents: Milan and Paris Saint-Germain. Despite this company, the English managed to climb to first place in Group F, with the Italians they played a draw away (0:0), and defeated the French at home with a score of 4:1.
It's worth noting that the Magpies have not only been beating almost everyone in a row lately, but also performing well on offense. In total, in the four previous matches with the club had 15 takeaways (3.75 average per game), which in itself is a very solid indicator. Also Newcastle are performing exceptionally well at home. On their field, the team won 5 matches in a row, taking into account all tournaments.
Eddie Howe has created a balanced team, which has almost no weaknesses. After the problems at the start of the current season, the coach promptly made adjustments to the tactical model and eliminated errors.
The English have an injured main midfielder Harvey Barnes, but he did not take part in the match against PSG, so they have learned to do without him. The same situation with Newcastle's Dutch defender Sven Botman – they found an equivalent replacement.
Don`t miss out 👉: Bengaluru vs Goa: Preview and Prediction
Borussia Dortmund News & Current Form:
Borussia Dortmund will long be remembered for last season, when Edin Terzic's team had a great opportunity to break the hegemony of FC Bayern Munich in the Bundesliga, but failed to win at home against FSV Mainz 05 in the last match and eventually remained in second place.
Munich won the Bundesliga for the 11th time in a row, while Dortmund were then left without Jude Bellingham, who is now tearing it up in La Liga for Real Madrid CF. It should be noted that at the end of last season Bellingham missed the end of last season due to health problems – and in the decisive round on the field also did not come out, although he seemed to be able to play, but he spent the entire match in the reserve.
During the summer transfer window the club managed to acquire Felix Nmecha, Marcel Sabitzer and Niclas Füllkrug. They immediately became main squad players and lengthened the bench. The choice of players became bigger, hence the result and good results in the domestic championship.
To compensate for the absence of such a creative player as Bellingham in attack, the coach had to bring up club veteran Marco Reus from the reserves. The 34-year-old midfielder has played nine games this season and has already scored three goals and made two assists.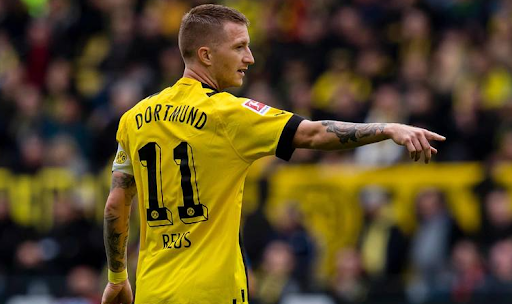 Head coach Edin Terzic has revised the tactical scheme, favoring a counter attacking model. The Black and Yellows pay a lot of attention to defense, which allows them to go undefeated in the current Bundesliga season: six wins and two draws.
Now Borussia remain in the group of leaders and occupy the 4th position in the table and are only 2 points behind the leader in the person of Bayer. BVB got five consecutive wins against SC Freiburg (4:2), VfL Wolfsburg (1:0), TSG Hoffenheim (3:1), FC Union Berlin (4:2) and SV Werder Bremen (1:0).
But here in the Champions League, Terzic's strategy isn't working. Borussia are in last place in the Group F table after two rounds. They lost away to PSG (0:2) and drew the home match with Milan (0:0). With great difficulty the Germans manage to create dangerous moments.
Dortmund have as many as six players in the infirmary, but they have also not played for a long time and they can not be considered a special loss. The German club will try to gain the first points and will not sit in a deaf defense, which means there will be space and free zones for fast Newcastle wingers.
Newcastle United form guide: W-W-W-W-D-W
Borussia Dortmund form guide: L-W-W-D-W-W
Newcastle United vs Borussia Dortmund Predicted XI:
Newcastle United's possible starting lineup (4-3-3): Pope; Trippier, Lascelles, Schar, Burn; Longstaff, Guimaraes, Joelinton; Almiron, Isak, Gordon.
Borussia Dortmund's possible starting lineup (4-2-3-1): Kobel; Ryerson, Hummels, Schlotterbeck, Bensebaini; Can, Ozcan; Brandt, Reus, Malen; Fullkrug.
Statistical preview of the match Newcastle United vs Borussia Dortmund:
Newcastle's First XI average age is 29.2 years, Borussia's First XI average age is 29.2 years.
The total value of United's squad is 650 mln euros,while the value of the German squad is 466 mln euros.
Portuguese Artur Soares Dias has been appointed as the center referee. The referee has already served seven games this season, showing an average of 4.71 Yellow Cards and also whistles 22.86 fouls per game.
In the last 5 games Borussia conceded an average of 0.60 goals per game and scored an average of 1.80 goals per game.
In the last 5 games, Newcastle conceded an average of 0.60 goals per game and scored an average of 2.60 goals per game.
Newcastle and Borussia have not crossed paths before.
Newcastle have not lost in their last 8 matches (6 wins, 2 draws).
Borussia have won four of their last five games in all competitions.
Borussia have won only one of their last 7 away matches in the Champions League (draw, 5 defeats).
At the moment Newcastle in Group F have scored the most goals – 4, their authors were different players. Kieran Trippier is the leader among assistants, he has 7 assists.
Borussia won the Champions League for the first and only time in 1997, defeating Juventus FC in the final.
At least one opponent has failed to score in 4 of Newcastle's 5 previous UCL fixtures.
No more than 2 goals have been scored in Dortmund's 7 previous games in the Champions League.
Borussia, taking into account all tournaments, serve an average of 5.64 corners. Meanwhile, Newcastle have 5.25 corners in the penalty area in all competitions.
What has been said before the match:
Gaffer of Newcastle United Eddie Howe about his team's showing their worth in champions League:
"I think we need to forget the PSG result. Take the confidence from it, but forget it and try to create that atmosphere all over again and, for us, try to recreate those energy and intensity levels and quality of our play to try to win the game."
"It's another real top test. This group was always going to be that way, going from AC Milan to PSG to Dortmund. It's great to be involved in but as we said at the start of the group, we knew this would be a really tough examination for us, this is a key period in it now."
"We've made a good start but we can't get ahead of ourselves. We have to focus on what's ahead of us and this is a pivotal game in the group. We have to prove in these early stages of the Champions League that we're good enough. I still feel we need to be in that mindset going into this game."
Edin Terzic, head coach of BVB, about a challenge in front of his squad:
"It will be an intensive challenge that we're extremely looking forward to. Newcastle have made very smart transfers. I still know and appreciate my time in England. An excellent coach."
"We're ready and believe that we can do it," Borussia Dortmund midfielder Felix Nmecha is confident.
With Julian Brandt adding:
"Even though Newcastle produced a very good performance against PSG, we must go there full of confidence. The group is so wild that anything can happen. We absolutely need a victory."
Newcastle United vs Borussia Dortmund Prediction:
Newcastle are in terrific form: eight matches without defeat in all competitions – six wins and two draws. The league's best offense is relentlessly firing goals (2.6 per 90 minutes on average). At the same time, the defensive set-ups don't let them down: only 1 conceded goal per match on average. During this stretch, Eddie Howe's gang beat Man City in the English League Cup (1-0), defeated PSG (4-1), and did not lose to AC Milan at the monstrous San Siro (0-0). In other words, the Magpies looked really great even against the powerful level of opposition. But does this mean that the Black and Whites will have no problems with the visitors in the Champions League match?
We pay tribute to the success of the English, but by no means write off the no less bright team from Dortmund. We look at the results of Edin Terzic's charges in the 2023/24 season: seven wins, three draws and only one defeat. Yes, the Bumblebees lost away to the Parisians at the start of the UCL, but they survived in Italy. And that's worth a lot! Plus, in favor of the guests speaks European Cup experience, which they have a few more suitcases relative to the opponent. There is no talk of victory, but, in our opinion, Borussia have enough resources to bring at least one point from Foggy Albion.
A repeat of the goal extravaganza as in the match with PSG is unlikely to be expected. Moreover, given the difficult tournament situation, Borussia will probably play as pragmatically as possible and won't allow many goals, but it will be incredibly difficult for the Bumblebees to score against Newcastle. Recently, even Manchester City failed to do so.
Parimatch News staff prediction:
We say: Borussia Dortmund will not lose and the match total will be less than 4.5 – Yes.