Manchester United vs Brentford. Prediction and Preview. Probable Lineups, Team News, Stats and more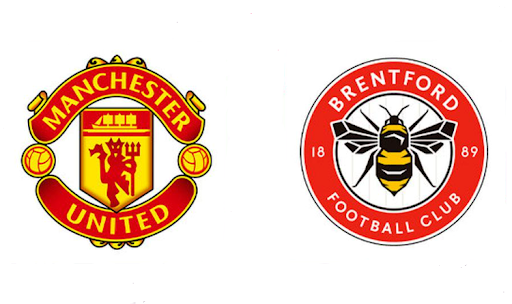 Will the feisty Bees be able to drive the suffering Red Devils off the rails?
Manchester United FC will host Brentford FC in the English Premier League 25th-tour match at Old Trafford. The fixture will take place on Thursday, April 6, beginning at 00:30 IST.

Manchester United take on Brentford at home in the postponed twenty-fifth round of the English Premier League. Ten Hag's side are currently in a slump, unable to score a single goal in their last three league games and in the absence of their key player, the suspended Casemiro, the team's fortunes are downright slippery. It looked as though Manchester United had already booked their place in the Champions League, but they are now in fifth place. Meanwhile, Brentford remain unbeaten in fifteen of their last sixteen games in the Premier League and, going into the upcoming tie, the Bees plan to continue that trend.

What can we expect this Thursday night? Parimatch News will tell you everything you need to know ahead of the upcoming match.
Manchester United News & Current Form:
The UEFA EURO 2024 qualification matches have ended. Now we are back to everyone's favorite domestic arenas. In the Premier League, a rescheduled 25th round match is set to be played on April 6. Manchester United and Brentford determine who is stronger at the moment at the famed Old Trafford Stadium in Manchester.
Most recently, it seemed like MU was doing just fine. They won the Carabao Cup, handily beating Newcastle United FC 2 – 0 in the final, and also qualified for the Europa League quarter-finals. In the previous stages of the tournament the club defeated FC Barcelona (4 – 3 on aggregate in two matches) and Real Betis (4 – 1 and 1 – 0).
However, in the English championship the Red Devils faced serious problems. It all started with a devastating defeat against Liverpool FC (0 – 7). After that, some players apparently wanted to get better so badly that they overdid it. We're talking, of course, about Casemiro.
The Brazilian midfielder, a key player for the Mancunians, was given a straight red card for a rude move in the 34th minute against Southampton FC, who are at the bottom of the standings. The game ended in a goalless draw only thanks to the opponent's poor execution.
Casemiro was suspended for four matches, as this is his second red card in the current EPL season. Without the Brazilian, MU first beat Fulham FC (3 – 1) in the Emirates FA Cup quarter-final not without luck. By the 70th minute the team was losing 0 – 1. Luckily, in the 72nd minute the Cottagers got a double suspension. It helped the Reds to turn the tide in the game.
Then, Eric ten Hag's charges suffered a 0 – 2 defeat against Newcastle United. The scoreline didn't quite reflect the real situation. The absence of Casemiro greatly weakened the defensive line of the Reds. Had it not been for David de Gea, they would have conceded a lot more. The goalkeeper made some terrific saves.
After that defeat, they dropped to fourth place in the standings, allowing Newcastle to secure third place. However, the fear of leaving the UEFA Champions League zone and the home stands will likely help the Red Devils get their act together and produce a better performance.
By the way, the Mancunians have not lost 24 games in a row in all official tournaments at Old Trafford. Luke Shaw, in a recent interview, expressed hope that his team will deal with the mistakes from the match against the Magpies and get back on the winning track. It won't be easy to do that without Casemiro, but the chances are there. MU's lineup is more stellar than that of the Bees, anyway.
It is worth mentioning that Luke Shaw extended his contract with Man Utd club till 2027. He is very excited and grateful to be in this club:
"Nine years ago I signed a contract with this amazing club, and I am very happy to be extending my stay with it. Since I came to Manchester many years ago, I have grown a lot both as a person and as a player. I know what it takes to succeed at a club like this."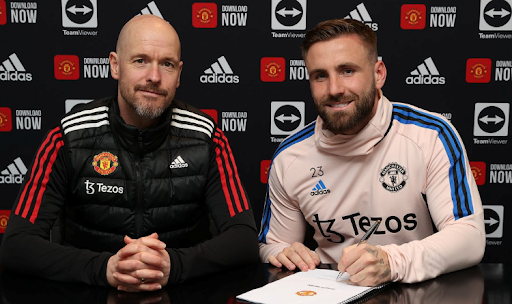 "We are at the beginning of our journey under the head coach and his staff. We've had success already this season, but we want more. There's a great opportunity to create something special here, and I'm going to give it my all to be a part of that."
Coach ten Hag praised the player and is happy to have him in the squad:
"He's had a great, great season so far. He's made great progress, so I think it's really good news for Manchester United that he stays playing for Manchester United. I think it tells everything, he's the best left full-back in the UK. You see it also in the England team, he is performing so well there as well."
"So we are really happy that he extended his contract and that he stays longer with us and is going with us in this project and in this journey.We have high ambitions and we need Luke Shaw to fulfill those ambitions."
The two teams met in August last year. Then Manchester United suffered a devastating defeat, conceding four unanswered goals. Since then, of course, a lot of water has flowed, but the Mancunians do not cease to amaze their fans with a winning streak, as well as with unexpected failures.
Ten Hag was fortunate to receive four injury boosts prior to the trip to St James', with Raphael Varane, Marcus Rashford, Marcel Sabitzer, and the unlucky Anthony Martial all joining his squad for the match. Martial, who had been sidelined previously, could now potentially start over the underperforming Wout Weghorst.
However, several players, including Alejandro Garnacho, Tom Heaton, Christian Eriksen, and Donny van de Beek, remained out due to injury, while Casemiro served the penultimate game of his four-match domestic ban, limiting Ten Hag's options in midfield.
Additionally, Aaron Wan-Bissaka was absent from Sunday's game due to illness, but he could potentially return along with Fred and Jadon Sancho, leading to a few changes in the team.
Brentford News & Current Form:
For Brentford, this match is a great opportunity not just to get a draw, but also to try to get three points. In the second half of the season, the team looks very focused. The Bees moved up to seventh place in the standings. In the last 16 rounds in the English league, they suffered only one defeat in a meeting with Everton FC (0-1).
Also Thomas Frank's charges played out eight draws, including the tie with Tottenham Hotspur FC (2 – 2), leading Arsenal FC (1 – 1) and strong Brighton & Hove Albion FC (3 – 3) in the meeting of the last round, and on the road. In all other matches they won, in particular against Manchester City FC (2 – 1), Liverpool (3 – 1) and Fulham (3 – 2).
It is worth noting that the Bees concede quite a lot and regularly. In 28 rounds in the English championship they conceded 37 goals. However, to fully compensate for the lack of quality in the defense, excellent game in the attack – the team from Brentford scored 46 goals. Almost half of them directly involved Ivan Toney.
He recorded 17 goals and five assists to his account. Currently, the striker is in third place in the list of top scorers in the English championship. It is noteworthy that the solid part of the goals he scored in the gates of strong opponents.
Now Toney must have extra motivation. The fact is that he recently pleaded guilty to a betting violation. In the near future, the forward may be disqualified until the end of the season. Until then, he needs to give it his all.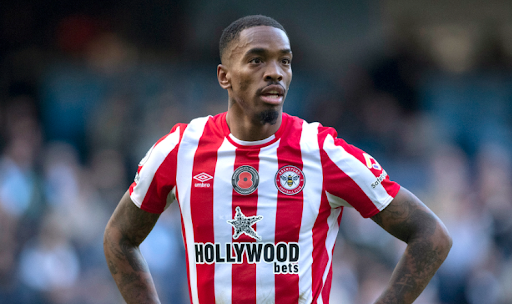 Brentford have suffered only five defeats in the current English championship. By comparison, Manchester United have lost seven times. The contender for a place in the European Cup twice in a row played a draw, did not lose for three rounds, and in the last sixteen matches of the championship of England Brentford suffered only one defeat. It is logical to assume that the guests will give a tough fight at Old Trafford.
In any case, it seems that the Mancunians will not have an easy time. They've basically lost their easiness of form recently, and the Bees are quite capable of making life as difficult as possible for them. Well, it should not be forgotten that in the first round match, the Londoners won 4 – 0 in the home walls.
Despite coping without a suspended midfielder, Manchester United are still facing challenges. Meanwhile, Brentford is welcoming back Shandon Baptiste, who was previously serving a one-game ban. However, Vitaly Janelt is still struggling with a knee problem. Kristoffer Ajer and Keane Lewis-Potter are unlikely to return until the final weeks of the season due to calf and knee injuries, respectively.
Fortunately, there are no new concerns for Brentford following their six-goal draw with Brighton, where Pontus Jansson scored his first Premier League goal since October. Assuming Jansson is fit enough, he may continue in a three-man backline, while Yoane Wissa may be looking to take the spot of Mikkel Damsgaard on the left.
Manchester United form guide: L-W-D-W-W-L
Brentford form guide: D-W-L-W-D-D-D
Manchester United vs Brentford Head-To-Head Record:
| | | |
| --- | --- | --- |
| Manchester United | Draw | Brentford |
| 8 | 2 | 6 |
January 19, 2022: Brentford 1 – 3 Manchester United (Premier League);
May 2, 2022: Manchester United 3 – 0 Brentford (Premier League);
August 13, 2022: Brentford 4 – 0 Manchester United (Premier League).
Manchester United vs Brentford Predicted XI:
Manchester United possible starting lineup (4-2-3-1): De Gea; Wan-Bissaka, Varane, Martinez, Malacia; Sabitzer, Fred; Sancho, Fernandes, Rashford; Martial.
Brentford possible starting lineup (3-5-2): Raya; Mee, Pinnock, Jansson; Hickey, Jensen, Norgaard, Henry; Mbeumo, Toney, Wissa.
Statistical preview of the match Manchester United vs Brentford:
MU's First XI average age is 27.3 yrs.
Brentford's First XI average age is 26.6 yrs.
Manchester United are unbeaten in 7 of their last 9 matches against this opponent.
Brentford are unbeaten in 9 of their last 11 games.
Manchester United are unbeaten in their last 24 games at home.
Manchester United are scoring an average of 1.60 goals per game in their last 5 games.
Manchester United conceded an average of 0.80 goals per game in their last 5 games.
In the last 5 games Brentford conceded an average of 1.40 goals per game.
In the last 5 games Brentford is scoring an average of 1.80 goals per game.
Manchester United have scored 30 points in 13 home games this season, fourth among all teams.
Brentford have scored 16 points in 14 away games this season, ninth among all teams.
In the first faceoff of the season, Brentford earned a resounding 4-0 victory.
MU's most expensive players – Marcus Rashford ($80 mln), Bruno Fernandes ($75 mln), Anthony ($70 mln).
Brentford's most expensive players – Ivan Toney ($50 mln), Bryan Mbeumo ($28 mln), David Raya ($25 mln).
What has been said before the match:
Coach of Man Utd Erik ten Hag about the failure against Newcastle and the upcoming game with Brentford:
"I don't think we underestimated Newcastle. They played above their level because they really wanted to win but it was expected. They set themselves up to win this match, but our attitude should have been corresponding and we should have been aware of that from the start. We didn't go into the last third of the pitch and into the opposition penalty box, but they got into our box with ease. We should have performed much better."
"We had a very bad performance because the opponent wanted it more than we did. They were sharper and you could see that in the challenges. We won only 16 from 61 challenges in offence and in defense, the opponent beats us 48 from 78 challenges. Ah, then you can't win a game."
"There are setbacks as the season progresses and you have to learn to deal with them. We have done it many times, recently after the match against Liverpool we were back on the winning way, so I am not worried about that. I believe in my team. I am confident that they will recover from this defeat."
"We played 60 minutes against Southampton with 10 men. We beat Fulham in the FA Cup, it's a Premier League opponent. We beat Newcastle in the Carabao Cup, it's a Premier League opponent, so there is no concern. We know we can beat Premier League teams."
"Not for tomorrow but Christian Eriksen is returning on the pitch; he is returning to team training today so we have to see how quickly he can now make the progress."
Brentford coach Thomas Frank ahead of the clash with Manchester United on Thursday:
"We are potentially going into the most difficult game of the season, with everything taken into consideration. We are going away to the biggest away ground, with those fans, against a very good side that is much more stable."
"Erik ten Hag and his staff have done a very good job. They've just won their first trophy and they're fighting for a Champions League spot. They lost on Sunday so they will want to bounce back. Plus, we beat them last time, so they'll doubly want to bounce back. And they're a very good team with top players."
"I know it will be unbelievably difficult tomorrow. They will come flying out and fighting for every single ball. They'll be showing unbelievable determination, they'll be on top of everything, and their skillset is absolutely frightening when you look at the players they have in their squad."
"It will be difficult but, of course, we believe in ourselves that we can do something."
He also talked about the 4 – 0 victory over MU last August:
"That was a very, very good win in the history of Brentford," Frank responded. "I don't want to run away from that – we are very proud of that. But we know it will be a completely different game on Wednesday night. It's a big credit to Manchester United's history and what they've achieved when you look at how much that win meant to us."
Manchester United vs Brentford Prediction:
The disqualification of Casemiro dealt a devastating blow to Man Utd. The defensive line has become much weaker and this reflects directly on the results. Brentford, who have gained excellent momentum, will surely try to take advantage of it. The Bees look good with their goalscoring average of 1.6 goals per game (6th best in the league). At the same time, the meeting will be held at the Theatre of Dreams, which gives the Red Devils a considerable advantage. Besides, the class of the players at Ten Hag's disposal is still superior. There are likely to be goals from both sides which will lead to an appealing show with a high match total.
Such conclusions can be backed up by history: at least 3 goals overall have been registered in all of the three previous head-to-head games. Brentford in the last 10 matches broke the total 5 times, which is a lot, in addition, in those 5 matches where the total over 2.5 was not broken, 3 times they were only 1 goal away from this. Meanwhile, MU have broken the total 6 times in home matches, and it is not uncommon for them to do so on account of their own offensive efforts.
Don`t miss out 👉: Barcelona vs Real Madrid: Preview and Prediction
Parimatch News staff prediction:
We say: both teams will score and the match total will be more than 2.5 goals – Yes.