Manchester City vs Arsenal. Prediction and Preview. Probable Lineups, Team News, Stats, and more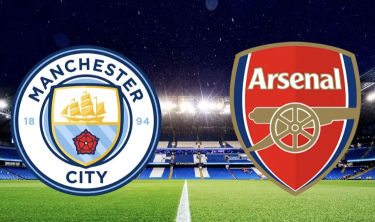 Guardiola or Arteta, who will start the new campaign in high spirits with a trophy under the belt?
Manchester City will meet with Arsenal FC in the FA Community Shield final match at the Wembley Stadium. The fixture will take place on Sunday, August 6, beginning at 20:30 IST.
Parimatch News will tell you everything you need to know ahead of the upcoming match.
Manchester City News & Current Form:
The rivalry for the English Premier League title between these teams has certainly been the centerpiece of most of the season. For a while, there was even a feeling that Arsenal would pull off a miracle and dethrone City, winning their first league title since the spring of 2004.
However, the Gunners went into a slump in April and after three consecutive draws, the Citizens thrashed them in a 4 – 1 win. Having seized the initiative, Man City eventually reached their fifth EPL title in six years, after which they went on to win the Emirates FA Cup and UEFA Champions League, while the Londoners had to settle for second place and the chance to compete in the Super Cup for their first trophy since 2020.
In terms of victories, goals scored and goals conceded, Pep Guardiola's side became the best in the English Championship and lost only 5 matches out of 38. And the young 23-year-old striker Erling Haaland became the best goal scorer in the championship with 36 goals, the nearest rival Harry Kane has 30 goals.
Manchester City have won the FA Community Shield twice in a row in the last 5 years (in 2018 and 2019). In 2018, in the battle for the trophy, they managed to beat Chelsea FC (2 – 0), where Sergio Agüero distinguished himself in each of the halves, completing a goal double. And in 2019, Liverpool FC (5 – 4) was defeated in a penalty shootout, after a score of 1 – 1 in the main time of the match.
Over the summer, both teams, which is already a tradition for the top clubs in Europe, went on foreign commercial tours. The place of City's disposition was Asia. At the stage of preparation for the new season the Citizens played 3 friendly matches. First there was a victory in a goal shootout with Japanese Yokohama F. Marinos(5 – 3), coming on as a substitute Haaland scored 2 goals.
Then FC Bayern Munich was defeated (2 – 1), where Aymeric Laporte scored the winning goal at the end of the game. And in the last match, Guardiola's wards lost to Atletico Madrid (1 – 2) and scored a goal only at the end of the game.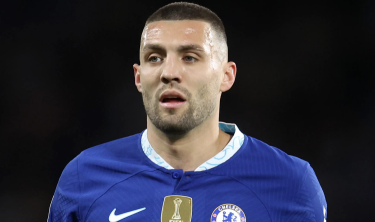 Before the start of the new season, City are not flamboyant in the transfer market. However, they managed to sign a high quality player from Chelsea – Mateo Kovacic. Joao Cancelo, who played for Bayern on loan last season, is back in action.
Among the losses it is worth noting the departure of Riyad Mahrez and Ilkay Gundogan. These are experienced and systematic players who, if not playing the main crease in the team, then timely strengthened it and compensated for the fatigue of the main stars. Now Guardiola will be building a new midfield, and not the most confident matches in the Asian tour showed that this construction may take longer.
Due to injury, the team cannot count on a key player Kevin De Bruyne. The Belgian was injured back in the 2022/2023 Champions League final, and has still not fully recovered. There are a lot of rumors surrounding the possible move of Kyle Walker to Bayern. He could be replaced by a younger Benjamin Pavard, but no deal has been officially done yet.
Croatian defender of RB Leipzig Joško Gvardiol will soon become a Manchester City player. The parties have signed all the documents necessary for the transition. The footballer has to pass a medical examination. After passing the examination Gvardiol will immediately be presented by the club's newcomer. The player will move to the English club for €90 million. This will make him the most expensive defender in history.
Arsenal News & Current Form:
Arteta's side had a pretty good EPL season last year, and were on top of the table for a long time. They lacked a bit in the end of the championship, where in the last 9 games of the championship they got only 3 wins, with three draws. They finished 9 points ahead of third-placed Manchester United FC in the table and 5 points short of the top spot.
In the off-season, the London club flew in the opposite direction, to the United States. There, the Gunners defeated a team of players from clubs in the local league, MLS All-Star, however, it did not include Lionel Messi and other stars. After that, the London club lost 0 – 2 to Manchester United, and then in a goal shootout was stronger than FC Barcelona 5 – 3. After losing the match (1 – 2), the Londoners were able to come back into the game and turn it around.
More recently, Arsenal, already back in London, defeated AS Monaco in a tournament called the Emirates Cup. Arteta's team was stronger in the penalty shootout.
Arsenal got into the Super Cup, also known as the Community Shield, due to the fact that the FA Cup went to City, just like the EPL. Manchester United, however, won the EFL Cup, but as it's a minor tournament, winning it doesn't get you into the Super Cup.
The Gunners will take part in the Community Shield as vice-champions for the 2022/2023 season. Over the last 10 years it has won 4 FA Super Cup trophies , this success was achieved in 2014, 2015, 2017 and 2020. In 2014 City were defeated (3 – 0), in 2015 with Chelsea (1 – 0), in 2017 in a penalty shootout against Chelsea (4 – 1), and in 2020 in a penalty shootout against Liverpool FC (5 – 4). And this is despite the fact the club has been in the Super Cup four times in 10 years and has never been without a trophy. This suggests that at least the Londoners will get to the penalty shootout.
Last season, the teams met three times, and all three matches favored City. First, they knocked out the Gunners at an early stage of the FA Cup, in the 1/16 finals, and then twice confidently dealt with them in the Premier League (3 – 1 and 4 – 1), which had a strong influence on the outcome of the championship race in favor of City, initially trailing Arsenal.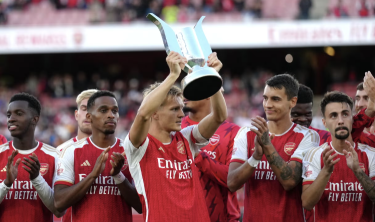 The capital team lacked experience at the end of the championship. In terms of winning trophies, Mikel Arteta's wards are far inferior to their opponents, so they may falter in the Super Cup match.
In the composition of the London team before the start of the new season there were several personnel changes. The club signed Declan Rice, who was acquired from West Ham United FC, in a crazy expensive deal.
Plus they managed to pick up Kai Havertz from Chelsea and Jurrien Timber from AFC Ajax. By the way, none of the newcomers is not even 25 years old, so the squad remains young. But 3 players left the team: Granit Xhaka to Bayer 04 Leverkusen, Pablo Mari to Monza, Ainsley Maitland-Niles remained without a club.
In addition, Brentford FC and Spanish national team goalkeeper David Raya may become an Arsenal player. The Gunners have already made the first official offer, which totalled €23 million with bonuses.
Striker Gabriel Jesus will miss the Super Cup match against Manchester City. The Brazilian forward is out of action for several weeks. This became known after a small procedure, which the player underwent, experiencing discomfort in the knee. Also Oleksandr Zinchenko is still not back in action after the injury.
Manchester City form guide: W-W-L
Arsenal form guide: D-D-W-L-W-W
Manchester City vs Arsenal Head-To-Head Record:
| | | |
| --- | --- | --- |
| Manchester City | Draw | Arsenal |
| 65 | 45 | 98 |
December 22, 2020: Arsenal 1 – 4 Manchester City (League Cup);
February 21, 2021: Arsenal 0 – 1 Manchester City (Premier League);
August 28, 2021: Manchester City 5 – 0 Arsenal (Premier League);
January 1, 2022: Arsenal 1 – 2 Manchester City (Premier League);
January 27, 2023: Manchester City 1 – 0 Arsenal (FA Cup);
February 15, 2023: Arsenal 1 – 3 Manchester City (Premier League);
April 26, 2023: Manchester City 4 – 1 Arsenal (Premier League).
Manchester City vs Arsenal Predicted XI:
Manchester City's possible starting lineup (4-1-3-2): Ederson; Walker, Dias, Akanji; Stones, Rodri; Silva, Kovacic, Foden, Grealish; Haaland.
Arsenal's possible starting lineup (4-2-3-1): Ramsdale; Timber, Saliba, Gabriel, Tomiyasu; Odegaard, Rice, Partey; Saka, Nketiah, Martinelli.
Statistical preview of the match Manchester City vs Arsenal:
Man City's First XI average age is 27.4 yrs.
Arsenal's First XI average age is 24.1 yrs.
City have 4 wins in their last 5 games played.
City have scored 3 or more goals per game in their last 3 matches.
In their last 6 matches, Arsenal have lost only once, and in 3 of those matches they won the game in regular time.
On average, in the last 5 matches, Arsenal scored an average of 3 goals per game against their opponents.
Last season, the Citizens met Arsenal three times and in all cases were stronger.
In terms of squad value, Arsenal have surpassed Man City thanks to this summer's transfers (€1.21bn vs €1.16bn).
What has been said before the match:
Gaffer of Manchester City Pep Guardiola about Mahrez leaving to Saudi Arabia:
"He was loved by the staff. An important figure in the success we have had in the last five years. I wish him and his family all the best. He is one of the guys in my career who I saw who enjoyed the most – he would play today, tomorrow. Incredible skills and technical ability."
"I enjoyed being a manager with him. I had a special relationship with him. Our relationship was with incredible respect. It is not easy to replace this kind of player. He doesn't feel the pressure. He is a guy who has to play every single day to be happy."
"I completely understand his decision to leave. I know how tough it was to not play in the FA Cup final and Champions League finals. It was really good to work with him. Really nice. I learned a lot. We are not looking for a replacement for Riyad in terms of skill because every player is different. We will see what happens with loan players, and which players stay here. A few things are going to happen."
"Saudi Arabia has changed the market. A few months ago when Cristiano Ronaldo was the only one to go, no one thought this many top, top players would play in the Saudi league. In the future there will be more and that's why clubs need to be aware of what is happening. Riyad got an incredible offer and that's why we could not say "don't do it."
New player of Manchester City Mateo Kovacic shared his first thoughts after joining the club:
"I knew the team had a lot of quality and playing against them was never easy – it was always tough. They keep the ball so well and put pressure on you. Now I am here I can see why. The intensity is so high and everyone is so professional and doing their best on the pitch."
"You can see why they have been successful in recent years. The whole club is just amazing and it's a pleasure to be part of it and I'm looking forward to having a good season."
"It is a pleasure a club like Manchester City wants you and signs you. It's a huge privilege for me. Ilkay left, the captain of the club and who had huge success but I need to do my own role. I want to be fit, do my best and be ready as soon as possible to have great games for this club."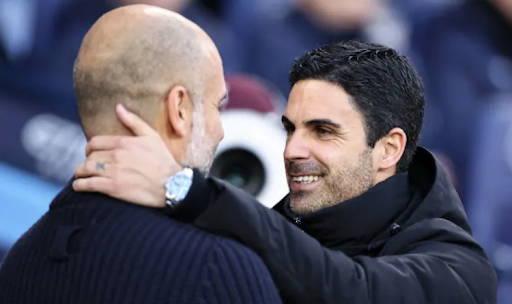 Mikel Arteta after successful game with Monaco:
"Especially for a lot of players that haven't had many minutes in pre-season and as well, for the new players to play for the first time at Emirates Stadium it was special, you could feel the atmosphere and how excited the fans were. In terms of the game, we struggled a little bit to dominate completely and have the game that we want. We had much better periods in the second half."
"Jesus has been feeling some discomfort in the last few weeks, we had to look at it and we had to make a decision and the best one is to protect the player and get him back as quickly as possible, so we decided to do it."
"There are certain rotations that we want, especially to adapt to the quality of the players that we have and make sure that they are comfortable occupying certain spaces. There were a lot of changes and you could see sometimes in the dynamic and in the timing that we were arriving that it wasn't perfect, we were allowing certain spaces especially when they had time on the ball and then we had to defend open spaces, but these are things that we will adjust."
"Declan Rice played more advanced today, he played more as an attacking midfielder today, it was the first time that he's played there. He's on the journey to get back to his best and adapt to the team."
"I think Rice has the versatility to play different roles and it's something that we want to do, especially to maximize the qualities that we have with other players, and they have the ability to play together, and in certain games, we'll use him in other positions."
Eddie Nketiah, caption of team in game with Monaco, who scored a goal:
"It was an amazing experience. Obviously it was my first time, so I'm grateful to the coach for trusting me, and my teammates. It was nice to test ourselves against a good opponent and for myself, it was really a special moment for me to lead the team out in front of my family, my friends and also our wonderful supporters."
"It was very intense, there were a lot of transitions in the game. We've been training hard during the week as well, so it was good. Personally, I feel good, I feel fit; so, it was nice to get 82 minutes into my legs. I'm sure it'll put me in good stead."
"I was speaking to Arsene Wenger in the changing room after and he's really proud of me. I'm really grateful for everything he did for me for my career, and it's great to have such a legend here and see a new statue outside."
"We've added a lot of quality in the side, we're all pushing each other, and it's a good feeling. Everyone's closer, everyone's tight-knit, everyone wants to push and do well. We've had a really intense and strong pre-season, and now I think we're ready for the season to come."
"We have a chance to start the season well with a trophy in our hands so hopefully we can do it for ourselves and for the fans. We're looking forward to it– we're going to recover; we've had a good game here and take it into Sunday and hopefully get the win."
Manchester City vs Arsenal Prediction:
The rivalry against City is reaching a new level. Following the findings of the summer off-season, the Gunners have added to their cohesion and versatility while becoming stronger by bringing in top quality additions. At the same time Guardiola continues to improve and upgrade his super-machine, making it seem almost impossible to stop them.
Guardiola's crew seems favoured because of their wholeness and consistency, besides, let's not forget the head-to-head statistics in recent years: the last 7 meetings have ended in defeat for the Londoners. The holder of the treble prevails over the opponent in terms of cadres, although of course Arteta is trying very hard to minimise this difference, which we can see already this year, when Arsenal's squad became the most expensive in the world.
Nevertheless, Haaland alone can strike fear into the defence of any opponent, aided by a number of talented and warmed up players who can be substituted without loss of quality. But Arsenal, who have been leading the EPL for a long time, should not be underestimated either – the Red and Whites have a good chance of contending in the upcoming encounter. The Gunners possess one of the best defences in the world with the likes of William Saliba (1.13 conceded goals per match) while boasting super quality in other lines (for example in offense – scoring 2.31 goal on average).
Plus, the Super Cup is a whole other story. Man City have won it twice in the Guardiola era, but have lost to Leicester and Liverpool in the last two editions. Arsenal have played in the Super Cup four times in the last 10 years and have never been left without a trophy. It is unlikely that the Citizens will have an easy ride, we expect a goal-rich shootout. In addition, Arteta's men are also ready for a grueling over-90-minutes encounter – the Gunners have won their last two Community Shields in penalty shootouts while also having been practicing this aspect quite well during the preseason.
Parimatch News staff prediction:
We say: Arsenal will not lose in the regular time and both teams will score – Yes.
Don`t miss out 👉: 5 ISL Transfers You Might Have Missed Last Week