Joel Campbell's goal confirms Costa Rica's place in the 2022 FIFA World Cup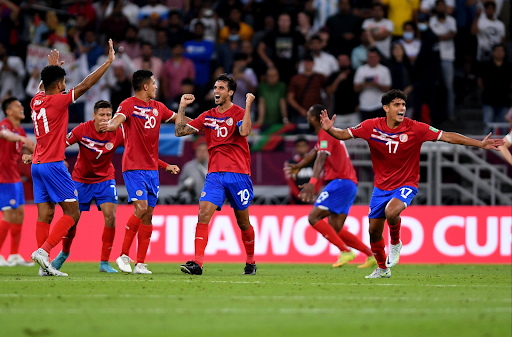 Joel Campbell's goal helped Costa Rica book their tickets to Qatar
Costa Rica edged past New Zealand by a slender 1-0 margin in the CONCACAF-OFC Inter-Confederation playoff to book their place in the 2022 FIFA World Cup with Joel Campbell scoring the solitary goal of the match.
Costa Rica's head coach Luis Fernando Suarez made three changes to the team that won 2-0 against Martinique. Keylor Navas returned in goal to replace Aaron Cruz, whilst Carlos Martinez and Johan Venegas were replaced by Jewison Bennette and Anthony Contreras.
On the other hand, New Zealand's head coach Danny Hay made wholesale changes to the team that won 1-0 over Oman. The only All Whites player who retained his place in the starting XI from that game was Portland Timbers' defender Bill Tuiloma. Youngsters like Matthew Garbett, Alex Greive and Liberato Cacace were given an opportunity to prove their mettle.
New Zealand had the first opportunity of the match in only the first match when Cacace found his vice-captain Chris Wood in space, but the Newcastle United striker's attempt was not on target. It was then Costa Rica's turn to get on the attack, and unlike their opposition, Los Ticos did score with their first opportunity.
In the 3rd minute, Bennette justified his selection by providing Campbell with a precise pass inside the box and the Monterrey striker did well to place his shot past the All Whites' custodian, Oliver Sail.
Hay's team, however, had plenty of opportunities to stage a comeback. In the 11th minute, Wood laid off a headed pass for Greive, but the 23-year-old striker dragged his shot wide. A couple of minutes later, Wood laid off a similar pass for Garbett this time around, but like Greive, the Torino youngster could not utilize the opportunity.
A couple of minutes later, Joe Bell found Wood with a cross and the All Whites' striker went for glory himself this time around. His effort, unlike the previous two, was on target, but Navas was equal to the task to preserve his team's one-goal advantage.
Just after the half-hour mark, Bell found Wood with another cross, this time from a corner. However, the Magpies' frontman could not direct his shot properly. Wood eventually found the back of the net three minutes later when he tucked home a cross from Garbett.
However, what followed was a prolonged VAR check, and after much deliberation, referee Mohammed Abdullah Hassan Mohamed came to the conclusion that Garbett had fouled Levante defender Oscar Duarte before launching his cross, and the goal was subsequently chalked off.
The initial phases of the second half did not produce much action until New Zealand compounded their troubles in the 67th minute when substitute Kosta Barbartouses was handed marching orders. The midfielder mistimed his tackle on Francisco Calvo, and while it was initially judged as a yellow card offence, VAR came to Costa Rica's rescue once again as the yellow was then converted to a red.
This helped Los Ticos get on the attack once again as in the very next minute, Campbell laid off a header for Contreras which the youngster did well to keep on target, but a fantastic save from Sail kept the scoreline at 1-0.
A minute later, Niko Kirwan found Wood inside the box with a cross, but the latter missed yet another opportunity. In the 78th minute, Clayton Lewis delivered a precise corner to find Nando Pijnaker, but like his teammates, the Sligo Rovers defender could not keep his header on target.
The All Whites were not done though, as they had two more opportunities in the games. In the 85th minute, Wood tried his luck again after receiving a pass from Marko Stamenic, while in the 94th minute, Bell found Tuiloma with a cross. However, neither of the two opportunities resulted in a goal.With this win, Costa Rica has now qualified for the 2022 FIFA World Cup, where they will be placed in Group E alongside Spain, Germany and Japan. Meanwhile, New Zealand will now take on neighbours Australia for a friendly on 25th September.