FC Barcelona and Real Madrid played the El Clásico of legends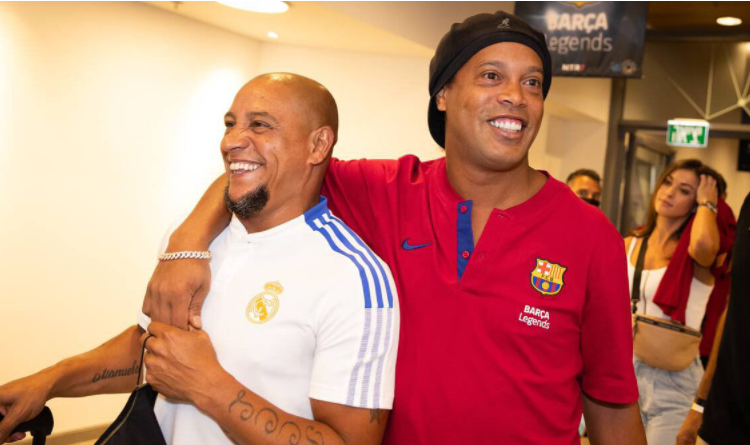 Two legendary Brazilians, Roberto Carlos and Ronaldinho, hugging and laughing before the match
A friendly match between Barcelona and Real Madrid legends was held in Israel at the Bloomfield Stadium. The meeting ended 3-2 in favour of Madrid. Ronaldinho rolled back the years with some of his defence-defying runs while the likes of Roberto Carlos, Luis Figo, Ivan Campo and Deco showed us that they still have all the class in the world.
Goals: 1:0 – Ronaldinho (27, penalty), 1:1 – Munitis (42), 1:2 – Alfonso Perez (45), 2:2 – Jofre (60), 2:3 – de la Red (70).
Among those playing for the Barcelona legends were Angoy, Juan Carlos, Deiu, Dani Tortolero, Goicoechea, Mendieta, Deco, Rivaldo, Arpon, Saviola, Ronaldinho, Guzmán, Ronald de Boer, Coco, Amor, Jofre and Okunowo.
Real Madrid legends were Codina, Nunez, Ivan Campo, Fernando Sanz, Roberto Carlos, Rivera, Milha, De la Red, Figo, Alfonso Perez, Amavisca, Muniz, Velasco and Martin Velasquez.
Watch the players, who inspired the love of football in us, play in the big stadium again:
Don`t miss out 💥: Arsenal signed Albert Sambi Lokonga, a talented youngster from Anderlecht
Famous 'magician' Ronaldinho, who opened the scoring, played for the Blues from 2003 to 2008 and won the 2005 Ballon d'Or with the Catalan club. He ended his career in 2018 at the age of 37, although he has not played professionally since 2015.