Europe's biggest clubs keep an eye on talented Serie A top scorer Dušan Vlahović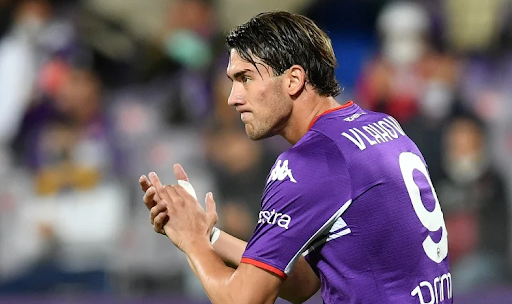 Many compare Fiorentina's number 9 to Borussia's Erling Haaland, in fact he has more league goals (28) than the Norwegian (26) in 2021
Dusan Vlahovic seems to appear a lot in the media limelight and there is a reason for that – the player is booming in the Italian league for the second season in a row, scoring numerous goals and attracting the attention of giants like Manchester City.
The Fiorentina forward has netted again, this time against Bologna (2-3, second half) on Matchday 16 of Serie A.
The Serbian has scored a total of 13 goals in this league season. He has thus cemented his place on the list of the tournament's top goalscorers. However, another Serie A star Ciro Immobile of Lazio managed to net magnificent double against Sampdoria on Sunday to challenge this top spot.
Vlahovic has also scored 30 goals in Serie A for the calendar year. In fact, Dusan is the 4th player in history to score at least 30 goals in an Italian league calendar year before he turns 22.

https://twitter.com/Squawka/status/1467499054728986629?s=20
The young talent, whose transfer value has risen significantly over the last two years, is a very valuable asset now, with top clubs from the top 3 leagues chasing after him.
You can enjoy a compilation of his goals from last season:
As a fact, Atletico offered €50m + €10m add ons this August, but Fiorentina management and Vlahović refused.
"Fiorentina had an offer of €60 million plus bonuses in the summer. We already had an agreement with the purchasing club. But Commisso rejected the offer, he wouldn't even listen to it. Commisso then said that Vlahovic is like a son to him. He also claimed that he would not sell Dusan, but would do everything to get him to extend his contract. Now we do not want to discuss the contract extension. So we are not even talking about it."

Those closest to him commented on the situation.
Even so, Fiorentina offered him a salary that would have made him the club's highest-paid player.
Meanwhile, Manchester City are keen to acquire the striker according to a reputable Italian publication. Dušan has told the management of The Violets that he has no intention of re-signing his contract, which expires next summer. The English club, who were desperate to sign Harry Kane in the summer, will attempt to sign the Serbian in January. The 21-year-old is now top of Man City's shortlist and City's negotiators are already in preliminary talks with Fiorentina.
It has been pointed out that Man City head coach Pep Guardiola is delighted with Vlahovic's strong qualities and sees huge potential in him.
Reports have suggested that the Italian club will ask €80-90m for the forward. Arsenal were prepared even to pay such a sum, but Vlahovic does not want to move to the London club.
Borussia Dortmund, Juventus, Tottenham and Manchester United are also known to be involved.
Fiorentina president Commisso recently said:
"I don't know if Juventus are able to sign Vlahovic in January. But I wanna say to Juventus or Arsenal that we [Fiorentina] are the 'owners' of Vlahovic. They should open talks with us – not with his agents"
Don`t miss out 👉: Messi's Seven Wonders: Lewandowski leaves without Ballon d'Or again, Lionel sets a new record
Fiorentina sit sixth in Serie A with 27 points after 16 rounds. The league leader is Milan with 38 points.