Eintracht Frankfurt vs SC Freiburg. Prediction and Preview. Probable Lineups, Team News, Stats and more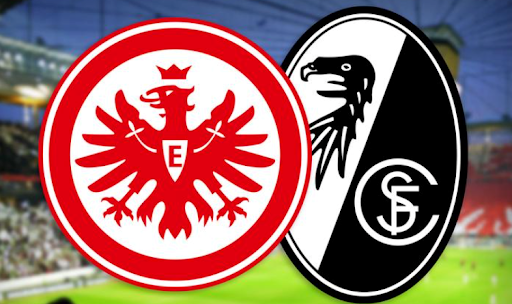 Eintracht Frankfurt blew the end of the season and are now trying to get at least into the Conference League. At the same time, Christian Streich and Freiburg have a chance to qualify for the Champions League for the first time ever.
Eintracht Frankfurt will host SC Freiburg in the Bundesliga 34th-tour match at Deutsche Bank Park Stadium. The fixture will take place on Saturday, May 27, beginning at 19:00 IST.

What can we expect this Saturday night? Parimatch News will tell you everything you need to know ahead of the upcoming match.
Eintracht Frankfurt News & Current Form:
Let's distract ourselves from the fight for the Bundesliga title and talk about the fight for European Cups. Eintracht Frankfurt had a poor end to the season and have only a slim chance of a place in the European Cup zone. Oliver Glasner's charges are eighth in the standings, three points behind Bayer 04 Leverkusen.
Provided that Bayer and Wolfsburg lose synchronously in the parallel meetings and Eintracht win, then it will be possible to break into the UEFA Europa Conference League zone.
This match will be remembered by the fans of the club for a long time. Saturday will be the last match under Oliver Glasner. Despite the Eagles' historic success in the UEFA Europa League 2021/22, when the club lifted the cup in the second most prestigious European competition, the management have decided to part ways with their head coach.
This match will also be the last for Daichi Kamada as he is leaving the club on a free transfer this summer. The Japanese played for the club since 2017, taking part in Bundesliga games 126 times. Also, very recently it has been announced that Almamy Toure decided not to renew his contract with the club and will leave the club at the end of the season.
The Frankfurt side split the points with FC Schalke 04 (2 – 2) on the road last matchday. Kamada and Tuta scored for the Eagles. The victory over FSV Mainz 05 on Matchday 32 (3 – 0) remains the only one for Eintracht in the previous 12 games in the Bundesliga (6 draws, 5 wins).
In four three rounds, Eintracht remained scoreless only once, losing away to TSG Hoffenheim (1 – 3), and scored two points in the other two. They were at peace with FC Augsburg (1 – 1) and Schalke.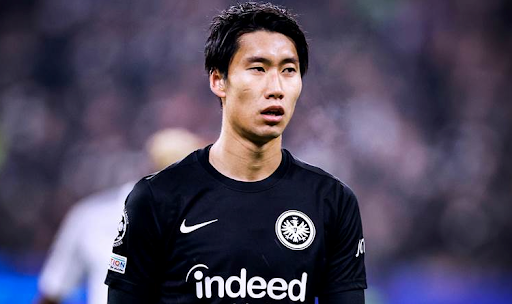 Motivating the Eagles in this meeting will only be the factor of the last match at their stadium, where they have not lost a single round in the current calendar year in the Bundesliga. But it is worth considering that Freiburg is the most dangerous guest in this stretch.
It is quite possible that the players will try to play less aggressively in order not to get hurt at the finish of the season. In addition, at the moment they will be more preoccupied with the upcoming match in the German Cup final against RB Leipzig. There is a chance to earn a UEFA Europa League spot by winning the DFB-Pokal.
In their previous encounter against Schalke, Frankfurt was deprived of the talents of Lucas Alario, Kristijan Jakic, Hrvoje Smolcic, and Philipp Max due to unfortunate injuries. Regrettably, history repeats itself, as these four players will be absent yet again for the forthcoming showdown.
However, an intriguing twist unfolds within this narrative. Brace yourself, for this may potentially serve as the final chapter featuring Randal Kolo Muani in Frankfurt's iconic jersey. Rumours circulate that numerous renowned clubs from around the world hold a strong interest in acquiring this exceptional French talent.
Freiburg News & Current Form:
Christian Streich's side managed to pull themselves together after two straight losses in the championship and beat VfL Wolfsburg 2 – 0 at home in the last round. Roland Sallai notched a double assist in that game. Freiburg are level on points with fourth-placed FC Union Berlin but fall behind the Berliners in extra points.
In the upcoming game, Freiburg need to win, and also hope that Union, going forth, will not be able to beat SV Werder Bremen. At best, the team will finish fourth and take part in the UEFA Champions League for the first time in the history of the club, and at worst – fifth and will be content with the Europa League.
Under Christian Streich, the Braisgau Brazilians play strictly according to the scoreline and above all try to keep their goal intact. Last week they played their 13th match without conceding a goal, beating Wolfsburg. According to this factor Freiburg led the league and broke their personal record of the season 2012-13.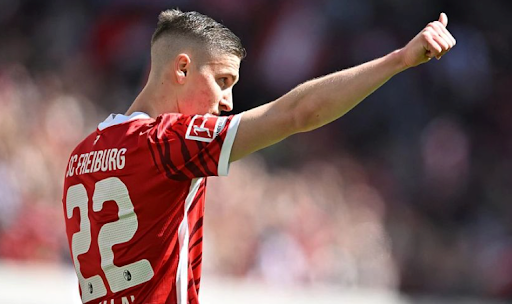 It's a good time to look back at Freiburg's performance on the road this season. The results are actually more than impressive – 7 wins, 4 draws and 5 losses. It turns out that in 16 away games, 25 points were earned. Only FC Bayern Munich, Borussia Dortmund and Leipzig are better in the Bundesliga. However, there are problems with the results; the players scored 22 and conceded as many as 29.
Unfortunately, Freiburg will have to face their challenges without the long-term absentee, Daniel-Kofi Kyereh. Adding to their woes, Nicolas Hofler will also be missing from the visitors' lineup on Saturday due to a red card he received in the final moments of their victorious battle against Wolfsburg last time.
Amidst these setbacks, one shining star continues to illuminate the path for Freiburg. Vincenzo Grifo, the seasoned 30-year-old, has been a force to reckon with this season, showcasing his brilliance with an impressive tally of 16 goals across various competitions.
Intriguingly, the most recent encounter between these two clubs ended in a thrilling 1 – 1 draw on January 25. During that clash, Eintracht Frankfurt unleashed four shots while SC Freiburg displayed their offensive prowess with nine attempts. Notably, it was the remarkable Kolo Muani who spearheaded Eintracht Frankfurt's charge, finding the back of the net with his precise strike from two shots. On the other side, Matthias Ginter showcased his skills, scoring a goal from his lone shot for SC Freiburg.
Eintracht Frankfurt form guide: L-D-W-L-W-D
Freiburg form guide: W-W-L-L-L-W
Eintracht Frankfurt vs Freiburg Head-To-Head Record:
| | | |
| --- | --- | --- |
| Eintracht Frankfurt | Draw | Freiburg |
| 10 | 9 | 8 |
May 26, 2020: Eintracht Frankfurt 3 – 3 Freiburg (Bundesliga);
January 20, 2021: Freiburg 2 – 2 Eintracht Frankfurt (Bundesliga);
May 22, 2021: Eintracht Frankfurt 3 – 1 Freiburg (Bundesliga);
November 21, 2021: Freiburg 0 – 2 Eintracht Frankfurt (Bundesliga);
April 10, 2022: Eintracht Frankfurt 1 – 2 Freiburg (Bundesliga);
January 25, 2023: Freiburg 1 – 1 Eintracht Frankfurt (Bundesliga).
Eintracht Frankfurt vs Freiburg Predicted XI:
Eintracht Frankfurt possible starting lineup (3-4-2-1): Trapp; Toure, Tuta, Ndicka; Buta, Rode, Sow, Lenz; Gotze, Muani, Kamada.
Freiburg possible starting lineup (3-4-2-1): Flekken; Lienhart, Ginter, Schmidt; Sallai, Eggestein, Schmid, Gunter; Doan, Holer, Grifo.
Statistical preview of the match Eintracht Frankfurt vs Freiburg:
Frankfurt's First XI average age is 27.6 yrs.
Freiburg's First XI average age 27.9 yrs.
Eintracht are without a loss in their last 6 matches at home.
Eintracht are unbeaten in 5 of their last 7 matches at home against this foe.
Freiburg are without a loss in 5 of their last 7 away games in the Bundesliga.
In the last 5 games Freiburg conceded on average 2.00 goals per game and scored 1.20 goals per game.
In the last 5 games Eintracht conceded an average of 1.60 goals per game, while scoring an average of 2.00 goals per game.
Frankfurt's top scorers: Randal Kolo Muani (16 + 11), Daichi Kamada (12 + 5), Jesper Lindstrom (8 + 2).
Freiburg's top scorers: Vincenzo Grifo (16+6), Michael Gregoritsch (13+4), Ritsu Doan (6+5), Lucas Holer (5+2).
Eintracht Frankfurt have conceded 56 goals in 33 games (to rank fifth in the Bundesliga), while SC Freiburg conceded 42 (to rank fourth).
In the first round, Eintracht and Freiburg played 1 – 1.
What has been said before the match:
Oliver Glasner ahead of his last game as coach of Frankfurt Eintracht:
"I'm going into the game with a very good feeling. I'm very satisfied with the training week. The team is highly motivated and committed; it's a good mix of fun and seriousness. Of course, the long season takes its toll mentally and physically, but the team is showing a mixture of desire and fun, as well as an eagerness to win at all costs."
"These are very good conditions. We are undefeated in league and cup at home in 2023, the March route is clear: We will give everything to win and want to take our chance to climb to sixth or seventh place."
"We only look at ourselves. The crucial thing is that we win our game. We want to give the fans a great send-off at Deutsche Bank Park – they've earned it. And so does the team."
"Freiburg are still fighting for a place in the Champions League. They are very solid, compact and have an excellent coach in Christian Streich, who always sets his team up well. In the first leg, they mirrored us in a 3-4-3 – we'll see how they do it this time. They're very dangerous when it comes to standards and have a strong marksman in Grifo."
"We must not lose focus. I'm still absolutely in the tunnel and want to catch the European exit. That's all I'm thinking about. The players also don't give me the impression that anyone has taken it easy this week to be fit for Berlin. They want to win against Freiburg at all costs. On Saturday against Freiburg, they have the opportunity to recommend themselves for the starting eleven in Berlin."
"There is a unique atmosphere in Deutsche Bank Park. When the Eintracht song is playing, plus our atmospheric fans, there can of course be some melancholy. But there's no time for that yet, we still have two very important games ahead of us."
Christian Streich, boss of Freiburg about the team's fight this season:
"It's about our game. We want Frankfurt to play a great game and try to win. If Union win, then so be it. I firmly believe that Werdder will do everything to win in Berlin. I can live with that."
"Now let's play football. The ambition is great to make a good game. It's difficult in Frankfurt, as always. My expectations of the team are high. Everyone is there, everyone is happy. The experiences on Friday were good again. It was like a fairy tale. It was a big event for all of us. But it's not over yet! The boys want more. It's going to be difficult. But maybe we'll win in Frankfurt."
"We can't promise anyone that next year we'll be nearly as successful as this year. Look at other locations, which clubs with which budgets have already been relegated? One club has just been relegated."
"We're in an area where some teams were already. Now it's about: Where are you going? How do you align yourself? Which players and characters help you? It's a balancing act. The most important thing for us is our identity. Why are we where we are?"
Eintracht Frankfurt vs Freiburg Prediction:
In order to leapfrog into sixth place, the Frankfurt side must not only win their own games but also wait for their rivals to make a mistake. In addition, Eintracht need to improve their goal difference as much as possible (now it is +5 against +8; +10; +11). This means that the team will have to attack a lot, which can have a negative impact on the defensive capabilities, which have already managed to produce a clean sheet in only one of their last 12 league games.
Freiburg are facing exactly the same objective, albeit with higher ambitions – the Champions League zone. They are desperate for three points, while a draw deprives them of any hope of overtaking the 4th-placed Union Berlin. Besides, an additional indicator in the form of GD (in case of a point parity) might be crucial to surpass the Berliners. At the moment, Breisgau-Brasilianer find themselves with +8 to Union's +12.
In such a situation, we can expect an open and productive football. The match is expected to be characterized by intense fighting and passion. Furthermore, at least 3 goals have been scored in 7 of the previous 9 head-to-head encounters at Deutsche Bank Park in the Bundesliga. Ultimately, the winner of this match will be decided in minute detail and depend on the team's ability to handle the pressure and exploit their opportunities
Don`t miss out 👉: Title Battle, European Qualification, and Relegation Ruckus in 2022-23 Bundesliga
Parimatch News staff prediction:
We say: both teams will score and the match total will be over 2.5 – Yes.