Chelsea Women vs Manchester United Women. Prediction and Preview. Probable Lineups, Team News, Stats and more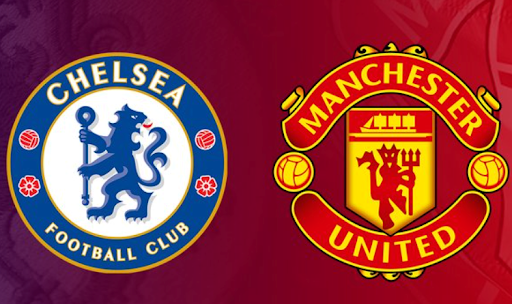 A record 90,000 crowd will visit Wembley to see the final in person. Can Manchester United clinch their first title or will reigning Chelsea claim their third FA Cup in a row?
Chelsea FC Women will host Manchester United Women FC in the Vitality Women's FA Cup final match at Wembley Stadium. The fixture will take place on Sunday, May 14, beginning at 19:00 IST.

What can we expect this Sunday night? Parimatch News will tell you everything you need to know ahead of the upcoming match.
Chelsea Women News & Current Form:
Sunday's upcoming match is completely sold out, suggesting it could surpass the previous FA Women's Cup attendance record of 49,094. That record was set last year during Chelsea's victory over Manchester City Women FC.
The fact that Wembley Stadium, with a capacity of 90,000 people, will host the match is a remarkable achievement for women's football. The last year has been a breakthrough year for women's football, with more people showing interest in it and players finally beginning to gain recognition in the society.
Get ready for an exciting match as the reigning champions of the Barclays Women's Super League, Chelsea, take on the league leaders, Manchester United. With a four-point lead and five consecutive wins, MU are currently at the top of the league standings. It promises to be a thrilling encounter between these two powerhouse teams.
Despite trailing Manchester United in the league, Chelsea have an advantage of having two games in hand over the Red Devils. After a disappointment in the Conti Cup earlier this season, Chelsea will be highly motivated to enhance their pursuit of a domestic double by securing a victory in the upcoming match.
If Chelsea emerge victorious in this encounter, it will mark their third consecutive Women's FA Cup triumph, building on their previous wins in the 2020/21 final against Arsenal Women FC (3 – 0) and the 2021/22 final against Manchester City (with a score of 3 – 2). On the other hand, Manchester United have yet to reach a Women's FA Cup final and are eager to secure their first-ever trophy in club history.
Chelsea kicked off their defense of the Women's FA Cup this season with a 1/16 match against Liverpool FC Women (3 – 2), a fellow Women's Super League team. Thanks to a remarkable hat trick by Sam Kerr, Chelsea secured advancement in the competition, even though Liverpool managed to score two consolation goals towards the end of the game.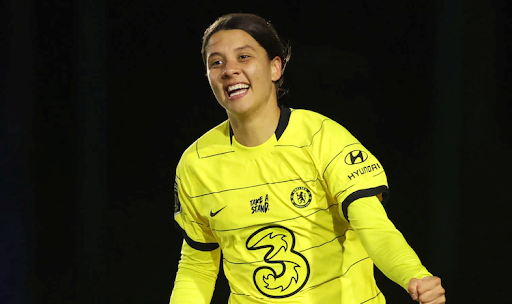 After their victory, Chelsea faced off against their London rivals Arsenal in the 1/8 fixture of the Women's FA Cup. With goals contributed by Sophie Ingle and Sam Kerr, Chelsea comfortably advanced to the quarter-finals (2 – 0).
However, their encounter in the Conti Cup Final with Arsenal ended in a defeat. Although Sam Kerr scored an early goal for Chelsea, Arsenal responded with goals from Stina Blackstenius and Kim Little, along with an own goal from Niamh Charles, resulting in a 3 – 1 loss for the Blues.
In the quarter-final of the Women's FA Cup, Chelsea faced Reading FC Women as their opponents. Jess Carter opened the scoring for Chelsea in the 23rd minute, followed by a penalty converted by Maren Mjelde, putting the Blues 2 – 0 ahead.
Guro Reiten added a third goal for Chelsea in the second half, rendering Reading's goal in the 70th minute inconsequential. Chelsea, being four-time FA Cup champions, remained unfazed and secured their victory (1 – 3).
In the semi-finals, Chelsea faced Aston Villa Women FC in a closely contested match that was decided by a solitary goal. Sam Kerr found the back of the net in the 59th minute, securing a victory for Chelsea and earning them a place in the FA Cup final at Wembley for the third consecutive year (0 – 1).
Chelsea now stand as the formidable obstacle in Manchester United's pursuit on both fronts. The Blues have their sights set on winning a third consecutive FA Cup title and have the opportunity to clinch a fourth consecutive Women's Super League title by winning all their remaining league games. Notably, Chelsea are the only team that Manchester United have faced in a competitive match but have never managed to defeat so far.
According to Chelsea manager Emma Hayes, the majority of the squad is fit and available for selection. However, Millie Bright and Fran Kirby are still unavailable due to injury. Sam Kerr, who was substituted in the match against Everton Women FC (resulting in a 7 – 0 victory), rested and was kept on the bench for the subsequent 6 – 0 win over Leicester City FC Women. Nevertheless, she is anticipated to start in the upcoming match at Wembley.
The return of Pernille Harder and Kadeisha Buchanan has brought great joy to Chelsea fans, considering the squad's recent shortage of players. However, it should be noted that both players have only recently returned to action. They had been sidelined for significant periods of the season due to knee and hamstring injuries, respectively.
Guro Reiten, the Blues winger, about the pressure ahead of the FA Cup final:
"With the titles and the trophies that we've been winning the last few years, the pressure is there already from everyone else. We've shown it again and again that we're willing to do the job, to put everything in, and we never give up."
"We know it's not easy, but I know for a fact that we won't underestimate them, because they are a great team. They are tough people, and they have been playing some really good football this year, so we have to be ready from the off."
"Manchester have quality players all over the pitch. Full-backs that like to join in the attack, good crossers, and then they have Russo and Toone scoring goals. So, we have to stop all of them, not just one of them, because United are a team. We have to prepare for their threats, but also focus on us."
Don`t miss out 👉: Title Battle, CL Qualification, and Relegation Ruckus in the 2022-23 Premier League
Manchester United Women News & Current Form:
Manchester United have been in superb form heading into this match, securing five consecutive victories in their recent WSL fixtures. Their impressive run is part of their determination to maintain their lead in the league's title race, where teams like Chelsea, Manchester City, and Arsenal are also vying for the top spot.
In the 2021/22 season, Manchester United achieved a fourth-place finish, which was an impressive feat considering it was only their third season in the Women's Super League. They began the new 2022/23 season on a high note by registering a convincing 4 – 0 victory over Reading.
They continued their strong form and remained unbeaten in the league for the next four matches. However, their unbeaten run came to an end in November of 2022 when they faced Chelsea, who emerged victorious with a 3 – 1 scoreline.
Second team's  impressive unbeaten streak of thirteen games in all competitions came to an end when they again faced the Blues in the return league fixture in March. Chelsea emerged victorious with a 1 – 0 win. However, since that defeat, Manchester United are undefeated in the league and currently sit at the top of the table with a four-point lead.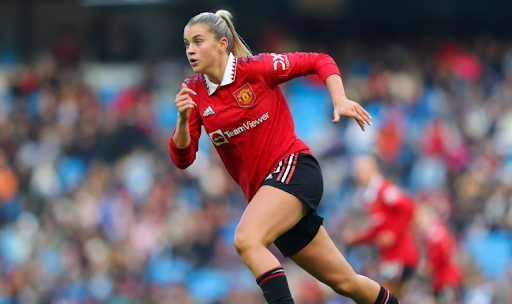 In the Women's FA Cup, Manchester United started their journey to Wembley with a 1/16 victory over Barclays Women's Championship team Sunderland AFC Women. Nikita Parris played a pivotal role, scoring twice to secure a 2 – 1 win for the Red Devils.
Moving on to the 1/8 match, Manchester United faced another Championship side, Durham Women FC. After a goalless first half, Maria Thorisdottir opened the scoring just before halftime, setting the stage for a dominant second-half performance. Alessia Russo, Leah Galton, Hannah Blundell, and Nikita Parris all found the back of the net, resulting in an impressive 5 – 0 victory for MU.
In the quarter-finals, Devils faced another team from Championship, Lewes FC Women. Alessia Russo scored an early goal for Manchester United, and Vilde Bøe Risa added another in the second half, putting the Reds in a 2 – 1 lead with 20 minutes remaining.
Lewes' Emily Kraft managed to reduce the deficit in the 73rd minute. However, it was Nikita Parris who scored a late goal, securing a place in the semi-finals, MU's first-ever appearance at this stage of the competition.
In the semi-finals, MU faced Women's Super League team Brighton & Hove Albion Women FC. It was Brighton who took a 1 – 0 lead in the 26th minute with an unfortunate own goal by Mary Earps. However, Leah Galton scored in the 47th minute to equalize, and Alessia Russo added another goal just over twenty minutes later to put Manchester United in the lead.
With a 2 – 1 scoreline, Brighton's Danielle Carter scored an equalizer in the 75th minute, setting the game up for potential extra time. However, in the 89th minute, Rachel Williams found the back of the net for Manchester United, securing a dramatic late goal and sending her team to the final in the Women's FA Cup for the first time in history.
Coach Skinner has confirmed that all players in his squad are available for selection, with the exception of Maria Thorisdottir. Additionally, Katie Zelem, who missed the previous match against Tottenham Hotspur Women FC due to suspension, is set to return to the Manchester United starting lineup for the upcoming game.
Defender of the Red Devils Millie Turner about her injury and recovery from it:
"Going through the injury that I went through definitely makes me appreciate everything as a footballer. To feel like it can be taken away from you, to then come back and be able to get out on the pitch with the girls, you just appreciate everything and you enjoy it a lot more."
"There was a point in time when I didn't know if I'd actually be able to return to playing football again, so to be back is just an unbelievable feeling. Coming back from that injury was a massive moment for me and one I'm really proud of."
"We all love the fans, they're incredible. We hear them every single week. They follow us everywhere. It's incredible. And the squad's togetherness is second to none, it's better than I've ever experienced at any other club and I'm lucky to be a part of it."
"It's like a family. We come in every day and love being here. There are no cliques, everyone just gets on like a family and loves each other genuinely from the bottom of their hearts. We all go out on the pitch and fight for each other."
Chelsea Women form guide: W-L-D-W-W-W
Manchester United Women form guide: W-W-W-W-W-W
Chelsea Women vs Manchester United Women Head-To-Head Record:
| | | |
| --- | --- | --- |
| Chelsea Women | Draw | Manchester United Women |
| 8 | 1 | 0 |
November 17, 2019: Chelsea 1 – 0 Manchester United (FA Women's Super League);
January 29, 2020: Manchester United 0 – 1 Chelsea (Conti Cup);
September 6, 2020: Manchester United 1 – 1 Chelsea (FA Women's Super League);
January 17, 2021: Chelsea 2 – 1 Manchester United (FA Women's Super League);
September 26, 2021: Manchester United 1 – 6 Chelsea (FA Women's Super League);
February 2, 2022: Chelsea 3 – 1 Manchester United (Conti Cup);
May 8, 2022: Chelsea 4 – 2 Manchester United (FA Women's Super League);
November 6, 2022: Manchester United 1 – 3 Chelsea (FA Women's Super League);
March 12, 2023: Chelsea 1 – 0 Manchester United (FA Women's Super League).
Chelsea Women vs Manchester United Women Predicted XI:
Chelsea Women possible starting lineup (4-2-3-1): Berger; Perisset, Carter, Eriksson, Charles; Leupolz, Cuthbert; James, Harder, Reiten; Kerr.
Manchester United Women possible starting lineup (4-2-3-1): Earps; Batlle, Le Tissier, Turner, Blundell; Ladd, Zelem; Parris, Toone, Galton; Russo.
Statistical preview of the match Chelsea Women vs Manchester United Women:
Chelsea won the FA Cup 2 years in row (2021 and 2022).
Manchester United are playing only their 3rd year in the Women's Super League.
It is MU's first time playing in the FA Cup finals.
Manchester United (W) have scored and conceded in 6 of the last 7 face-offs between these teams.
Manchester United (W) have lost in 6 consecutive head-to-head matches between these teams.
Manchester United (W) have scored in 19 of their last 20 matches.
Chelsea (W) have scored in 23 of their last 24 matches.
Chelsea's top scorers: Sam Kerr (26+5), Guro Reiten (11+18), Pernille Harder (10+4), Fran Kirby (9+3).
United's top scorers: Alessia Russo (13+1), Leah Galton (12+4), Nikita Parris (9+1).
What has been said before the match:
The Blues coach Emma Hayes about the excitement of the team to win another trophy and play on legendary Wembley Stadium:
"We're in good shape and we're looking healthy. Everyone is available, Sam included, for the weekend so that's really positive for us. We will consider all our options before selecting a side, however. Everyone who knows me knows that I don't just pick a team of 11 players, it's about a squad and we like to mix things up in training throughout the week."
"We believe in developing players and developing those combinations and it's fair to say the entire squad is at their best level, they're all prepared and for that reason it's going to be difficult to pick a team."
"Having a sold-out Wembley is just fantastic for the game. As a women's football fan, it means everything to me. I've sat here for over 10 years pushing, probing and championing for this because I knew that this day wasn't too far away."
"It doesn't matter how many times you've been involved in a Vitality Women's FA Cup Final, it's always an incredibly special occasion – and we're absolutely thrilled to be coming back to Wembley Stadium. I hope you're all ready for what I expect to be an absolute classic of a Cup Final."
"It's a position we've been in many times before, having lifted the trophy four times, whereas it's a new experience for Manchester United. We know how insatiable the hunger to get your hands on that first trophy is, but don't underestimate what it means to this group of players to defend silverware too."
"We won two incredible Finals in recent seasons, against Arsenal and then Manchester City, and no team in the WSL era has done it three times in a row. We want to keep making history."
The Devils' boss Marc Skinner about the message he gave to his players and fans' support:
"I have one simple message for my players going into this game: no regrets. We're going into this game knowing that we have to earn the right to lift the FA Cup rather than thinking we deserve to win it, but these are the occasions you have to look forward to."
"Yes, there will be a few nerves on both sides, but they need to be put aside quickly so that the occasion can be enjoyed. There are so many walks of life that are so much duller than what we do, so my urge to each player is to enjoy each moment and make sure we head back to Manchester with no regrets."
"This Final will come and go, so enjoy these moments, relish them and give your all. Play with your personality, play with the Rebel Reds mentality that we have and then let our football do the talking."
"It helps, of course, that we will have our incredible supporters helping us every step of the way. Even though we're in London, I think the United supporters will offer absolutely massive backing and we've seen enough times in the past that special things can happen when these players and fans merge their energy together."
"There's genuine synergy between these players and these supporters. Everybody in our team and our staff wants to do well for our fans because we know how important they are for what we're trying to do."
"Everything we do is literally for them. Coming from a working-class background like I do, I appreciate the fact that they spend their hard-earned money to come and support us, and we try to put that into our performances."
"I know, deep down, that we're going to produce trophies for them. That's our ethos as a club and I hope we can give them that this year, just to present them with a symbol of how much we appreciate them.
"We will absolutely give everything for them in this match and beyond."
Chelsea Women vs Manchester United Women Prediction:
The Red Devils travel to England's main stadium with a very worrisome statistic: the last 6 matches against rivals-to-be, Chelsea, have been lost. With both teams in superb form, the Londoners have undeniable experience of FA Cup finals action, but can they take it this time? The chances are high. What can be concluded is that the Aristocrats will avoid losing in regulation time, with the teams exchanging goals, as the statistical trends suggest.
Don`t miss out 👉: Arsenal vs Brighton & Hove Albion. Prediction and Preview. Probable Lineups, Team News, Stats and more
Parimatch News staff prediction:
We say: Chelsea (W) will not lose and both teams will score – Yes.