Chelsea (W) vs  West Ham United (W). Prediction and Preview. Probable Lineups, Team News, Stats, and more
Four-time league champions Chelsea will meet the Clarets. Will the Blues be able to bounce back after a draw in their previous meeting?
Chelsea FC Women will host West Ham United Women FC in the Barclays Women's Super League 3rd round match at the Griffin Park Stadium. The fixture will take place on Saturday, October 14, beginning at 22:00 IST.
Parimatch News will tell you everything you need to know ahead of the upcoming match.
Chelsea News & Current Form:
Chelsea is poised to secure an impressive fifth consecutive Women's Super League title in the forthcoming 2023/24 season, cementing their status as the firm favorites. The previous season, though not a seamless journey, witnessed their resilience as key players like Fran Kirby and Millie Bright faced intermittent spells of absence. Despite this, they concluded the season with a remarkable WSL and FA Cup double.
The summer transfer window ushered in a wave of promising young talents to the West London club, reflecting their forward-looking approach. Among the noteworthy acquisitions were Catarina Macário from OL Feminin, the Canadian full-back Ashley Lawrence, and former Eintracht Frankfurt Frauen midfielder Sjoeke Nusken.
Departures included stalwarts like Pernille Harder and former captain Magdalena Eriksson, who ventured to FC Bayern Frauen. This left manager Emma Hayes with a robust squad to select from in their quest for success in 2023/24.
While their primary objective is to capture the elusive UEFA Women's Champions League trophy, coach Hayes also emphasizes the importance of warding off domestic challengers as they defend their title.
The new WSL season, however, commenced at a subdued pace for the defending champions. Their opening 2:1 victory over Tottenham Hotspur Women FC, while effective, wasn't adorned with grace, and they narrowly avoided seeing their efforts nullified by a late goal attempt by Martha Thomas.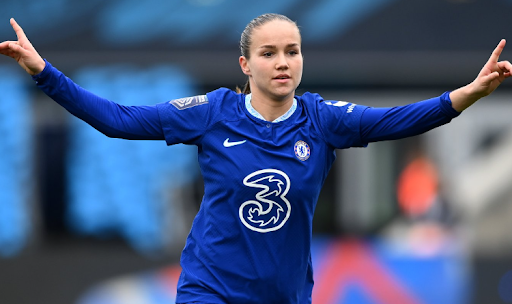 The most recent encounter, a 1:1 draw with Manchester City Women, proved to be one of the most contentious and bewildering games in recent Women's Super League history. Although City initially seized the lead through a splendid strike by Chloe Kelly, they soon found themselves reduced to ten players.
This occurred due to a perplexing second booking for Alex Greenwood, deemed to be time-wasting by the referee in the 36th minute of the match. Lauren Hemp, a City winger, was also sent off, leaving them with only nine players. Chelsea eventually capitalized on the numerical advantage, with Guro Reiten finding the net in added time after a chaotic scramble in the penalty box to secure a crucial point for the reigning champions.
Nonetheless, Emma Hayes' side displayed a degree of vulnerability even with the two-player advantage, and Manchester City could consider themselves unlucky that Chloe Kelly's opener didn't secure them a victory.
Coach Hayes emphasized post-game that numerical superiority doesn't guarantee success, but a point earned on the road is valuable and serves as a missed opportunity. History has demonstrated that Chelsea often encounters rocky results in their opening fixtures, serving as a prelude to yet another dominant WSL victory.
West Ham News & Current Form:
Squad of Rehanne Skinner approaches their upcoming Saturday fixture with high spirits, having secured consecutive victories over Brighton & Hove Albion FC Women (2:0) and Charlton Athletic FC Women (2:1). The latter triumph was particularly noteworthy as it occurred in the Continental Tyres League Cup on Wednesday night.
In the match against Charlton, Izzy Atkinson, who came off the bench, delivered a thrilling performance by netting the decisive goal for Rehanne Skinner's side. She found the back of the net in the 77th minute, propelling her team into the lead. The match initially saw Carla Humphrey putting the away side ahead on 20 minutes after a moment of defensive uncertainty from the Irons.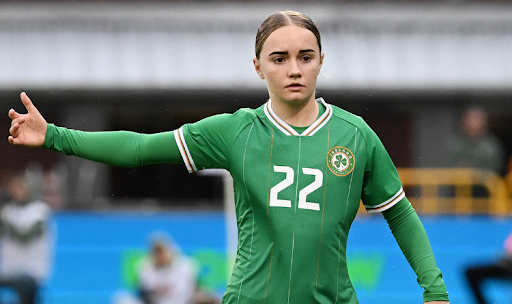 However, following a lackluster first 25 minutes, the Clarets progressively gained momentum and began creating opportunities. After the halftime break, Atkinson made her entry into the game, and the Irons found their rhythm, dominating the play and generating scoring chances. Thus, it was hardly surprising when Emma Harries opened the scoring just before the one-hour mark.
Atkinson then extended the lead to 2:1 with just over ten minutes of regular time remaining, exhibiting her skill by bursting into space and placing the ball beyond Sian Rogers at her near post. The standout performer of the match, Atkinson, takes pride in her contributions to the team's success.
"Happy days. When you come back from behind and go on to win the game it's always a nice feeling. All of the girls are happy with the result, but we know there's aspects of our performance where we can improve."
"I've been hungry to help make an impact for the team and I'm really pleased that I've come off the bench and been able to do so by scoring the winning goal. I saw the keeper leaving a little gap at her front post, and I took the shot and it went in, so I'm really happy."
It's worth noting that the Hammers have faced challenges against Chelsea in their previous ten Women's Super League encounters. In a notable 2019 clash, the teams played to a 1:1 draw, with a goal of Gilly Flaherty canceling out an earlier strike from Bethany England in late March.
The two sides clashed early in the 2022/23 season when squad of Paul Konchesky traveled to Kingsmeadow for a fixture originally slated for the campaign's opening day but postponed due to the sad passing of Her Majesty Queen Elizabeth II. Dagný Brynjarsdóttir swiftly opened the scoring after just three minutes of play, but Fran Kirby pulled a goal back shortly before halftime, and the sides entered the break on level terms.
The champions subsequently scored twice, with Sam Kerr and Millie Bright finding the net on either side of the one-hour mark, completing a remarkable comeback for Emma Hayes' side.
Chelsea form guide: W-D
West Ham form guide: L-W
Chelsea vs West Ham Head-To-Head Record:
March 10, 2022: West Ham 1 – 4 Chelsea (Women's Super League);
September 28, 2022: Chelsea 3 – 1 West Ham (Women's Super League);
February 9, 2023: West Ham 0 – 7 Chelsea (Continental Cup);
May 17, 2023: West Ham 0 – 4 Chelsea (Women's Super League).
Chelsea vs West Ham Predicted XI:
Chelsea's possible starting lineup (4-2-3-1): Musovic; Lawrence, Bright, Carter, Charles; Leupolz, Cuthbert; Rytting Kaneryd, James, Reiten; Kerr.
West Ham's possible starting lineup (3-4-3): Arnold; Shimizu, Cissoko, Cooke; Denton, Hayashi, Stringer, Smith; Evans, Asseyi, Ueki.
Statistical preview of the match Chelsea vs West Ham:
Chelsea won their last 16 home league games.
Chelsea have won the WSL title 4 times in a row.
What has been said before the match:
Coach of West Ham Rehanne Skinner about the beginning of the season for team and chosen strategy for upcoming games:
"It's still a work in progress, we're only three competitive games into the new season. We've started in a way that's really positive, and we want to keep building our attacking play and our effectiveness at moving through the thirds of the pitch."
"Certainly, when we're in and around the goal, the players have been really positive. We probably could have had a couple more goals to be honest, but I've been really pleased with how we've played so far. There's definitely lots of positives to build on!"
"At the moment, we're going through a process and building up the way that we want to play. Ultimately, it's another opportunity for us to work on that against a really good side."
"We know what we're up against, but every game in this league is really difficult. So, for us it's about trying to do the things that have been working well for us consistently, regardless of who we're playing against. That's how we'll be approaching the game on Saturday against Chelsea."
"Chelsea are a really difficult side to go up against. They find ways to get points and they find ways to grind out wins don't they. So for us, it's about continuing to try and develop the confidence that we have on the ball. I think if we try and control the things that we can in possession better as well, there's definitely areas that we can look to try and utilize in the strength of our own squad as well."
Emma Hayes, gaffer of Chelsea, ahead of the WSL fixture:
"Many teams play in multiple formations at different phases of the pitch, whether they are with or without the ball. It's looking at their patterns and how they like to build out, how they like to create chances and equally look at vulnerabilities in areas we can exploit."
"We're prepared and we've done the analysis on them. I know with Rehanne Skinner's teams they are always going to be tough to beat so we're going to have to work hard for a win."
"I like packed crowds so as long as it's full, I love it. I'm also a bit old school so I love Kingsmeadow and I like the feeling of the crowd on top of you. From where I sit, I can see this section of our longest serving, most ardent fans singing their tunes."
"You can't hear that in the bigger stadiums, but I for sure can hear it in Kingsmeadow. I love being there and it's our other home and as long as it's packed, that's the main thing."
Chelsea vs West Ham Prediction:
The difference in class will prove to be the deciding factor here. Chelsea are on a streak of 16 consecutive wins at Griffin Park Stadium and are aiming to win their fifth consecutive WSL title as favorites to do so in 2023/24. The head-to-head statistics do not inspire any hope for the Irons, with their neighbors finding success in ten previous matches in the WSL. In 2019, the teams played a 1-1 draw when Gilly Flaherty canceled out Bethany Inglend's first-half strike at the end of March. Expect a solid win from the form-gaining Kerr and co. in front of the home crowd.
Parimatch News staff prediction:
We say: Chelsea (W) will win with an individual total over 1.5 – Yes.