Cameroon vs Brazil. Prediction and Preview. Probable Lineups, Team News, Stats, and more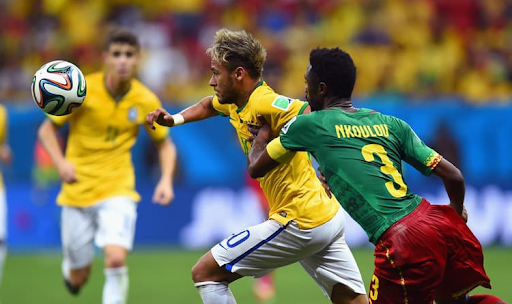 Brazil will meet with Cameroon in the FIFA World Cup 2022 match at the Lusail Stadium. The fixture will take place on Saturday, December 3, beginning at 00:30 IST.
The Qatar World Cup continues to delight us with exciting scenarios. In Group G, in addition to Cameroon, Switzerland and Serbia are also in playoff contention, so far all these teams have a chance of advancing to the knockout rounds of the tournament. And while the Brazilians have already secured a playoff slot with one round to go, they can afford to rotate the squad to give their leaders a bit of a rest. This provides a perfect opportunity for the Africans to try and snatch the tickets to the next stage.
Parimatchnews will tell you everything you need to know ahead of the upcoming match.
Don`t miss out 👉: ATK Mohun Bagan vs Bengaluru: Preview and Prediction
Brazil News & Current Form:
Brazil are five-time world champions, a sensational figure that makes this national team really special and outstanding, no one can boast more. And it seems that for at least 4 years more the Canarinhos have a guarantee of staying the most titled team as Germany (4 WC trophies) were sensationally eliminated from the tournament by joint efforts of Costa Rica and Japan synergized with luck.
But these are all the honours of the past. Since 2002, however, the Yellow and Blues have failed to take the title or at least reach the final of the Mundial. The Brazilians have made it past the quarter-finals only once since then. In such a way, it was a national embarrassment – a legendary 1-7 defeat by Germany in the semi-finals of the 2014 World Cup at home. Before the start of the tournament, every single Brazilian knew – it's time to break the trophy drought. The reason for this confidence and demands is the extraordinary combination of some of the world's best young talents with some of the most experienced world stars in the team.
In World Cup 2022 qualification, Brazilian head coach Tite experimented a great deal and allocated playing time to young, and underperforming, players. As a result, in 17 rounds of the group stage of the qualifying tournament, his players have not suffered a defeat in any of their matches, with only three draws.
In all the other fixtures, the Yellow and Green scored solid victories with some pleasing results. They have scored 40 goals in this time frame. The upcoming game is expected to be an intense one.
A hard-fought 1-0 win over Switzerland on Monday came courtesy of a late shot from Casemiro, CDM from Manchester United. That success ensured the Brazilians' safe passage to the play-offs. In turn, the Celesão's expected path to another world title – a record sixth all-time – could still be perfect.
Neymar commented Casemiro in his Twitter right after the final whistle:
"Casemiro has been the best midfielder in the world for a long time".
It was recently reported that they will play Cameroon with a reserve squad to give some of their leaders a breather before major games. Dani Alves, for whom the World Cup in Qatar will be the last time in his career, is likely to take to the pitch. But even that is no reason to expect the Lions to secure any points. Even their reserves are a real force to be reckoned with. And the motivation to get a one hundred percent result is there.
With a variety of world-class performers, the Brazilians are sure to be dominant in attack in any case. Besides, why not finish the group stage without conceding a goal? Seems like a challenge worth championing ambitions.
The South American team has won without a draw in the group stage or a penalty series in the playoffs before. This was the case in 1970 and 2002 when Mario Zagallo and Luiz Felipe Scolari respectively led the Pentacampi. There is another new record for the Yellow and Green – the Brazilians have won for the tenth time in a row at the group stage. Incidentally, the fact that Brazil beat Cameroon by three goals in both of the previous World Cups – in 1994 and 2014 – also speaks in favour of Tite's side.
Unless there is a mega-sensation, Brazil will have no problem finishing in first place in the quartet.
Unfortunately, Neymar, Danilo and Alex Sandro, who has a muscular injury, will not be able to help the team today.
Cameroon News & Current Form:
Hope is the last to die. The Cameroon team still has a theoretical chance of making the playoffs, but they need to beat the Brazilians by at least two goals, but even so, much depends on the parallel match between Serbia and Switzerland. The Africans will be satisfied with a draw, as well as a win for Serbia with a small, preferably minimal advantage.
Cameroon's motivation is certainly frantic. If they win, they will retain a chance of qualifying for the World Cup playoffs. Brazil, despite the squad losses – Neymar, Alex Sandro and Danilo – have excellent resources. Even if they do not play at their full strength, the Brazilians are capable of scoring a lot of goals and winning. In any case, the Yellow and Green will not be as bleak as the French after the rotation. You have to know how to work with resources.
Cameroon gave their fans back the hope of a miracle when they were losing against Serbia 1-3, but eventually managed to comeback and secured a 3-3 draw. One of the main heroes of the match was 30-year-old Vincent Aboubacar. The forward set a historic achievement – he became the first African in World Cup history to score a goal and provide a successful pass after coming on as a substitute.
Such a result allowed the team to continue their fight to qualify for the play-offs, and do so for the first time in 32 years. The African side need to "only" defeat Brazil.
However, there are some "buts" before the coming encounter – no African team has beaten Brazil in the last twenty years. Moreover, Cameroon's 1-0 win against Celesão in the FIFA Confederations Cup in 2003 remains the only occasion on which a team from the CAF region has beaten Brazil or had a draw.
It cannot be ignored that it was today's side gaffer Rigobert Song who led the teammates on that day.
The Indomitable Lions have made seven World Cup finals appearances in their history, with their greatest achievement coming in 1990, when they reached the quarter-finals. However, after that their performances at the World Cups, to put it mildly, were not satisfactory.
The devoted Cameroonian fans did not play a minor role. Despite the fact that the Africans were 1-3 behind the Serbs by the 60th minute, the army of thousands of fans never ceased to support them. This frantic energy and belief till the last second gave an indescribable boost to their kudos. You can be sure there will be a terrific atmosphere and buzz in the upcoming match at the stadium.
And the team's climate would be ideal if it were not for the strange conflict between Andre Onana and Rigobert Song. It was all about the goalkeeper showing too much initiative by playing far and wide in the passing game (which proved to help the team eventually).
The goalkeeper, who has had very difficult moments the past two years, has earned a reputation for his assertiveness and poise on the ball during his career. In Cameroon's first game at the tournament, "centre-back goalie" Onana registered 61 touches on the ball, a third of them coming from outside his goal. Moreover, without him, the Cameroonians conceded three goals from Serbia.
Rigobert, on the other hand, wanted more traditional and safe football and confronted the Inter Milan player after the match. The latter did not take criticism at all and his inflamed ego could think of nothing better than to threaten an ultimatum to the head coach – to which he responded by simply expelling him from the squad. The drama with one of the most important players in the national team came at the most inopportune moment when the play-offs are at stake.
CFF officially announced:
"The Cameroon Football Federation hereby informs the public that following Mr. Rigobert Song Bahanag's decision, head Coach of the Indomitable Lions, the player Andre onana has been temporarily suspended from the group for disciplinary issues".
A couple of hours after Andre himself posted the statement:
Still, in-form Eric Schupo-Moting from Bayern Munich and Vincent Aboubakar are motivated to get their team into the playoffs. They will be the Africans' main hope in the attack.
Don`t miss out 👉: Mumbai City extends their lead at the top of the ISL table after grabbing their fourth consecutive win
Brazil form guide: W-W-W-W-W-W
Cameroon form guide: L-L-D-D-L-D
Cameroon v Brazil: Head-To-Head Record:
June 24, 1994: Brazil 3-0 Cameroon (FIFA World Cup);
November 13, 1996: Brazil 2-0 Cameroon (International Friendly);
May 31, 2001: Brazil 2-0 Cameroon (FIFA Confederations Cup);
June 19, 2003: Brazil 0-1 Cameroon (FIFA Confederations Cup);
June 23, 2014: Brazil 4-1 Cameroon (FIFA World Cup);
November 20, 2018: Brazil 1-0 Cameroon (International Friendly).
Cameroon v Brazil Predicted XI:
Brazil's possible starting lineup (4-2-3-1): Ederson, Militao, Marquinhos, Silva, Telles, Casemiro, Guimarães, Paquetá, Antony, Jesus, Martinelli.
Cameroon's possible starting lineup (4-3-3): Epassy, Fai, Castelletto, Nkoulou, Tolo, Hongla, Anguissa, Kunde, Aboubakar, Choupo-Moting, Toko Ekambi.
Statistical preview of the match Cameroon v Brazil:
Brazil's First XI average age – 27.7 yrs.
Brazil is ranked 1st in the FIFA rating.
The Brazilian team have scored in their last 10 matches.
The Brazilians are scoring an average of 3 goals per game in their last 7 matches.
Brazil are victorious in their last 9 matches played.
Cameroon is ranked 43th in the FIFA rating.
Cameroon's First XI average age – 28.4 yrs.
Cameroon have scored at least a goal in 3 of the last 4 meetings.
Cameroonians have conceded a goal in 5 of their last 6 games.
The Africans are winless in their last 6 games.
What has been said before the match:
"You are taking me back. These are memories, and it was every kid's dream to play against Brazil. I was 17, it was in the United States and I found myself starting in that game against one of the best teams in the world when I had come straight out of the Cameroonian league. I did what I could do and maybe I didn't know there were rules to be respected. The red card helped me mature as a player".
"We reacted as well as we could [at 3-1 down] to get back into the match. We are progressing and improving. It is possible to beat Brazil. We believe in ourselves, we did not come here to just go through the motions. Cameroon still has a contribution to make to this tournament."
Vincent Aboubakar said:
"In these competitions, you have to show desire for victory. My teammates played a great first half despite some small mistakes. We felt they [Serbia] were shaky and a bit tired. When I came on, I tried to make the most of it. [The] most important [thing] is to give the Cameroon people joy. What matters is the mindset and the collective spirit, and in that regard we played a great game".
Brazilian coach Tite said:
"Brazil has 26 great athletes and a great team. Who will play? There's Fabinho from Liverpool, Ederson from Manchester City, Gabriel Martinelli and Gabriel Jesus from Arsenal… There's a lot of competition".
"I have to give the players a chance, prepare everyone. Our goal is for the players to feel valued. It is an opportunity for them to show all their qualities."
"I honestly do not know because we are focusing on single games – we will learn when we go through them. I can only decide on which players to use if I see them in action on the field of play. It's an opportunity to see them in action, yes, it's a risk but also their chance to shine".
"The three injured are all evolving, Neymar and Danilo were already in the pool, and we are focusing on Cameroon now but will talk again with the physicians to see if they can return to the field".
Team veteran Dani Alves is full of confidence:
"For me it represents the chance to wear the Brazilian jersey. It doesn't matter what the tournaments are, friendly or otherwise. It's our country in such a big tournament as the World Cup. It makes me very proud. I have been doing so for many, many years. So to be able to wrap up this cycle in the Brazilian shirt in a World Cup makes me very happy".
"I have been here for 16 years and this is the most balanced squad we have had in that time".
"Age doesn't matter in football. Whether you are the youngest or oldest, all that matters is if you are good enough".
Cameroon v Brazil Prediction:
Cameroon have tremendous motivation and incredible support from the fans. However, the Indomitable Lions have lost their main goalkeeper and have conceded a lot from Serbia which is a bad sign. The Yellow and Greens could deal them even more damage. Besides, we shouldn't expect a repeat of the France-Tunisia scenario, because there's no doubt that Brazil have superb depth in their squad, and a lot of stars like Gabriel Martinelli and Gabriel Jesus from Arsenal are hungry to show their worth, not to mention Ederson from Manchester City. In the World Cup qualifiers, Tite has already often experimented with playing the reserves. The level of football will certainly not change, with plenty of physical challenges and goals.
Plus, the nominal hosts have a huge desire to prove they're the clear-cut contenders for the World Cup while also setting some new records. The positive statistics in head-to-head encounters are very much on their side as well.
We assume that this game will see another Brazilian success against one of the leaders in African football. Most likely, the Greens will be able to impose their football and win with a comfortable score.
Parimatch News staff prediction:
We say: Brazil to win and the match total will be over 2.5 – Yes.
Don`t miss out 👉: Chennaiyin vs Hyderabad: Preview and Prediction