Borussia Dortmund vs AC Milan. Prediction and Preview. Probable Lineups, Team News, Stats, and more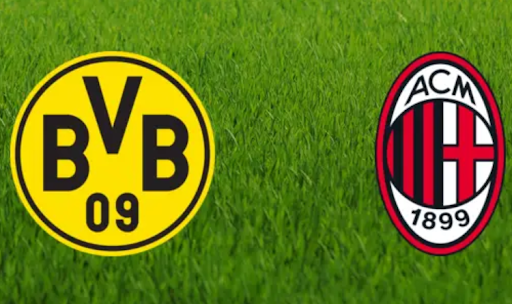 The situation in Group F after the first round is such that Borussia Dortmund and AC Milan are preparing to fight for the second place together with Newcastle. Will the BVB be able to outplay Pioli's wards?
Borussia Dortmund will host AC Milan in the UEFA Champions League Group F 2nd round match at the Signal Iduna Park Stadium. The fixture will take place on Thursday, October 5, beginning at 00:30 IST.
Parimatch News will tell you everything you need to know ahead of the upcoming match
Borussia Dortmund News & Current Form:
The Black and Yellows missed out on the championship last season, and quite literally. With a draw against FSV Mainz 05 in the final round, Dortmund let FC Bayern Munich take the lead. Despite having the same number of points, the opponents beat Borussia on extra points. Edin Terzic has surely made conclusions and will try to compete for the Bundesliga gold again.
BVB started this season confidently, not losing any of the six meetings of the German championship. The team won four of them and conceded at least a goal in as many. The competition in the Bundesliga is so serious that good results could not guarantee the team's first place. Terzic's wards are in fourth place, two points behind the leader.
Borussia have not lost at their stadium so far. It has played three games at home, which resulted in a victory against FC Cologne (1:0), VfL Wolfsburg (1:0) and TSG  Hoffenheim (3:1).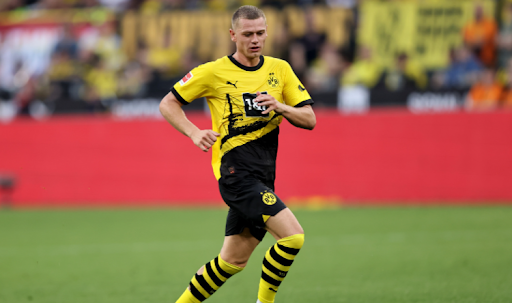 Remarkably, in the game against Hoffenheim, defender Ramy Bensebaini received a second yellow in the 71st minute when the score was 2:1, but BVB settled for a third goal, which was scored by Julian Ryerson. These morale-boosting qualities were noted by coach Terzic after the game.
While BVB have won time after time, they can't boast of any crazy performance – they have scored only 12 goals in six league games. By comparison, Harry Kane and Co. have already scored 20. However, the balance between attack and defense (six goals on the road) allows Terzic's team to pick up points every week and stay in the top five.
The only time that balance was broken was against Paris Saint-Germain in the first round of the Champions League. It was not a cheerful and moderately cautious Dortmund that came to Parc de Princes, but a very cowardly one.
The Germans completely gave the ball under the control of Kylian Mbappe and his partners and almost did not think about the attack (they made 13 strikes and one into the net, but most of them – with the score 0:2). The attempt to keep the zeros turned out to be a failure – the Parisians scored twice and confidently prevented the chaotic attempts of the opponent to get back.
This defeat was the 2nd consecutive for the team in the Champions League, in its previous match of the tournament it lost with a similar result. The last time Borussia started with a loss in the UCL was back in the 2017/18 season and then failed to get out of the group, finishing in 3rd place. And the club started the previous three draws of the most prestigious European Cup with victories.
Niclas Füllkrug about his team's confidence:
"I think we have excellent defenders in our league, very physical. The Italian sides sit deep and defend with patience. We will prepare as best we can. We have our strategy and our ideas. With the right concentration we can play with everyone."
"But we have mental and self-confidence, which is very important. We played well against Hoffenheim and it shows us that we can have confidence in ourselves. We have excellent players. Winning is always nice."
"It will be a different match here, I'm happy to be here, it will be special. I don't think about the advantages, it matters how you deal with it. We must try to win. I don't think about the pressure of playing at home. It will be a fantastic experience for me. Even my team-mates told me that it will be more special than the Bundesliga."
Don`t miss out 👉: Best XI of ISL 2023-24 Matchday 2 ft. Luna, Silva, Boumous, and Gogoi
AC Milan News & Current Form:
Milan have also had a great start to the season and are second in the Serie A standings. The club has 18 points and exactly the same number of points as the leader – Inter Milan. SSC Napoli is 4 points behind them and occupies the third place. Nevertheless, all the struggle is ahead: any mistake of Inter will be in the hands of Milan, but the opposite is also true.
The Devils suffered their only defeat this season against the Nerazzurri (1:5). In all other meetings of the Italian championship they won and did not concede more than one goal. Now Pioli's wards are leading a series of three wins in a row. During this time they beat Hellas Verona FC (1:0), Cagliari Calcio (3:1) and SS Lazio (2:0).
In the meeting against the Eagles, Christian Pulisic and Noah Okafor scored in the second half. The Rossoneri's attacking leaders are in top form. Olivier Giroud scored four goals and made three assists, while Rafael Leão had three goals and three assists.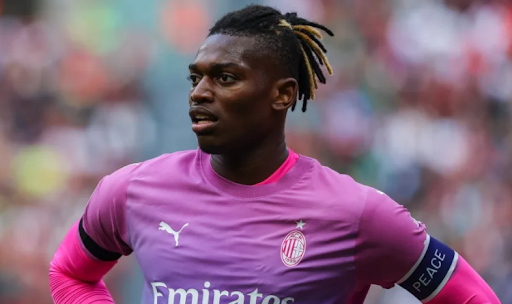 In the 1st round of the Champions League, Milan hosted Newcastle United FC at home, and the meeting ended in a 0:0 draw. The mad attack of the Italians tried to open the defense of the Magpies with all their might, but nothing worked. Pioli's side had 25 shots, eight of which went into the goalposts, but none of them resulted in a goal.
Leão was responsible for the best of the missed chances – in one of the episodes he dribbled into the penalty area, but instead of the usual shot he shot with his heel. In the game against Borussia, Rafael and his partners should avoid such antics if they are going to make the playoffs.
With this result, the Italian club extended their winless streak in the Champions League to 4 meetings (2 draws, 2 defeats), and in the last 3 games they failed to score. But it should be said that in the last UCL season the team also started with a draw, but finished 2nd in their quartet and subsequently reached the semifinals.
Borussia Dortmund form guide: D-D-W-L-W-W
AC Milan form guide: W-L-D-W-W-W
Borussia Dortmund vs AC Milan Head-To-Head Record:
| | | |
| --- | --- | --- |
| Borussia Dortmund | Draw | AC Milan |
| 1 | 1 | 2 |
July 17, 2017: AC Milan 1 – 3 Borussia Dortmund (International Champions Cup).
Borussia Dortmund vs AC Milan Predicted XI:
Borussia Dortmund's possible starting lineup (4-2-3-1): Kobel; Ryerson, Hummels, Schlotterbeck, Bensebaini; Ozcan, Can, Brandt; Malen, Fullkrug, Adeyemi.
AC Milan's possible starting lineup (4-3-3): Maignan; Calabria, Tomori, Thiaw, Hernandez; Musah, Adli, Reijnders; Pulisic, Giroud, Leao.
Statistical preview of the match Borussia Dortmund vs AC Milan:
Dortmund's First XI average age is 27.7 years, Milan's First XI average age is 25.9 years.
The total value of Borussia's squad is 467 mln euros, while the value of Milan's is 529 mln euros.
Szymon Marciniak has been appointed as the central referee. This season, the match official has averaged 6 Yellow Cards and whistles 24 fouls per game on average.
The Bumblebees receive an average of 1.57 Yellow Cards during home games in the Champions League, while AC Milan have an average of 2.78 Yellow Cards during away games. Also, add that the Rossoneri have won six of their last nine away matches in terms of yellow cards.
Borussia Dortmund have an average of 4.29 corner kicks during their home matches in the Champions League. AC Milan have an average of just 2.89 corner kicks and we note that seven of the Rossoneri's last nine away matches in the Champions League have seen nine or fewer corners awarded
Borussia Dortmund have opened the scoring eight times in their last ten matches.
In five of the Italian team's last seven matches, the prediction that at least 5 yellow cards will be shown has been realized.
In the last nine matches of Milan, the total of corner kicks less than 10.5 has been recorded.
The Bumblebees have played eight matches this season and only against PSG have failed to score at least one goal.
Milan have also played eight matches and Stefano Pioli's men have scored at least one goal in every game played this season.
In the last 5 games Milan conceded an average of 1.20 goals per game and scored an average of 1.40 goals per game.
In the last 5 games Borussia conceded an average of 1.40 goals per game and scored an average of 2.00 goals per game.
Borussia Dortmund have not conceded more than 1 goal in regular time in 6 of their last 7 home games in the Champions League.
Milan have not scored more than 1 goal in regular time in 6 of their last 7 away games in the Champions League.
Dortmund failed to win in 5 of the last 6 meetings in the Champions League (3 draws, 2 defeats).
Borussia's home unbeaten streak in the top European competition is 5 matches (3 wins, 2 draws).
On the road in the main European tournament Milan performs poorly: 11 of the last 14 meetings are unbeaten (5 draws, 6 defeats).
What has been said before the match:
Gaffer of Borussia Edin Terzic about the upcoming opponent and recent game with PSG:
"Milan have excellent players, they lost two important players, but they made excellent investments. They were all good, as was Pulisic who started well. Leao is dangerous with Theo Hernandez on the left. Even the captain or Alessandro Florenzi tackle the opponent well."
"They are good and excellent on a technical level. They combine intensity and technique, they are always in a position to win. We have to give a level performance. We have to defend well, but then be ready when the match is intense."
"It will be a completely different match. We had many thoughts and worries before the PSG game. We changed our mentality to face the match with more courage."
"We could have exploited some chances better, but we didn't take them. Milan's way of playing is different, we will have new challenges and we will try to do our best. We did well against PSG, we hope to continue on that path."
"In the Champions League no match is easy, we understood this already from the draw. Usually 10 points are needed to qualify. This is why it is important to score points tomorrow and the home matches are important. Tomorrow Milan will be there, a difficult opponent, but we can face them and the fans will be there to help us. We will give a great performance."
Stefano Pioli, head coach of AC Milan, about his team's readiness for UCL battle:
"We're ready and we need to be because, in the next game, the Champions League is massive. Unfortunately we didn't win the first game at home despite maybe deserving to. Dortmund are an intense side. They have a lot of energy and talent up top. They're unbeaten in the Bundesliga in I don't know how many games."
"It'll be a difficult game. We have an extra day to recover, though BVB played yesterday. They didn't play in midweek either. But we're Milan and we'll need to be at our best because it'll be a hostile atmosphere. These are the games that we want to play in. We need to execute our plan correctly."
"I had seen Borussia struggle against PSG but I think it's because of PSG. It's a team that combines the intensity of German football with the quality of their offensive players, a difficult match for sure in a big stadium. We will prepare to counter anything. It will not be a decisive game, but an important one for sure."
Borussia Dortmund vs AC Milan Prediction:
In the opening round, Borussia Dortmund faced a 0-2 defeat away to PSG, a result that didn't come as a shock given PSG's strong squad. On the other hand, AC Milan played out a goalless draw against Newcastle at home, dropping crucial points. However, in a group as competitive as this one, even top teams like PSG can falter unexpectedly. Both Borussia Dortmund and AC Milan have shown promise in the early stages of the season, but credit must be given to Stefano Pioli for swiftly integrating new signings into the Milan squad.
Borussia Dortmund must now address their shortcomings, particularly the questionable gameplan employed in the match against PSG. In their upcoming fixture, Borussia is expected to adopt an aggressive attacking style with a high tempo. This approach should lead to numerous attacks, scoring attempts, and, importantly, corner kicks. The motivation within the team is exceptionally high, and the passionate support of their fans at Iduna Park, known for creating an intimidating atmosphere for visiting teams, will further drive them forward.
While Milan doesn't concede many corners, their opponents' quality is relatively rare. But when the level of competition is high, the situation changes — for example Inter served 5 corners in the derby (while the Rosnonerri got 0). Borussia Dortmund have an average of 4.29 corner kicks during their home matches in the Champions League. As for the same competition stats, AC Milan have an average of just 2.89 corner kicks served and we note that seven of the Rossoneri's last nine away matches in the Champions League have seen nine or fewer corners awarded. It is reasonable to suggest that the match total of corners will be less than 9.5.
Additionally, it's worth noting that Borussia Dortmund has gained momentum after a sluggish start to the 2023/24 campaign, securing three consecutive victories in the Bundesliga and closing in on the top spot. Despite AC Milan's impressive form, Borussia Dortmund has a solid opportunity to secure at least one point from this match.
Parimatch News staff prediction:
We say: Borussia Dortmund will not lose and the total of served corners will be less than 9.5 – Yes.
Don`t miss out 👉: Bengaluru vs East Bengal: Preview and Prediction