Bayern Munich vs FC Barcelona. Probable Lineups, Team News, Stats and more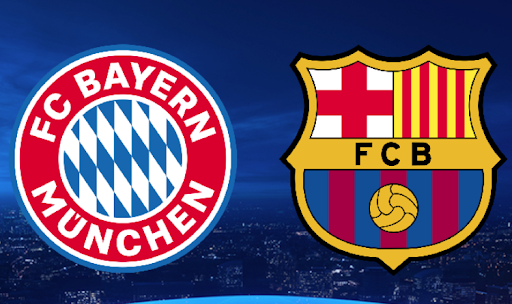 Bayern Munich will host FC Barcelona in the UEFA Champions League second group stage match at the Alianz Arena. The fixture will take place on September 14, beginning at 00:30 IST.
The Champions League is in full swing, with one of the most interesting and intriguing games of the season's first half already set to take place in the 2nd round of the group stage. A renewed Barcelona, led by Xavi, are returning to Munich, where the Spaniards have been struggling in past games. The Germans have been punishing the Blaugrana for a long time without leaving a chance, but going through this off-season the Spanish club looks completely different, having considerably improved and strengthened under the leadership of the promising coaching prodigy. Robert Lewandowski, who has been lured by Barca, will try to help his new side turn around a disappointing trend.
Parimatchnews will tell you everything you need to know ahead of the upcoming match.
Bayern Munich News & Current Form:
After last week's successful match against Inter, Bayern head coach Julian Nagelsmann said there was no need for his team to focus on Lewandowski as all the players know the forward well. That makes sense, but there is certainly no need to overestimate the capabilities of the Bavarian defence as well. What is evident – the team definitely lacks stability in September.
In the Bundesliga, where, as it is commonly believed, Bayern have no rivals and the league title belongs to them by default, the Munich side are in trouble. They have drawn three games in a row, producing their worst start in 12 years. Bayern could have won each of those games with a huge advantage in chances, but two obvious problems with the finishing and individual mistakes by the defenders decided everything.
The second point is linked with the coach's continuous rotation of the squad. From the start of the season, Nagelsmann has regularly shuffled his defence – the central three of Dayot Upameсano, Lucas Hernandez and Matthijs de Ligt take turns appearing in the classic four-back formation, with Hernandez also appearing on the left flank.
The chemistry is still sluggish, and you can't blame the players for that. In trying to find the perfect combination, in the experiments to find a Golden mean the German coach is losing points here and now.
With the first point, however, everything is clear. In the last three Bundesliga games, Bayern have taken 74 shots on goal, 33 of them inside the box, yet they have only netted four goals. The team has a potent attack without a nominal centre-forward, with a constantly changing foursome of players. The Bavarians have problems with defensive low-block teams, although they usually tear apart attacking opponents.
That could be a good sign ahead of Barcelona's arrival for the Bavarians, but there is an underlying problem. Nagelsmann has suddenly started to break down what worked for him in the beginning (again about experiments) – instead of the versatile and players friendly 4-2-2-2 formation, the coach returned to the classic 4-2-3-1 with no forwards at his disposal. The scheme is predictably failing, the coach criticizes the players while the first doubts are sown in the dressing room.
Don`t miss out 👉: Bundesliga Matchday 6 Roundup: Bayern held for the third week in a row, Leipzig beats Dortmund 3-0
FC Barcelona News & Current Form:
The timing of Barcelona's return to Munich could not have been more convenient than this. Xavi's side are still in a slight transformation phase and are not yet regarded as favourites for the encounter, but it will only relieve the pressure placed on the visitors. They do not need to rehabilitate themselves from 2-8, they just need to show quality performance at the Allianz Arena and get their first status win if possible. And now they are in a position to achieve that objective.
The Blues are in really good form at the moment. The team delivers a cohesive performance in almost every line-up, and they are leading in La Liga in almost every statistical indicator. A reliable defence that has conceded only one goal in the Primera so far, the best in one-on-one battles and ball control, the second best after Real Madrid in terms of accuracy of passes and goal scoring efforts. Three players at a time top the league's assistants table, with Ansu Fati and Ousmane Dembele having not played in such a prominent form for a long time.
Special mention should be given to Robert Lewandowski. The Pole has dispelled doubts by the naysayers that he can only score so much in the Bundesliga. The former Bayern Munich forward is already the top scorer in both the Primera and Champions League after Week 1. He has scored nine goals in six games in all competitions, making two doubles and one hat-trick.
"I wouldn't trade him for anyone else in the world. Experience is status. He helps the youngsters a lot with his advice and sets an example with his humility. It does us a lot of good."

stated Xavi.
After a disconcerting 0-0 draw with Rayo Vallecano in the first leg of the La Liga, Barcelona have certainly reassured and encouraged all their fans with five straight victories. Of course, they have not yet had a single opponent of equal level, but the team are regularly scoring at least three goals in each encounter winning by huge margins. Xavi's side are now truly ready for their first big challenge of the season.
Bayern Munich form guide (all comp.): W-D-W-D-W-D
FC Barcelona form guide (all comp.): D-W-W-W-W-W
Bayern Munich vs FC Barcelona Head-To-Head Record:
| | | |
| --- | --- | --- |
| Bayern Munich | Draw | FC Barcelona |
| 2 | 1 | 8 |
Over the last few years, there has been virtually no intrigue between Bayern and Barcelona – the German side have won four in a row, and three of these became a complete humiliation. The 2-8 quarter-final thrashing will give them nightmares for a long time afterwards.
Recent matches:
2021-12-08, UEFA Champions League (Group stage): Bayern Munich 3 – 0 Barcelona;
2021-09-14, UCL (Group stage): Barcelona 0 – 3 Bayern Munich;
2020-08-14, UCL (Quarter-final): Barcelona 2 – 8 Bayern Munich;
2015-05-12, UCL (Semi-final, 2nd leg): Bayern Munich 3 – 2 Barcelona;
2015-05-06, UCL (Semi-final, 1st leg): Barcelona 3 – 0 Bayern Munich.
Bayern Munich vs FC Barcelona Predicted XI:
Bayern Munich possible starting lineup (4-2-3-1): Neuer; Pavard, De Ligt, L Hernandez, Davies; Kimmich, Sabitzer; Gnabry, Muller, Sane; Mane.
Barcelona possible starting lineup (4-3-3): Ter Stegen; Kounde, Araujo, E Garcia, Balde; Gavi, Busquets, Pedri; Raphinha, Lewandowski, Dembele.
Statistical preview of the match Bayern Munich vs FC Barcelona:
Lewandowski has scored nine goals in six games for Barcelona;
Bayern have scored 31 goals in 9 games this season (3.4 average per game);
Barcelona have conceded 17 goals in their last 4 games against Bayern;
Barça scored the most goals in the first leg of the competition (5 goals);
Bayern have not lost a single game of the season (6 wins, 3 draws);
Barcelona have not lost a single match this season (5 wins, 1 draw);
Bayern Munich have not lost in 11 consecutive home matches.
Barcelona are unbeaten in 10 of their last 11 away matches.
The transfer value of all Bayern players is €847m. Barça's – €772m.
What has been said before the match:
Julian Nagelsmann, the Bayern Munich gaffer:
"We know Barcelona. They've got a number of new signings. Some of them have immediately taken on a key role, like Robert Lewandowski. They have a whole new spirit. You can delete the recent clashes with Barca from the hard drive. They're very active, their gegenpressing reminds you of the days when Xavi himself played. They've developed well and have a number of very interesting players like Pedri and Gavi. They are eager to attack, a tough opponent."
"I don't know if Robert is their most dangerous player, but he is one of them. He is certainly their biggest goal threat. But he needs service. Lewandowski always had great runs and positioning in the box. He is most dangerous in front of goal, but if he is not fed, it's difficult, so we have to stop passes, crosses." 
"I will be happy if our fans give him a good reception. That would be normal when someone has done so much for the club. He was an important part of the Bayern family. I am looking forward to seeing him again. We spoke a couple of weeks ago, just about private topics, not football, but it will be nice to see him in person."
Julian actively prompts his players
Xavi Hernandez, the FC Barcelona gaffer:
"We are talking about Bayern Munich. This is football. It is true that we have only won two matches out of the last 13, and haven't won any at Allianz Arena… I've experienced both sides against Bayern. I've won here and lost here. But football goes in cycles… We know how tough the challenge is, but I think we can do it. We're in good form and want to prove that. We'll see what happens tomorrow."
"Bayern have started the season well, both in the league and the UCL. Nagelsmann is a great coach. Tactically, he's great, and tomorrow, it's going to be a tough game. His teams press really well, and are brilliant in other aspects as well."
"I will choose the players who are the readiest, the most passionate, and the ones who are able to impose our style on the pitch. Experience is not important, there are young players who are fitter. It's all about the performances during training."
Bayern Munich vs FC Barcelona Prediction:
The Catalans have taken a lot of scrapes from Germany's top team in recent years, but now it is the ideal opportunity for them to get revenge. Barcelona have an excellent selection of players of the highest calibre, who are clearly not inferior to those in Munich. There is no doubt about open football. Both teams cannot and do not like to sit in defence, the visitors score a lot and often, while the Bavarians concede two goals at home even from an outsider. Plus, there is a top-notch Lewandowski in the attack – it is important for the Pole to prove to Bayern that he made the right choice, that he moved up and did not lose his quality.
The opponents will be on completely equal footing: the Germans, who have slightly lost strength in recent matches, are compensating for their relative underperformance by playing on home turf and with the support of thousands of fans. Yet the visitors will not be discouraged by this.
Don`t miss out 👉: From Liverpool to Chelsea: How much money did the big-six of the Premier League spend this summer?
Parimatch News staff prediction:
We say: Barcelona will not lose – Yes.