ATK Mohun Bagan held to a goalless draw against JamshedpurФ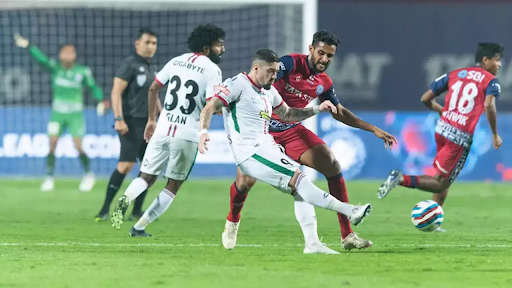 ATK Mohun Bagan and Jamshedpur during their encounter in the ongoing ISL season
The Mariners attempted 26 shots but failed to convert them into a goal in front of a resolute Red Miners' defense. Considered strong favorites of the match, ATK Mohun Bagan had to settle for a goalless draw against Jamshedpur on Thursday at the JRD Tata Sports Complex in Jamshedpur.
Keeping in mind, the Red Miners' performance in the league so far, it was a terrific finish for them. The Mariners, on the other hand, would be disappointed with the result as they had a good chance of making it to the playoffs berth if they could gather all three points on Thursday.
Coming into the encounter, ATK Mohun Bagan made one change to their starting XI with Kiyan Nassiri coming in for Liston Colaco while Jitendra Singh made it to the starting XI in place of Pronay Halder as Jamshedpur's sole change from their last fixture.
Initially, the Mariners were going pretty well in the first half but credit goes to TP Rehenesh as he was on his toes to restrict every shot coming his way. ATK player Kiyan Nassiri was excellent for his team as he made the opening chance of the game which Carl Mchugh couldn't keep on target.
Federico Gallego, who replaced the injured Hugo Boumous, almost scored the opening goal for the Mariners when his cross was headed up by Ricky Lallawmawma before Rehenesh got his body across.
On the other hand, Jamshedpur also had a chance at around the half-hour mark when a defensive mix-up allowed Daniel Chukwu to almost did it for the Red Miners. Still, the striker did not do it himself and decided to pass the ball to Rafael Crivellaro, which was then blocked and kicked to safety by Asish Rai.
Just when it was about to be half-time, Rehenesh was called back into action and he secured two straight long shots from Dimitri Petratos and Asish Rai. Just moments before half-time, Harry Sawyer created a chance for Jamshedpur but lack of support from Boris Singh, who was there at point-blank range, failed to put it in.
In the 75th minute, Ritwik Das' promising run towards the goal raised hopes for the first score but the duo of Liston Colaco and Brendan Hamill prevented the winger from getting inside the box. Just when the last nine minutes were left, Pratik Chaudhari's effort from inside the box was denied by the defenders of the Mariners.
In the last moments, Vishal Kaith delivered a fearless save to deny the Nigerian Daniel Chima Chukwu to score a goal. Chukwu was right in front of the goal after a couple of mistakes from the away defense but the striker couldn't win it for Jamshedpur.
Now, the Kolkata-based franchise is in the fourth spot with 28 points. By not getting complete three points, they are now just three points above the sixth-ranked Bengaluru. They would like to change their fortunes in their next battle after a very brief break as they face Hyderabad on Tuesday.
Jamshedpur, however, remains in the tenth position with 13 points. They will also play against Hyderabad in their next fixture next Sunday.
This was not the result ATK Mohun Bagan would have wanted and by this draw, they can now be shifted to fifth or sixth place going forward. Their next encounter against Hyderabad would be crucial for them, which will be played on Tuesday.