Arsenal vs Brighton & Hove Albion. Prediction and Preview. Probable Lineups, Team News, Stats and more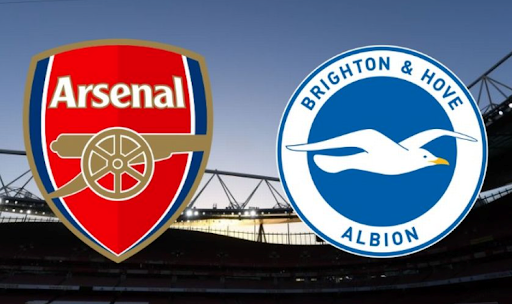 Arsenal are still in contention for the Premier League crown. Can Alexis McAllister and Co. bash the Londoners to revitalize their Europcup dreams after humiliating defeat?
Arsenal FC will host Brighton & Hove Albion FC in the English Premier League 36th-tour match at Emirates Stadium. The fixture will take place on Sunday, May 14, beginning at 21:00 IST.

What can we expect this Sunday night? Parimatch News will tell you everything you need to know ahead of the upcoming match.
Arsenal News & Current Form:
The Gunners overcame a slump, but much was lost in the four-game winless streak that preceded their last two victories. Now the fate of the championship is no longer in the hands of Mikel Arteta's charges. Nevertheless, the team retains a chance to win the Premier League, but the Londoners must not lose points.
The Londoners picked up their second win in a row in the Premier League after beating Newcastle United FC 2 – 0 in the last round. Also in this match, the club was able to break their streak of seven meetings with conceded goals in the championship.
At the beginning of the match Arsenal players did as little pressing as possible and almost never went into the attack. Until the goal by Martin Odegaard, the team could not get out of their half of the field, and the defense was terrible. The ratio of action in the other team's box at this stage was 9 – 0 in favor of Newcastle.
The course of the game was changed by the team captain Odegaard, he created a pivotal goal almost out of nothing, constantly demanding the ball when others were afraid, when necessary he saved, when necessary he sharpened. The Norwegian's goal gave confidence and a safety cushion, and his movement allowed others not just to get the ball, but always have a good continuation.
Martin is phenomenal at reading space and greatly helps those around him in such moments – not through any constant maneuver, but through a unique solution for each episode. He has 5 goals in the previous 4 games. In total, the Norwegian has already scored 15 goals in the current championship.
While they held a 1 – 0 lead, the role of Aaron Ramsdale was critical because of a shaky defense. The goalkeeper did not let his side down: five saves, including three from tight areas inside the penalty area.
Then came the very early substitution of Oleksandr Zinchenko, who played perhaps his worst game for Arsenal. Without pressing and the usual degree of control Oleksandr was frankly lost. In the 61st minute, Kieran Tierney came on as a more reliable defender in the low and middle block.
After a portion of Arteta's substitutions in the 80th minute, Thomas Partey, Granit Xhaka and Jorginho were there. Partey stepped up in place of Odegaard, only with his own style. Arsenal finally switched to containment mode and saw it through.
The players are to be credited for this performance. This is the most difficult and embellishing scenario to win. The opponent is strong, motivated and ready to use any techniques – Arsenal are not able to outplay him, just by playing better soccer. But due to the leadership on the field and help from the bench, the team adds to the uncomfortable pattern and wins by overpowering.
Nevertheless, the team is still 1 point behind Manchester City FC in second place in the EPL standings. This is despite the fact that City still have 1 match to play. There are still ghostly hopes for the championship, but to realize his dream Arsenal must win all the remaining matches and hope for a misfire from the charges of Pep Guardiola.
Under Mikel Arteta, the Gunners play combination soccer and have the highest defensive line in the league (50.22 meters). This approach helps to put continuous pressure on the opponent's goal and create a lot of threats. In terms of expected goals scored (xG = 1.93) Arsenal is second only to the Citizens, and the 3rd place in terms of conceded goals (xGA = 1.12) signals an excellent balance of play.
On the home field the capital club could not win only 4 of 17 meetings in the current championship, and in each of them they differed at least 3 times.
At the most inopportune moment Arsenal's key players were injured. The team has four players in the sickbay. Due to injuries William Saliba, Takehiro Tomiyasu, Mohamed Elneny and Oleksandr Zinchenko missed the last match.
The Ukrainian was forced to leave the field during the match against Newcastle due to problems with the calf muscles. Saliba, on the other hand, dropped during the return game of the 1/8 finals of the UEFA Europa League with Sporting CP (1 – 2). Both players will not need an operation, but their season is over.
The summer transfer window is not far off and it could be the case that Granit Xhaka will continue his career at German Bayer 04 Leverkusen.
The London club is ready to sell the Swiss for 15 million euros. A year ago, the club from Leverkusen were already trying to sign Xhaka, but then Arsenal demanded 30 million euros for the transfer. The Germans were reluctant to pay that amount.
Personal reasons could affect Granit's move to the Bundesliga. The player's wife, whom he met while playing for Borussia Mönchengladbach, had long wanted to return to Germany.
Midfielder Bukayo Saka shared his opinion on the prospects of the London club to win EPL gold medals:
"We are going to fight until the end. I really believe we can win the Premier League. We had a tough month last month but we came back with two wins in a row. We're going to give it our all in the last three games, so we'll see where that goes."
Brighton News & Current Form:
The team has shown mixed results lately. In the 33rd round it lost without a chance to Nottingham Forest FC (1 – 3), then defeated Wolverhampton Wanderers FC (6 – 0).
In the previous match of the championship it suffered its biggest defeat this season, losing to Everton FC 1 – 5. The Seagulls conceded in the first minute. It was Abdoulaye Doucoure who scored. On 25 minutes, he scored twice, and on 35 minutes, Jason Steele netted his own goal. In the second half, Dwight McNeil scored twice for Everton. For Brighton, the only goal was scored by Alexis MacAllister.
It's very difficult to explain this result. Most likely, it simply reflected the strongest underestimation of the challenger for survival on the part of the European Cup challenger.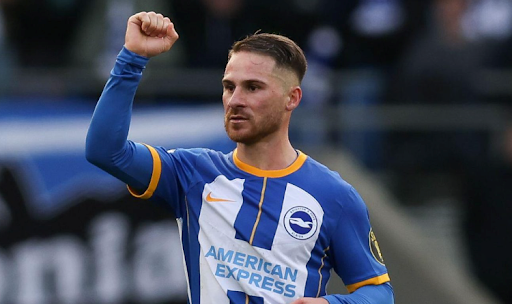 Before that, the team conceded 5 goals in one EPL meeting back in 2020. Due to the loss in the last round, Brighton dropped to 7th place in the Premier League standings and is now only 1 point ahead of the nearest pursuer.
Nevertheless, Roberto De Zerbi's team still has ambitions to fight for places in the Europa League zone. The team is 2 points behind the top six and has 2 games to spare, which puts it in a very favorable position.
Brighton shine brightly, consistently scoring in 11 consecutive away matches, even though they've managed to keep only two clean sheets throughout the season on their opponents' turf. Notably, the Seagulls have triumphed in three out of their last four away encounters with Arsenal, despite the Gunners concluding a tumultuous 2022 with a resolute 4 – 2 victory on New Year's Eve.
The team has five players in the injured reserve. Adam Lallana, Tariq Lamptey, Jakub Moder and Jeremy Sarmiento missed the last match. Also, Joel Veltman and Solly March will not play in this match, which will be a sensitive loss, since they completely covered the right flank.
Albion's midfielder Pascal Gross commented on the disappointing game against Everton:
"We were really poor, and we know that. We were honest with ourselves afterwards, that we had to take responsibility for a really bad game. We were second best all over the pitch and it shouldn't have happened but we can't change anything now – all we can do is look forward and prepare for the next game against Arsenal."
"The coach is honest with us when we are doing well and not doing so well. When we don't do the basics he tells us the truth. We know we need to do better if we are to reach our target this season and we have five games to do it."
"It is a massive dream and ambition for a lot of us to play in a European competition. So we need to be fully focussed on the last five games starting on Sunday, take them one at a time, prepare and recover properly and do our best."
Arsenal form guide: D-D-D-L-W-W
Brighton form guide: W-L-L-W-W-L
Arsenal vs Brighton Head-To-Head Record:
June 20, 2020: Brighton 2 – 1 Arsenal (Premier League);
December 29, 2020: Brighton 0 – 1 Arsenal (Premier League);
May 23, 2021: Arsenal 2 – 0 Brighton (Premier League);
October 2, 2021: Brighton 0 – 0 Arsenal (Premier League);
April 9, 2022: Arsenal 1 – 2 Brighton (Premier League);
November 9, 2022: Arsenal 1 – 3 Brighton (League Cup);
December 31, 2022: Brighton 2 – 4 Arsenal (Premier League).
Arsenal vs Brighton Predicted XI:
Arsenal possible starting lineup (4-3-3): Ramsdale; White, Kiwior, Gabriel, Tierney; Odegaard, Jorginho, Xhaka; Saka, Jesus, Martinelli.
Brighton possible starting lineup (4-2-3-1): Steele; Gross, Dunk, Colwill, Estupinan; Caicedo, Gilmour; Enciso, Mac Allister, Mitoma; Ferguson.
Statistical preview of the match Arsenal vs Brighton:
Arsenal's First XI average age is 25.6 yrs.
Brighton's First XI average age is 24.9 yrs.
Arsenal are unbeaten in 7 of their last 9 games.
In their last 5 games, Brighton are scoring an average of 1.80 goals per game, while conceding an average of 1.60 goals per game.
In the last 5 games Arsenal are conceding an average of 2.00 goals per game, while scoring an average of 2.20 goals per game.
On the road, Brighton had failed to win 5 of their previous 7 EPL games (3 draws, 2 losses).
Arsenal's top scorers: Martin Odegaard (15+7), Gabriel Martinelli (15+6), Bukayo Saka (14+11), Gabriel Jesus (10+6).
Brighton's top scorers: Alexis MacAllister (12+2), Kaoru Mitoma (10+6), Pascal Gross (9+8), and Solly March (8+8).
What has been said before the match:
The Gunners' boss Mikel Arteta after a much-needed win with the Magpies:
"We had to remember how we felt a year ago when we were here. Today had to be different. We had to play the game with a different level of implication, intelligence and maturity, and we showed a real fight today and a desire to win."
"They are creating something important here, that atmosphere was rocking. They have a great team, great organization, great individuals, and we won here. That, in my opinion, is a big statement as well with how far we've come."
"It's been critical because it's the most important part of the season, the nicest part of the season. Today we are second, but to play for the championship with three games to go against this team, and win, it doesn't get better than that."
"If you want to be involved in elite sport, you have to embrace those moments. There's no giving up. I saw a lot of people after the City game almost turning back. I hate that, I'm not going to accept that from anybody, from the team, any members of staff."
"We have to keep going because you never know. We have to keep digging – we've done it for 10 months, now is the moment to do it even harder than before. For sure because Brighton are a really complicated side. The way they are playing and what Roberto and the coaching staff has done is remarkable."
Bukayo Saka praised the team's captain Odegaard:
"He's a fantastic leader, he has been all season. He's been leading by example, on and off the pitch. Hopefully, he can continue this form."
"We needed that goal because we were under pressure early on. The first few chances definitely went their way and they had a penalty shout too. After that we scored a fantastic goal, from then we controlled the game."
"It was a really high-intensity game. We really gave everything from minute one to 96, because we needed to. Newcastle are in great form, especially here at home, so I'm really proud that we came here and won."
The Seagulls coach Roberto De Zerbi tried to analyze why his team lost against Everton with such a score:
"We showed we are not ready yet to compete, to achieve the big target (Europe). I'm speaking about mentality. It's not easy playing three games a week if you are not used to it."
"I think we didn't forget the victory against Man United. The biggest quality of the big team is to forget when you win. Today, we arrived at the stadium late (in the second half)."
"I've told the players the same. It's my responsibility, because the coach is responsible. I'm still proud of my players, always. They are great people. We are not used to playing so many games, I can understand, but I'm pushing to help them. I think Sunday at Arsenal, we will show our quality, back to our style."
"We are having a very tough period with injuries."
Arsenal vs Brighton Prediction:
Visiting a motivated, miracle-hopeful Arsenal at the Emirates after a humiliating home defeat to a relegation-threatened team is an introduction that portends a daunting match for De Zerbi and his boys.
The Gunners, in contrast, unexpectedly put the formidable Magpies (who wield the best defence in the league — 0.85 conceded per 90 minutes on average) on their backs by inflicting on them a second defeat at St James' Park in a season (out of 17 games).
Given the difference in form (and hence the emotional state), the home field factor as well as the injury situation, we expect Arsenal to win the meeting, showing a quality and active game, imposing their script. Brighton obviously will not come to London with their sleeves down and put up a fight, which will be reflected in the abundance of goal-threatening activity.
This scenario is backed up by statistics; the Red and Whites tend to play extremely fruitfully, trending to a total of over 3.5 (in seven of the last ten games) and exchanging goals (in eight of the last ten games). They've lost just once in 17 games at the Emirates.
The Seagulls are also showing a tendency towards goal-rich matches — seven out of ten have seen a total of over 2.5, with goals exchanged in 50% of those matches. In their head-to-head encounters, the outtake for mutual goals played out on seven occasions during the stretch of ten outings.
Don`t miss out 👉: Top 6 teams to record 100 points in the EFL Championship
Parimatch News staff prediction:
We say: Arsenal will win; the match total will be over 2,5 and both teams will score – Yes.