Argentina vs Australia. Prediction and Preview. Probable Lineups, Team News, Stats and more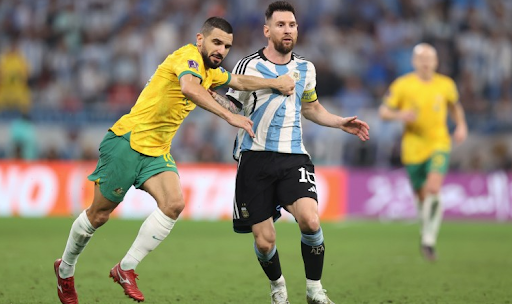 China will host the international game between Argentina and Australia. The legendary Messi and his lads will visit the other side of the world. Can the Socceroos fight back against the best team in the world?
Argentina will host Australia in the International Friendly match at Worker's Stadium in Beijing. The fixture will take place on Thursday, June 15, beginning at 17:30 IST.

What can we expect this Thursday night? Parimatch News will tell you everything you need to know ahead of the upcoming match.
Argentina News & Current Form:
The team had not been able to win a World Cup since 1986 and took the Copa America in 1993. There have been many finals since, including under Messi. But invariably, Lionel and company lost the decisive games. Thus, in 2014, Albiceleste lost to Germany at the FIFA World Cup in Brazil.
But in 2018, Lionel Scaloni, himself a good footballer with little experience of playing for the national team, took over. With him, the situation turned around. First, the side finally took the continental trophy, the Copa America, and at the end of last year, Leo led his partners to world gold.
The encounter will be Argentina's third since winning the World Cup in Qatar. Lionel Scaloni's side will play the game in preparation for the start of their World Cup 2026 qualifying campaign in September this year and America's Cup as well.
Previously, the team also defeated Panama (2 – 0) and Curacao (7 – 0) in friendlies. Lionel Scaloni has experimented extensively, but most of the opposition have always been on the pitch, in particular Lionel Messi.
The winner of seven Ballon d'Or nominations scored four goals and one assist in the two games, taking his goal-scoring record to 803 in his career. The star Argentine's motivation did not diminish after winning the World Cup. It all started the year before last when he won the America's Cup.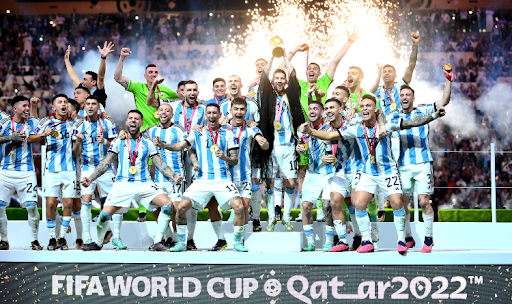 The 35-year-old forward and his national team have since found themselves on the international stage and are thriving. In addition to the Qatar Mundial, the Argentines won the UEFA Finalissima, defeating Italy 3 – 0. However, at club level, Messi hasn't been doing really well recently.
He parted ways with Paris Saint-Germain under not the best of circumstances and joined Major League Soccer side Inter Miami. The legendary player himself has announced that he will join a new club in the current transfer window, as he wants to get away from the spotlight and devote more time to his family.
But in the national team, the authority of the star striker is unshakable. He is the main link. In the last 36 games in all competitions (including friendlies) Leo scored 32 goals and gave 10 assists. We expect him to be productive in the upcoming game.
The 35-year-old has confirmed he will probably not be at the 2026 World Cup with Argentina:
"I have said several times before that 2022 will be the last time I will play in the World Cup. I'll see how it goes, but I don't think I'll be present at the next World Cup."
Argentina's national team has a fast pace and plenty of technical action on the pitch. The team tends to keep the ball in their own half of the pitch and move it gently with short passes. The Argentines rely heavily on technique, individual skill and speed. This playing philosophy is consistent with the team's high pass success rate of around 85-90%.
Argentina will have some key absences in their squad for the upcoming matches. Lisandro Martinez, the injured centre-back, won't be available. Additionally, Juan Foyth, Papu Gomez, Angel Correa, Paulo Dybala, and Lautaro Martinez have all been omitted from Scaloni's 27-man squad. However, it's worth noting that 19 players from the World Cup squad have been included.
Although Julian Alvarez has been named in the squad, it's unlikely that the forward will play on Thursday due to his recent participation in the celebratory parade of Manchester City after their treble success. However, there's a possibility of his involvement in the friendly against Indonesia next Monday.
Among the uncapped players, Alejandro Garnacho from Manchester United and Facundo Buonanotte from Brighton & Hove Albion FC, both teenagers, will be eager to earn their first senior international appearance. Meanwhile, Argentina's captain, Messi, is set to earn his 175th cap for the national team.
In the midfield, Alexis Mac Allister, who recently joined Liverpool FC, could be positioned in the center alongside Enzo Fernandez and Rodrigo De Paul. The competition for the starting spot in central defense will be between German Pezzella, Leonardo Balerdi, and Facundo Medina, who will vie for the opportunity to partner with Nicolas Otamendi.
Don`t miss out 👉: East Bengal signs former Hyderabad midfielder Borja Herrera
Australia News & Current Form:
The Australian national football team, on the other hand, does not boast the same major achievements in world football. However, they do boast a number of international successes. For example, the Australians have won the AFC Asian Cup four times and in 2006 they managed to go far in the final stages of the World Cup, when the team reached the 1/8 finals and lost to an organized and strong Italian team.
The Socceroos have a much lower level of players than their upcoming opponents. On the other hand, they have been making progress in recent years. At the 2022 FIFA World Cup they got to the 1/8 finals, losing to Argentina (1 – 2).
The Aussies improved under the guidance of the experienced Graham Arnold. The coach has developed the players' individual technical skills and also worked on their psychology. Lionel Scaloni commented after the World Cup in Qatar that the match against Australia was the toughest one at the tournament as the opponents had nothing to lose.
The Aussies were bold in their play, creating chances. They may have gone into extra time but the closing stages of the game let them down. Since the Mundial, Australia have played two friendlies against Ecuador. The first was a 3 – 1 win, while the second was a 1 – 2 defeat.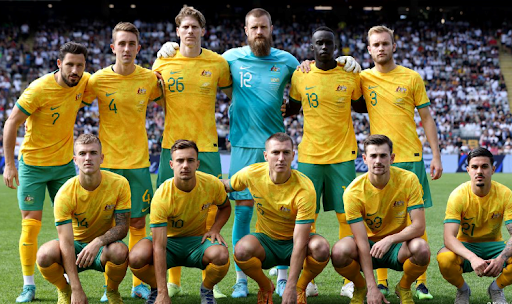 In today's game, the Australians are also characterized by their speed on the ball and physicality. The team welcomes a quick offensive start, often playing a long pass down the field. The emphasis on technique and skill is less important, with a more cautious and direct approach to the game.
In regards to Australia, Arnold has assembled a vibrant squad of 23 players, aiming to utilize this month's international window as an opportunity to evaluate several up-and-coming talents ahead of the AFC Asian Cup next year.
Unfortunately, the Socceroos will be missing a number of experienced players due to injuries, including Aaron Mooy, Craig Goodwin, Jason Cummings, Aziz Behich, Milos Degenek, Jackson Irvine, and Bailey Wright. All of them were part of the matchday squad that suffered a defeat against Argentina in the World Cup.
Among the potential additions to the squad on Thursday are Alessandro Circati, a 19-year-old defender from Parma Calcio 1913, and Thomas Glover, a goalkeeper from Melbourne City FC, both of whom have yet to make their international debuts. Additionally, Gianni Stensness and Denis Genreau are hopeful of making an appearance after earning call-ups to the senior squad, thanks to their impressive performances at Viking FK and Toulouse FC, respectively, at the club level.
Argentina form guide: W-W-W-W-W-W
Australia form guide: L-W-W-L-W-L
Argentina vs Australia Head-To-Head Record:
| | | |
| --- | --- | --- |
| Argentina | Draw | Australia |
| 6 | 1 | 1 |
June 18, 2005: Australia 2 – 4 Argentina (FIFA Confederations Cup);
September 11, 2007: Australia 0 – 1 Argentina (International Friendly);
December 3, 2022: Argentina 2 – 1 Australia (FIFA World Cup).
Argentina vs Australia Predicted XI:
Argentina possible starting lineup (4-3-3): E. Martinez; Montiel, Otamendi, Romero, Acuna; De Paul, Fernandez, Mac Allister; Messi, Simeone, Garnacho.
Australia possible starting lineup (4-2-3-1): Ryan; Atkinson, Souttar, Rowles, King; McGree, Metcalfe, Hrustic; Leckie, Maclaren, Borrello.
Statistical preview of the match Argentina vs Australia:
Argentina have won their last 8 matches.
Argentina are victorious in their last 3 head-to-head games against this opponent.
In the last 5 games, Argentina conceded an average of 1.00 goals per game, while Argentina scored an average of 3.40 goals per game.
In the last 5 games, Australia are conceding an average of 1.00 goals per game, whilst scoring an average of 1.40 goals per game.
Argentina's First XI average age is 28.7 years.
Australia's First XI average age is 27.5 years.
Argentina is occupying 1st place in the FIFA ranking, while Australia is 29th.
What has been said before the match:
Coach of Argentina team Lionel Scaloni ahead of the friendly game:
"The team is more or less the one that ended up playing the World Cup, we have to see how Julian arrives. He is celebrating, deservedly, we will see if he plays at the start or not. But the team will be more or less the one of the finals with one or two changes."
"We're fine, it's an interesting match, nice to play against a very good opponent. We are prepared although the trip has been long and we have had some setbacks, but we are looking forward to playing the game."
"Statements of Messi seem to me to be of a very prudent guy who doesn't sell smoke and doesn't lie. The reality is that he will see and, as he is found, we will decide."
"There is so much left for the World Cup that thinking beyond it does not make sense. And as he is very prudent he says that and it seems logical to me. With the passage of time we will see how he feels and if he feels like it, which is the most important thing."
"I'm happy that Leo has decided to go to a club and a city that will treat him great. He's going to be happy playing football, which is what we all want. Regardless of the league, the important thing is that he feels good and I think that there he will have the conditions to be happy and have a good time; That's what it's all about, he deserves it, and he's earned it."
Graham Arnold, Socceroos coach, about his approach to the game:
"It's just been amazing since we've been here to be honest. The game is sold out, it sold out in one minute. They're expecting over, you know, the information I got yesterday, over 100 million viewers on TV, just here in China alone."
"But, you know, for us it's a fantastic opportunity to play the world champions straight after a World Cup which has probably never happened before for the Socceroos."
"But you know, the boys are in camp the young boys have come in with a lot of energy and the respect that we're getting here from the Chinese football fans has been quite incredible with you know, hundreds and hundreds of people outside the hotel every time we tried to go out to outside the hotel to go to training so we're pretty much you know, stuck in the hotel until we go to training and everything."
"My expectations are to go out there and win the game. You know, that you've got to have those expectations and deliver that belief to the players for those types of things to happen. But you know, we will tinker with the system a little bit."
"Obviously, you can see by the squad selection, that we've had some issues with wingers not having a lot of wingers in camp but also selected. So we'll change things up a little bit and go out there and do what we did, and what we've been respected for in the past and that is the Aussie DNA and we'll get out there and give it everything we've got."
Argentina vs Australia Prediction:
Messi's arrival in China caused a massive fan frenzy. The Blue Whites could not even hold a training session due to the inordinate passion of the fans. It is always interesting to keep an eye on the World Champions, even in friendlies, and this match-up definitely promises to be interesting. The fact is that since the 2022 World Cup, Australia are Argentina's first proper opponent, and it will be important to see how they test their mettle, while the rest compete in the European qualifiers.
It is obvious who the favourites are, of course. The Argentines are on a completely different level. They have a superstar squad with a lot more ability. Losing to a team that is sitting in 29th place in the FIFA rankings, even in a friendly, is unacceptable for South Americans. Furthermore, the history of head-to-head encounters speaks for itself – Socceroos have won just 1 match in 8 games.
This time, Lionel Scaloni's side will likely pull off a far more convincing win than they did in Qatar (the teams drew 2-1 back then). This is because there is no real pressure at the moment, which means that there is nothing to stop them from getting the ball from the starting minutes to act boldly in the offense. The game without the necessity to take the three points no matter what is always favourable to a high-scoring total.
However, it will not be a completely effortless match, as for Australia, they have been really pleasing recently, they score in almost every match, they are capable of creating danger at the other side's goal, something that cannot be taken away from them. The Argentines, on the other hand, after such a long and tiring campaign in the top-five leagues, could make a couple of defensive errors.
Don`t miss out 👉: UEFA Champions League Team of the Season ft. : Haaland, Onana, Vinicius Jr, and Leao
Parimatch News staff prediction:
We say: Argentina will win with an individual total over 1.5 and both teams will score – Yes.