AC Milan in trouble: crucial Mike Maignan to miss at least 10 weeks due to injury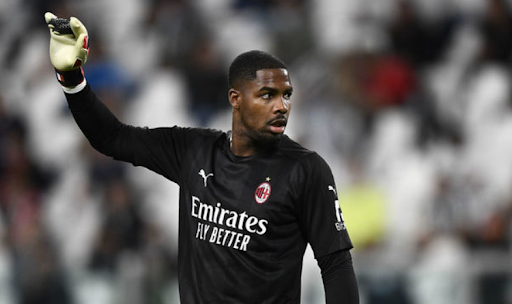 The Frenchman has a 42.9 clean sheet percentage and is among the top three Serie A goalkeepers so far this season
AC Milan's management have decided to urgently sign free agent Antonio Mirante as their essential goalkeeper Mike Maignan will miss a month after undergoing surgery on his wrist.
It has recently come to light that AC Milan's main goalkeeper Maignan will not be able to help his team in the near future. The French footballer has been experiencing pain in his left wrist, which did not go away during the break for the national team games, due to which it was decided to undergo surgery.
Now, the 26-year-old will miss a month and will not return before the November break for international matches.
"AC Milan can confirm that Mike Maignan underwent an arthroscopic exam today that identified an injury to a ligament in his left wrist, which was repaired. A percutaneous pedicle screw was also fixed to the scaphoid bone in his wrist due to a vascular problem. The operation, carried out at the La Madonnina clinic by Dr Loris Pegoli in the presence of AC Milan's Club Doctor Stefano Mazzoni, was a perfect success. He will rest for six weeks before beginning the rehabilitation process. Maignan is expected to be out of action for ten weeks."

said an official statement.
An experienced Italian came to help the Rossoneri. Mirante has been a free agent since his contract with Roma expired in June. The 38-years-old goalkeeper has also been in talks with Spezia. During his career, he has played for Crotone, Juventus, Sampdoria, Parma and Bologna. The agreement runs until the end of this season.
Don`t miss out 💥: Thibaut Courtois about UEFA and FIFA: 'They're against the Super League, but they just do the same'
Maignan moved to AC Milan this summer – the goalkeeper's previous team was Lille. Where he became one of the best GK in Ligue 1 with the most clean sheets in the 20\21 season. Now, in nine games for the Italian club, Mike has kept his goal intact on three occasions.
Starboy Gianluigi Donnarumma, ex-Milan's starting goalkeeper, has departed during the summer. He decided not to extend his contract and moved to PSG for free.