5 Biggest Fixtures for RB Leipzig in 2022-23 Bundesliga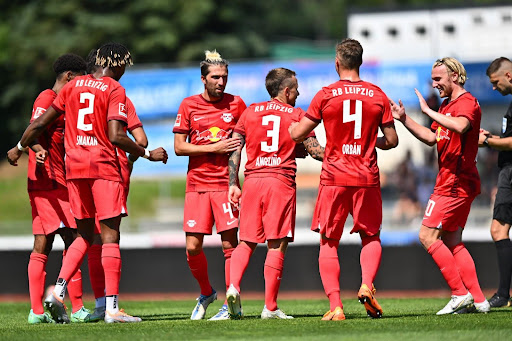 RB Leipzig will be looking to finish in the top 3 places this season
RB Leipzig had a strange 2021-22 season after the departure of head coach Julian Nagelsmann who left to join Bayern Munich. Jesse Marsch took over the hot seat although he was sacked by December and would be replaced by Domenico Tedesco.
The Italian-German coach helped Leipzig to a fourth-place finish in the Bundesliga, ensuring UEFA Champions League qualification, while Die Roten Bullen also won their maiden DFB Pokal title, beating SC Freiburg 4-2 on penalties in a match which ended 1-1 after regulation time.
The Red Bull-owned club also marched into the semifinals of the Europa League, where they were beaten by Steven Gerard's Rangers 3-2 on aggregate.
Despite the fact that Leipzig has been in the Bundesliga for only six seasons now, they've made excellent progress in recent years and the Red Bull Arena outfit will be gunning to finish inside the top three places at the end of the 2022-23 campaign.
#1 RB Leipzig vs Bayern Munich – 21st January
Given the FIFA 2022 Qatar World Cup, matchday 16 of the Bundesliga will resume after a break of 10 weeks, with Leipzig playing hosts to the defending champions.
The fixture between two of the German powerhouses will surely be a monumentous affair in terms of the title race, furthermore, it will be interesting to see whether both sides will be at their 100 per cent because many of their players will return fatigued from a long and arduous World Cup campaign with their respective nations.
Last year, Bayern dominated both matches against Die Roten Bullen, emerging 4-1 winners in the first league meeting in September, followed by a hard-fought 3-2 win later in February at the Allianz Arena.
The club from Munich have a stellar record against Leipzig, with their last defeat coming way back in March 2018, but Domenico Tedesco's men will have to take as many points as possible while facing off against their former coach, to ensure a top-three finish.
#2 RB Leipzig vs Borussia Dortmund – 10th September
The month of September will be a crucial phase for Leipzig as they face Eintracht Frankfurt, Borussia Dortmund, and Borussia Monchengladbach in consecutive games before the international break.
The match against Dortmund in particular, at home, will be an enticing affair given the fact that both these teams have been vying it out to end Bayern's monopoly in the Bundesliga.
Despite their tumultuous 2021-22 campaign, Leipzig came out on top against BVB in both league games, winning 2-1 in November before their memorable 4-1 victory in April, in front of the Yellow Wall.
Die Roten Bullen will have their work cut out in September to steal as many points as possible from their fellow top-four hopefuls, and if they can steer through this challenging period, they may even go on and pip Dortmund to finish in the top two.
#3 RB Leipzig vs Bayer Leverkusen – 22nd April
Apart from Dortmund, Leipzig will also have to produce the goods against Bayer Leverkusen, who pipped them into third place last season. The competition for the top-four places will be intense as ever, and from that perspective, the second league meeting between Leverkusen and Domenico Tedesco's men in April could make or break.
The Red Bull-owned club prevailed 1-0 the last time these two sides faced off in the league, however, in the reverse fixture earlier in November, it was Leverkusen who celebrated a 3-1 win.
The match between Leipzig and Die Werkself in April could have a huge impact on the final league standings.
Die Roten Bullen is also scheduled to play Bayern in the penultimate fixture of the 2022-23 campaign which means churning out a positive result against Leverkusen and building momentum ahead of the end of the season could be a huge factor in their bid to finish in the top two.
#4 RB Leipzig vs Eintracht Frankfurt – 3rd September
Eintracht Frankfurt has had a stunning upturn in fortunes in recent seasons, and the Eagles will be looking to break into the top four of the Bundesliga this season. Last year, they finished 11th after an inconsistent league campaign, although they did win the UEFA Europa League after beating Rangers 5-4 on penalties.
Leipzig will travel to the Deutsche Bank Park on 3rd September to face off against Frankfurt which will be the first big test for them this season, followed by matches against Dortmund and Monchengladbach.
The two clubs couldn't be separated last season as both their league games ended in draws, and while Domenico Tedesco's side hasn't dipped their toes in the transfer market too deep, the Eagles have overseen plenty of incomings, so it will be interesting to see how this fixture plays out.
#5 RB Leipzig vs Borussia Monchengladbach – 11th March
Much like the month of September, the end of February and the beginning of March is also going to be the key period in deciding the fate of Leipzig this term. They will host Frankfurt on 25th February, followed by a trip to the Signal Iduna Park on 4th March, before another stern test at home against Borussia Monchengladbach at home on 11th March.
Just like Leipzig, Monchengladbach also endured a difficult campaign last season as they finished in 10th place, but the Foals will be hoping to finish inside the top six to guarantee themselves European football.
Domenico Tedesco will have his work cut out to manage his players after the World Cup to juggle between their domestic and European commitments.
Whatever happens in the games against Frankfurt and Dortmund, Leipzig will be expected to churn out a positive result against Monchengladbach, who ran out 3-1 winners the last time these two sides met in the Bundesliga.