2022-23 Premier League to kickstart with the London Derby between Arsenal and Crystal Palace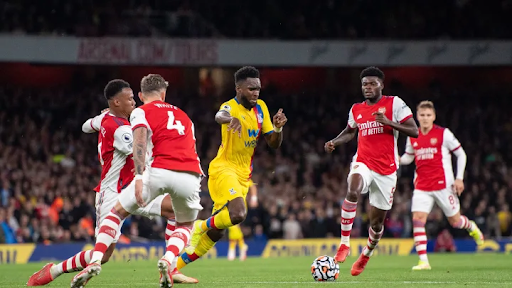 The first match of the 2022/23 Premier League season will see Arsenal take on Crystal Palace
The fixtures of the 2022/23 Premier League season was announced on Thursday, 16th June. The brand new edition of England's premier competition will start on the 5th of August, and we can expect the first game to set the tone for the season, as it will be a Derby encounter.
Two London-based teams, Arsenal and Crystal Palace will go head-to-head in the first match of the new season. Defending champions Manchester City will start their campaign on a challenging note, as they will face West Ham United in their first match – the very same team that almost jeopardized their title triumph by restricting the Cityzens to a 2-2 stalemate in the penultimate matchday of last season.
Meanwhile, though the fixtures are drawn at random, Liverpool might have some sort of a connection with getting an easy start, as they will begin their journey by taking on a newly-promoted side for the fourth consecutive season. The Reds will be up against Fulham on 16th June.
Chelsea's first match will be tricky, as they will be up against the team managed by the leading goal-scorer in the history of the Blues – Frank Lampard's Everton. However, Thomas Tuchel's boys will have nothing but three points on their minds.
Manchester United will seek vengeance when they take on Brighton & Hove Albion on 7th August, as Graham Potter's Seagulls handed the Red Devils a humbling 4-0 defeat not very long ago.
On the other hand, a revamped Tottenham Hotspur will start its campaign against Southampton. Though Ralph Hasenhuttl's Saints had a poor season last time around, Antonio Conte will know very well that Spurs could only secure one point from the two matches against them in 2021/22.
| | | |
| --- | --- | --- |
| Date | Time (BST) | Match |
| | | |
| 5th August | 20:00 | Crystal Palace vs Arsenal |
| | | |
| 6th August | 12:30 | Fulham vs Liverpool |
| | 15:00 | Bournemouth vs Aston Villa |
| | 15:00 | Leeds United vs Wolverhampton Wanderers |
| | 15:00 | Leicester City vs Brentford |
| | 15:00 | Newcastle United vs Nottingham Forest |
| | 15:00 | Tottenham Hotspur vs Southampton |
| | 17:30 | Everton vs Chelsea |
| | | |
| 7th August | 14:00 | Manchester United vs Brighton & Hove Albion |
| | 16:30 | West Ham United vs Manchester City |
Meanwhile, as for the important fixtures, the first Derby of the season will take place on 13th August when Chelsea will take on Tottenham Hotspur at the Stamford Bridge. The first Merseyside derby of the season is scheduled to take place on 3rd September, whilst 1st October and 14th January are perhaps the two most important dates in the 2022/23 schedule. Interestingly, both of those dates will feature two enthralling and riveting rivalries – the London Derby between Arsenal and Tottenham Hotspur, and the Manchester Derby between Manchester City and Manchester United.
Important Derbies & Big Fixtures:
13th August – Chelsea vs Tottenham Hotspur
20th August – Manchester United vs Liverpool
3rd September – Manchester United vs Arsenal, Everton vs Liverpool
10th September – Manchester City vs Tottenham Hotspur
17th September – Chelsea vs Liverpool
1st October – Arsenal vs Tottenham Hotspur, Manchester City vs Manchester United
8th October – Arsenal vs Liverpool
15th October – Liverpool vs Manchester City
19th October – Arsenal vs Manchester City
20th October – Manchester United vs Tottenham Hotspur
22nd October – Chelsea vs Manchester United
5th November – Chelsea vs Arsenal, Tottenham Hotspur vs Liverpool
2nd January – Chelsea vs Manchester City
14th January – Tottenham Hotspur vs Arsenal, Manchester United vs Manchester City
21st January – Arsenal vs Manchester United, Liverpool vs Chelsea
4th February – Tottenham Hotspur vs Manchester City
11th February – Liverpool vs Everton
25th February – Tottenham Hotspur vs Chelsea
4th March – Liverpool vs Manchester United
1st April – Manchester City vs Liverpool
8th April – Liverpool vs Arsenal
22nd April – Manchester United vs Chelsea
26th April – Tottenham Hotspur vs Manchester United
27th April – Manchester City vs Arsenal
29th April – Arsenal vs Chelsea, Liverpool vs Tottenham Hotspur20th May – Manchester City vs Chelsea