18 y.o. talent Eduardo Camavinga joins Real Madrid on a permanent move from Rennes for €40m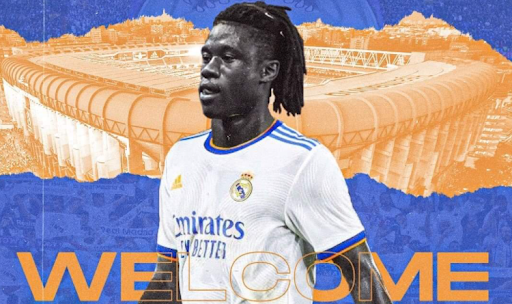 Eduardo Camavinga in Los Blancos home jersey
French Rennes midfielder Eduardo Camavinga has moved to Real Madrid. Manchester United, Chelsea and Paris Saint-Germain all were interested in the player.
A contract has been signed with for 6 seasons, until June 30, 2027. It was reported that Real Madrid will pay €31m plus bonuses and the total sum is around €40-45m.
His first chance to play will be on September, 12 when the club returns from the international break to face Celta Vigo at the Bernabeu.
The 18-year-old talent became the first player to be signed by Real Madrid in a year and a half. Back then, Madrid signed midfielder Reinier from Flamengo for €30m in January of 2020. The Brazilian now plays for Borussia Dortmund on a loan spell.
Also, defender David Alaba joined Real Madrid this summer, but his transfer was completed for free as he was a free agent.
According to the latest rumors, Los Blancos are out of negotiations on Kylian Mbappé, the parties failed to agree on the transfer of the Frenchman, who has 1 year left on his contract. PSG did not want to let the player go for less than 200 million euros, while Madrid was offering around 180 million euros.
Be sure to read the story👉: French championship isn't the best in the world, but it's my responsibility, as a flagship player, to help the league grow ー Mbappé