Top 10 New Game Releases in February 2023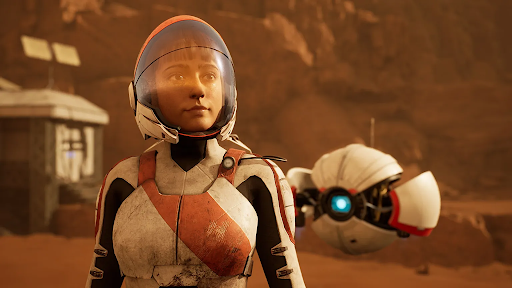 The shortest month of the year arrives with a lot of promise. There are plenty of fresh new video game releases in February 2023, including a number of blockbusters like Deliver Us Mars, Hogwarts Legacy, Like A Dragon: Ishin!, Scars Above, and more.
Other popular gaming titles, including Company of Heroes and Octopath Traveler, are coming out with their sequels, while a new indie co-op game is just in time to be released on Valentine's Day.
PlayStation VR2 titles are also set to enter the ring shortly, with the new device hitting store shelves on February 22, 2023. Plenty of launch titles accompany this release, making February one of the biggest-ever months for new games. Here are all the major game releases for February 2023:
#1 Deliver Us Mars
Release Date: February 2
Platform(s): PlayStation 4, PlayStation 5, Xbox One, Xbox Series X/S, Windows PC
Deliver Us Mars is an upcoming atmospheric space game and a sequel to Deliver Us The Moon from 2018. It is a post-apocalyptic sci-fi adventure game where you play as astronaut Kathy Johanson, a woman on a mission to recover a colony ship stolen by a mysterious group.
As the protagonist, you be tasked to chart a course through wild space, traverse through the surface of Mars, and secure the powerful ships that are key to saving the Earth, while tiptoeing your way across a hostile galaxy. Deliver Us Mars combines exploration and platforming with puzzle-solving, all in Mars's weaker gravity.
#2 Hogwarts Legacy
Release Date: February 10
Platform(s): PlayStation 5, Xbox Series X/S, Windows PC
Hogwarts Legacy, the period story set in J.K. Rowling's Wizarding World / Harry Potter universe is set to launch in early February 2023, after suffering a series of delays. While the last-gen consoles will have to wait even more, Hogwarts Legacy is finally coming to current-gen platforms and the PC.
The game looks to be a soaring adventure game that captures the freedom and spirit of the original Harry Potter adventure. It boasts flashy combat, plenty of customisation, and a dense story weaving new lore into the fabric of the Wizarding World.
Despite the ongoing controversy around Harry Potter author J.K. Rowling, Hogwarts Legacy is shaping up as one of the most anticipated games this year. The game is set 100 years before the events in the first Harry Potter book and gives you a taste of the life of a Hogwarts student set in that era.
From mastering spells to crafting potions to making friends and enemies, and even fighting dark wizards to save the wizarding world as we know it, Hogwarts Legacy is set to open a vast wizardry world that will allow fans to explore the series even further.
#3 Blanc
Release Date: February 14
Platform(s): Nintendo Switch, PC
Blanc is a black-and-white indie game that brings a beautifully handcrafted two-player co-op adventure. You play as a wolf cub and a fawn who have lost their way after a snowstorm, and now need to follow the footprints their families left behind in the snow.
You are required to lean on each other to progress through the game and each of your characters has unique abilities that complement each other. Blanc's simple gameplay and gorgeous hand-drawn world offer a heartwarming emotional journey that looks like the perfect plan for this Valentine's Day.
#4 Wanted: Dead
Release Date: February 14
Platform(s): PS5, PS4, Xbox Series X|S, Xbox One, PC
Wanted: Dead is a challenging action game from the makers of the Dead or Alive and Ninja Gaiden series. You play as a katana-wielding elite police officer in a cyberpunk in Hong Kong in this third-person shooter action-adventure.
Wanted: Dead gives you a wide range of deadly moves, brutal finishers, and guns, as well as advanced cyberpunk weaponry, but be warned, just like those old-school games it emulates, its combat will be no walk in the park.
#5 Wild Hearts
Release Date: February 17
Platform(s): PlayStation 5, Xbox Series X/S, Windows PC
EA and Koei Tecmo / Omega Force are coming up with another big contender to Capcom's Monster Hunter franchise called the Wild Hearts. It seems to have adopted similar mechanics for different kinds of monster hunting.
In this tale, you'll explore a fantasy version of Medieval Japan, wherein you'll be armed with a variety of special tools and weapons to take down roaming beasts known as the 'Kemono.' These giant creatures are causing havoc in their wake – and it's up to you to stop them from doing so.
Whether solo or in multiplayer sessions, you'll work on taking down monsters in creative ways, using an ancient technology – 'Karakuri' – to set traps, cause damage, and save towns from destruction.
The gameplay seems to have taken the centre stage based on the looks of the trailers for this game, however, the scenery is noteworthy. Wild Hearts looks to be a gorgeous game, and hopefully, it'll play well, too.
#6 Atomic Heart
Release Date: February 21
Platform(s): PlayStation 4, PlayStation 5, Xbox One, Xbox Series X/S, Windows PC
While it's largely flown under the radar as a title from a relatively unknown studio, Atomic Heart has set out to be one of the most intriguing new game releases for February 2023.
The trailers have shown off a unique and creative world that takes cues from BioShock and other surreal, post-apocalyptic worlds where you play as a soldier contending with the rise of unstable machines that have rebelled against their masters to forge a new world for themselves. Terminator vibes, perhaps?
As you travel through Atomic Heart, you'll come across the betrayal of the machines, how the new-age technology has come to define the world, and how society transforms into unrecognisable new shapes. While the Soviet iconography and inspiration behind this tale are uncomfortable in 2023, this adventure seems to share an essential message.
#7 Like A Dragon: Ishin!
Release Date: February 21
Platform(s): PlayStation 4, PlayStation 5, Xbox One, Xbox Series X/S, Windows PC
Like A Dragon: Ishin! is supposedly a remake of Ryū ga Gotoku Ishin! which was first released in 2014, exclusively in Japan. This gaming title is one of the biggest game releases for February 2023.
For nearly a decade, Western Yakuza / Like A Dragon fans have begged publisher Sega and developer Ryu Ga Gotoku Studio to bring the Ishin! games to the West – and it's finally happening, thanks to the rising popularity of the entire Yakuza series.
Like a Dragon: Ishin! is based on a true story and follows the adventures of samurai Sakamoto Ryōma during the late Edo period. You will embody the historic hero Sakamoto Ryōma, who resembles Yakuza protagonist Kazuma Kiryu and take part in an epic tale of samurai drama, where you must find his father's killer and clear his name from a framed murder.
The twist here is that every character is 'played' by a familiar face from the wider Yakuza games, connecting the world of 1860s Japan to the modern-day events depicted in the Yakuza timeline.
#8 Company of Heroes 3
Release Date: February 23
Platform(s): PC via Steam, to be later released on Console
Company of Heroes 3 promises to be bigger and better than its predecessors, with improved combat and deeper strategic choices. Fans of the action strategy series have been waiting a full decade for this third game, and it's finally coming to the fore.
The new game will feature two single-player campaigns, one set during the Allied invasion of Italy in 1943, and another one in which you play as the infamous Deutsche Afrika Corps during the North African operation in 1942.
Company of Heroes 3 comes with many new features and gameplay improvements and a plethora of factions and units as well as army customization mechanics.
#9 Octopath Traveler 2
Release Date: February 24
Platform(s): PS5, PS4, Switch, PC
'Octopath Traveler 2' is Square Enix's highly successful HD-2D RPG from 2018
This follow-up to Square Enix's highly successful HD-2D RPG from 2018, Octopath Traveler 2, comes with new settings, new characters, and new combat mechanics, but the same structure of following eight separate stories that intertwine throughout the game.
Similar to limit breaks in Final Fantasy, the game brings in new combat mechanics, such as Latent Powers, while retaining the Break and Boost system that made the original's turn-based battles so popular.
The game will now have a constant day/night cycle, which will affect travel, combat, and even path actions. Another welcome improvement is that the new characters' paths will intertwine much more than in the previous game, making for more interactions between the protagonists and a more coherent story.
#10 Scars Above
Release Date: February 28
Platform(s): PlayStation 4, PlayStation 5, Xbox One, Xbox Series X/S, Windows PC
If you are the kind of gamer that enjoys spooky space horror, then Scars Above is right up your alley. In this sci-fi action adventure, you are an astronaut and scientist, Dr Kate Ward, who wakes up alone on a hostile planet filled with slimy, creepy-crawly alien creatures. Each alien breed presents a new threat, requiring Kate to explore, innovate, and eventually conquer every beast that comes her way.
You will have access to a combination of ranged weapons, devices, consumables, and melee attacks, and you will need to carefully manage your stamina as you jump and dodge while looking for weak points to defeat your enemies.
'Scars Above' carries a similar vibe to Returnal and other challenging third-person sci-fi horror games. The game is said to strike the right balance between power and fear, making it a very intriguing prospect. This game shouldn't fly under the radar when it launches at the end of February.