Indian Dota 2 team qualifies for Asian Championship after dominating South Asian Qualifiers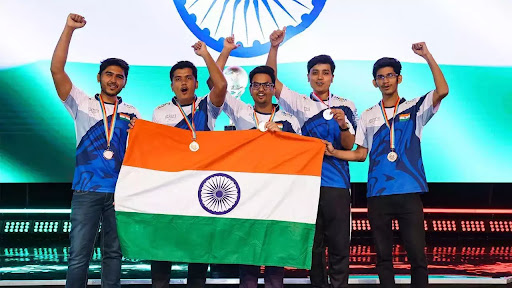 The 6-man Indian contingent at the Dota 2 South Asian qualifiers made history by qualifying for the Asian Championships LAN Finals. Skipper Manav Kunte, who had hoped before the tournament to make his team the first ever to qualify for the Asian Championships LAN Finals, will be delighted with his team.
Team India won against the likes of Nepal, Bangladesh, Pakistan, and Sri Lanka in the group stages before winning a best-of-3 final. The LAN Finals will be contested in Riyadh, Saudi Arabia from July 10-17.
The Indian team consisted of Manav Kunte (mnz), Vishal Vernekar (HBK), Abhishek Yadav (Abhi-), Shahbaz Hussain (PinkMaN), and Krish Gupta (Krish`) as the starters. Jaikishan Malik (KaEL) was the team substitute. Team India defeated Pakistan and Sri Lanka on day 1, dominating with scorelines of 54-12 and 39-14.
Day 1 in itself had proved India's credentials, which had previously never qualified for the Asian Championships LAN Finals. On the second day, India came up against Nepal and Bangladesh. They came up trumps against Nepal 47-24 and rounded up the group stages with a huge 40-16.
This was obviously enough for the team to qualify for the best-of-3 finals, where they came up against Nepal once again.
The Finals proved to be much more challenging, but Team India did enough to win within 2 games, responding with scorelines of 47-24 and 40-16. With this win, team India has qualified for the Asian LAN Championship Finals. They will be up against the likes of Kyrgyzstan, the Philippines, Mongolia, Australia, Jordan, Myanmar, and Saudi Arabia.
The tournament will take place from 24th August to 4th September and the winner will automatically qualify for the 15th World Esports Championships. India will be the sole representative in the tournament from the South Asian region.
On the occasion, captain Manav Kunte claimed that the qualification was a result of the hard work, unity, and determination that the entire team showed.
 He said,
"We came into the South Asian qualifiers with the goal of proving ourselves in the region and we are proud to have achieved that. Defeating all the teams from the region with stunning performances and securing our spot in the Asian Championship is a testament to the hard work, dedication, and unity of our team. We are now ready to face the best teams in Asia, and earn the spot to represent India at the 15th World Esports Championships."
The star-studded Indian team has a decent chance at qualification, owing to the skill and the kind of experience the roster possesses. Both Vishal Vernekar and Abhishek Yadav were also part of the contingent that won the bronze medal at the Commonwealth Esports Championships in 2022.