With their first victory over India since December 2019, West Indies tie the ODI series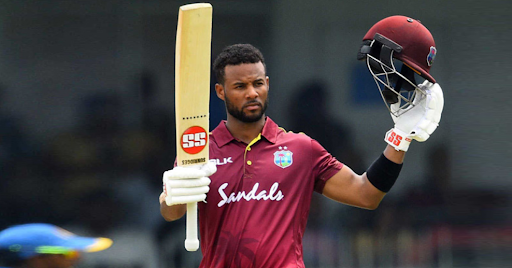 Shai Hope played an incredible innings of 63
West Indies defeated India in an ODI for the first time since December 2019, prevailing by six wickets in the second of three matches to record their first victory after nine straight losses. Following their loss in the first ODI on Thursday, the victory enabled West Indies to even the series at 1-1.
India, who had rested Rohit Sharma and Virat Kohli, was bowled out for 181 after being dismissed by Gudakesh Motie, Romario Shepherd, and Alzarri Joseph. Captain Shai Hope and the inexperienced Keacy Carty handled the chase, which was finished with more than 13 overs remaining.
In the end, the West Indies had no trouble, although there were a few bumps along the way. Shardul Thakur was primarily to blame as they dropped from 53 without loss in the ninth over to 91 for 4 after 17. India's hopes must have grown after that, but Hope and Carty made the rest easy. For the fifth wicket, Hope (63 not out) and Carty (48 not out) put up a stand-alone 91-run partnership.
The Bridgetown ground provided grip and turn throughout the entire match, with the spinners' economy rate over two innings being 3.89 as opposed to the fast bowlers' 5.20.
But before Kuldeep Yadav and Ravindra Jadeja put the middle order of the West Indies to the test — Jadeja was quick and flat, while Kuldeep was slower but had more spin — it was Thakur who dismissed the top three batters in the space of 25 balls to start the game.
After assembling, Hope and Carty were content to play singles after Kuldeep had dismissed Shimron Hetmyer with a faster pitch that skidded through to hit off stump.
Carty finished the game with a series of successive boundaries off Hardik Pandya after patiently reaching 48 off 65 balls. Carty didn't start playing aggressively until the work was nearly complete. However, a combined bowling effort, a supportive pitch, and encouraging athleticism from the fielders were all factors that contributed to West Indies having only 182 to chase.
At the toss, when India was given the opportunity to bat, they too faltered twice. Initially, from a safe 90 for 0 to a risky 113 for 5, and then from 146 for 5 to 181 all out. After a lengthy rain break, these were sandwiched together.
When Rohit and Kohli were not present, West Indies saw an opening and seized it. Shubman Gill lofted to long-off for 34 in the 17th over, his highest total in seven international innings across formats since June, after being hit by a full, tossed-up delivery from Motie.
West Indies gained momentum as a result, and in the 18th over, Alick Athanaze sent Ishan Kishan back for 55 by diving to his right at point. In the series, it was Kishan's second consecutive half-century.
Axar Patel, who had been moved up to No. 4, was confined to a small space with the ball angling in from behind the wicket two overs later when Shepherd got one to lift sharply at him. Axar attempted to take off his gloves, but he still tickled the wicketkeeper.
Before Yannic Cariah's turn and bounce misdirection of the comeback kid Sanju Samson, Jayden Seales claimed his lone wicket of the day when he got Hardik to lift straight to midwicket off a shoulder-height bouncer. Cariah got the legbreak to jump and move well away from the batter after landing one on a decent length around off stump. The batter edged it to slip.
Then, there was a decline in India and a downpour. It felt like the break had come as a blessing for them when Suryakumar Yadav and Jadeja added 33 to indicate a quick revival following the interruption. After taking the final five wickets for just 35 runs, though, West Indies regained the initiative.
In the 32nd over, Shepherd sent a short pitch at Jadeja, forcing him to top edge a pull to fine leg. After a fun 24 minutes, Motie had Suryakumar slashing to the point after receiving spin and bounce. Soon after, West Indies produced another outstanding piece of fielding as Carty sprinted in and dove forward from deep square leg to dismiss Umran Malik in the 38th over.
When Motie caught last man Mukesh Kumar in the 41st over, he had finished with 3 for 36. West Indies now have a chance to defeat India in a bilateral ODI series for the first time since May 2006.