What has passed is beyond us – Babar Azam on their match against India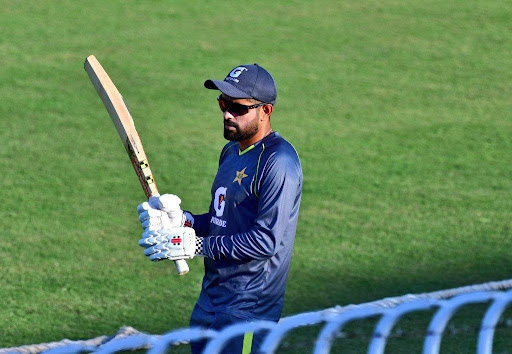 Twitter
Pakistan skipper Babar Azam is confident that his team will not think about the past World Cup record against India and they are just focused on winning the high-octane match of the T20 World Cup at Dubai on Sunday.
Pakistan has lost all the seven matches against India in the 50 overs format Word Cup and lost all the five matches against them in T20 World Cups, this terrific past of Pakistan could also haunt them this time.
Call it bad luck or whatever but if you look at the overall stats, Pakistan has won more games in ODI's and Test matches.
Both the countries have played 59 Tests in which Pakistan have won 12 and India has won 9. Talking about 50 overs format, the rivals have played 128 matches in which Pakistan has won 72 matches while India has won only 52.
Whenever it comes to playing against India in the World Cup events, it's like Pakistan forgets how to play or the pressure takes them out.
But Pakistan skipper Babar Azam is optimistic to play against India in their opening match in Dubai on Sunday.
He says what has gone is beyond us, we are just focused to outplay India in all three departments of the game.
"To be honest, what has passed is beyond us,"

Babar told a virtual media conference on Saturday.
Do not miss: Why Mahmudullah strikes on Bangladesh Cricket Board
"We want to use our ability and confidence on the day of the match so that we can get a better result. Records are meant to be broken,"

he added.
The tickets for Pakistan, India clash sold out in a blink of an eye after ICC allowed 70 percent of the crowd for T20 World Cup matches in relaxation of Covid-19 protocols.
The South Asian rivals have participated only in ICC World Cup events on Championship Trophy matches since the bilateral series never happen since 2007 due to political tensions.
Pakistan last toured India in 2012 for five limited-over fixtures but the ties did not fully resume as they keep fitting heads into each other's matters.
Meanwhile, Babar Azam admits that the match between Pakistan and India will be full of intensity.
"The matches between Pakistan and India are always full of intensity so we need to perform well in all three departments of the game,"

said Babar.
Currently, Pakistan and India are placed in Group 2 along with New Zealand, Afghanistan, and Scotland, and Namibia, who both came through the qualifying stage.
Babar Azam has announced the playing X11 for their match against India with the power-hitters Haider Ali and Asif Ali to be competing for the place.
"The boys are excited to play the World Cup and we have a crucial match on Sunday,"

said Babar, who will be leading Pakistan for the first time in a senior World Cup match. 
"A winning impact is necessary and then we will go match by match,"

he added.
Babar also said that before departing for UAE, Pakistan Prime Minister Imran Khan shared a few experiences of the 1992's World Cup with them.
"The Prime Minister met us before our departure and shared his experiences of the 1992 win and told us to play aggressive and fearless cricket against India,"

Babar said.
Earlier this week, India had played two warm-up matches against England and Australia and won both while Pakistan played their warm-up matches against West Indies and South Africa and lost one against SA.