Virat Kohli praises Usman Malik; says good to see a guy bowling at 150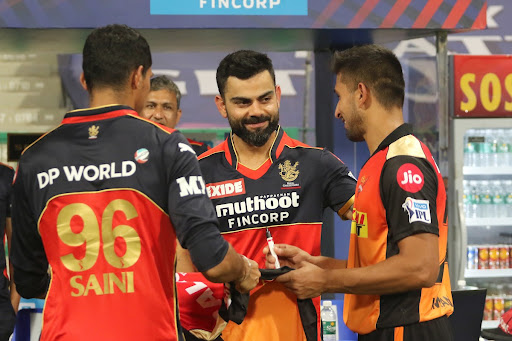 Usman Malik asks Virat Kohli for an autograph after the match on Wednesday
Sunrisers Hyderabad defeated Royal Challengers Bangalore by 4 runs as the Virat Kohli-led side slipped in the race for 'Top 2' in the Indian Premier League 2021 points table.
Batting first, Hyderabad's overseas batsmen Jason Roy and Kane Williamson scored the most of the runs with opener Abhishek Sharma getting dismissed after a short burst in the 2nd over. Roy and Williamson built a 70-run partnership in 58 balls but none of the middle-order batsmen was able to use this platform and play the big shots.
The bowling side took 6 wickets in the last 9 overs and stopped any partnership from blooming into a potential threat restricting the Sunrisers to only 141/7. Harshal Patel came closer to achieving the milestone of 30 wickets in a single IPL season as he dismissed three batsmen on the evening supported by a brilliant spell of 2/14 in 3 overs by Dan Christian. Yuzvendra Chahal took a solitary wicket along with economical spells from Mohammed Siraj and Shahbaz Ahmed.
Bangalore skipper Kohli went back to the pavilion in the first over and Christian couldn't make the most of his promotion as he was dismissed soon after for a cheap score of 1 run. Devdutt Padikkal tried to keep the runs flowing from one end and Srikar Bharat contributed with a couple of boundaries as well before falling to Usman Malik.
Star batsman Glenn Maxwell came in at the crunch moment with RCB struggling at 38/3 after 7 overs. The Australian got straight into the act smashing 40 runs off 25 balls before he got run out after giving his team's score a considerable facelift. After a long struggle, Padikkal also went back to the pavilion.
Shahbaz Ahmed and AB de Villiers did score some boundaries at the death but it went all in vain as the Sunrisers wrapped up their third win of the season.
Also read: English all-rounder Sam Curran ruled out of IPL & 2021 T20 World Cup
At the post-match presentation, RCB skipper Kohli discussed the run-chase and what went wrong for his team in their penultimate league match of IPL 2021.
He said,
"The intent has to be to try and get it done as soon as possible. We don't want to stretch these games too deep, but having lost a couple of early wickets, rebuilding was key. Maxi's (Glenn Maxwell) run-out was the game-changing moment in terms of momentum and Maxi was in the zone to get a couple of big overs. With AB (de Villiers) you are never out of the game, but it is about making sure that the guy who is in flow is on strike in the crucial moments. We had a good first half with the ball but not as effective with the bat chasing that down."
The Indian team skipper also talked about Yuvendra Chahal's return to form after his omission from the T20 World Cup squad.
Kohli said,
"He's bowling pretty well now, looks like he's worked on his bowling after all the time off and is back to the bowling way we know he can. Him bowling well has always been a good sign for the team. He's been magnificent with the ball."
When asked about Umran Malik's raw pace and his the youngster's great spell on the night, Kohli heaped praise on the Sunrisers Hyderabad bowler.
He concluded,
"This tournament throws up talent every year, good to see a guy bowling at 150 clicks. It is important to understand the progress of individuals from hereon. The pool of fast bowlers being strong is always a good sign for Indian cricket and whenever you see talent like this, you are going to have your eyes on them and make sure you maximize their potential which is already being seen at the IPL level."
Man of the match and SRH skipper Williamson also heaped praise on Malik after his run of brilliant performances.
"He certainly is special. We saw him in the nets in the last couple of seasons and he is a real competitor and is proving to be effective even on slower surfaces. He's got a lot of mates in the team as well and that helps in sharing the knowledge. It's a great opportunity for the younger guys to get involved and hopefully we will keep learning and we go again."