Virat Kohli: 8 wins out of 12 games is a great campaign for the team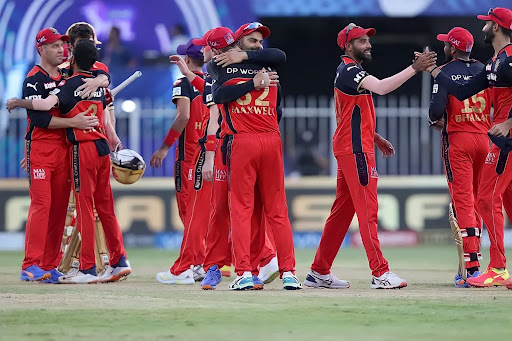 Royal Challengers Bangalore squad celebrates qualifying for the IPL 2021 Playoffs
Royal Challengers Bangalore defeated Punjab Kings by 6 runs powered by an exquisite batting masterclass from Glenn Maxwell, and some exquisite bowling performance from the bowlers, especially Yuzvendra Chahal.
Batting first, Bangalore openers Devdutt Padikkal and skipper Virat Kohli started cautiously allowing the middle-order batsmen to free their arms when they come in to bat with a lot of wickets in hand. Maxwell used this platform and scored 57 runs off 33 balls smashing 3 boundaries and 4 maximums whilst Moises Henriques bowled a dream spell of 3/12 and Mohammed Shami picked up 3 wickets as well in the 20th over of the innings.
Punjab openers KL Rahul and Mayank Agarwal once again shone for their side as they built a partnership of 91 runs in 10.4 overs before skipper Rahul was dismissed by Shahbaz Ahmed. With only 74 runs needed off 55 balls and 9 wickets in hand, the Kings were expected to easily wrap up the match as they were playing with 7 specialist batsmen. Chahal's 3 wickets were the key as Punjab's middle-order was exposed once again and RCB fans were more than happy to witness their team wrap up the qualification to the 2021 Indian Premier League playoffs with two matches to spare.
Also read: Delhi Capitals beat Mumbai Indians by 4 wickets
At the post-match presentation, RCB skipper Kohli was delighted to qualify for the playoffs with two matches to spare and claimed that the team is looking to make it to the 'Top 2'.
He said,
"It feels amazing. I don't think after 2011, we haven't done it with games to spare, but it's a great position to be in. Eight wins out of 12 games is a great campaign for the team. Now we have two more opportunities to finish in the top two and that gives us the added motivation to play even more fearlessly. The first huddle for any team is qualification. We still have areas to improve so that we work on those areas and get into the top 2."
A lot has been debated about the two-paced nature of the pitches on offer at the Sharjah Cricket Stadium in IPL 2021 and Kohli quipped a few words about it as well.
He continued,
"It wasn't an easy wicket. When you don't have any wickets on the scoreboard, you can take more risks. Which myself and Paddikal have to. 15-20 runs on this ground can be crucial, we have to plug in those areas. There's a qualifier and eliminator to be played here. As a side we have had an endeavour to improve, in losses as well as wins. We knew the wicket would get slower and slower, it's not going to be easy to hit. KL (Rahul) and Mayank (Agarwal) batted really well."
RCB's bowling woes since has been talked about a plenty in the last decade but Kohli has turned it around with the bowling department of his franchise as things have been clicking into the place this season.
He concluded,
"We knew we were just two wickets from coming back into the game. Our bowlers came back brilliantly and held their composure brilliantly. Look, the resurgence of Siraj ever since he has succeeded in Test cricket, his body language has been diffierent. That's what I keep telling guys, you can bowl in any format. Harshal's inclusion has been outstanding. Yuzi (Chahal) has bowled well and Shahbaz (Ahmed) has been great. (George) Garton has come in and made an immediate impact. An IPL campaign is as good as the team plays the way they do. If the players don't step up, the campaign can move away quickly. This year the guys have taken the ownership and responsibility."
Later in the day, Kolkata Knight Riders wrapped up an easy win against Sunrisers Hyderabad and have solidified their hold on the fourth position ahead of the match between Mumbai Indians and Rajasthan Royals on Tuesday.