Venkatesh Prasad lines up rude Pakistani journalist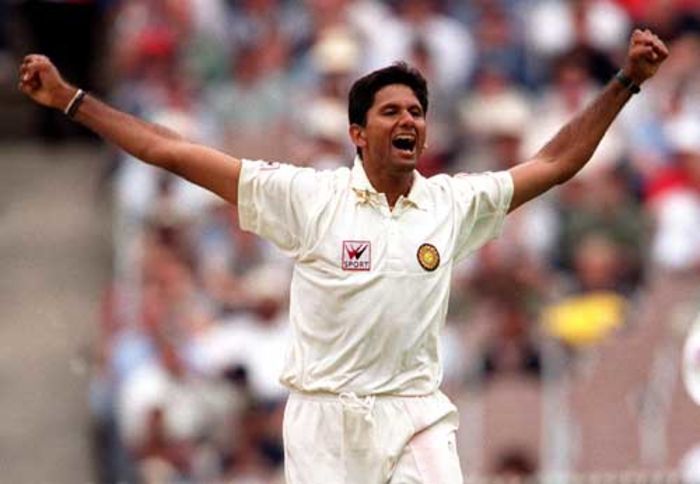 Venkatesh Prasad was one of India's key bowlers in the 1990s
He was a part of the Indian team that had mixed returns from around the world in the late 1990s but come their matches against arch cricket rivals Pakistan, Indian cricket team would ensure that their dominating run in the global events remain intact. 
India have never lost to Pakistan in the history of 50-over World Cup tournaments and Venkatesh Prasad, a former right-arm fast bowler and a former bowling coach of the indian national side, was a part of the winning team in the World Cup matches played in 1996 and 1999.
And in both the contests, Prasad had a key role to play. He got rid of Aamir Sohail in one of the most remembered and iconic connotations between two players on the cricket field in the 1996 World Cup match, when the Pakistani bowler taunted him that he would keep hitting Prasad for boundaries after hitting one.
The Indian bowler responded on the next delivery itself, dismantling Sohail's wickets and animatedly asking him to take his sorry figure back into the dressing room.
In the 1999 encounter, Prasad helped India defend a small total fo 228 with a splendid five-wicket haul.
But he had to face a rude Pakistani journalist recently when Prasad joined in the fun meme compilation triggered by the TV advertisement featuring Rahul Dravid, which has one of the coolest and calmest cricketers losing his patience and composure in the tough Bangalore traffic.
"Indiranagar ka goonda hu main"

screams Dravid in the ad after he is shown shouting from inside his car and even break a mirror. 
Prasad joined in the fun too, recalling the confrontation he had with Sohail many years ago.
But a Pakistani journalist tried to troll Prasad, saying that perhaps dismissing Sohail in that game was the only achievement of the Indian bowler. However, it was Prasad who had the last laugh when he reminded him of the five-wicket haul in the next World Cup game:
India and Pakistan have remained two great competitors on the cricket field but they do not indulge in bilateral cricket, owing to the political situation between the two Asian neighbours.