Tom Curran likely to miss the start of the T20 Blast due to a back injury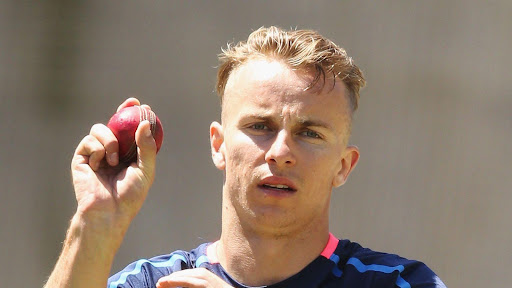 b
With a stress fracture in his lower back that kept him out of action for much of last year, the Surrey and England player will indefinitely concentrate on white-ball formats.
After receiving a stress fracture in his lower back for the second consecutive year, Tom Curran is expected to miss the start of the T20 Blast.
White-ball cricket, according to Tom Curran, was the "correct decision for my body and for my mental health," therefore he would take an indefinite vacation from red-ball cricket. Curran made this announcement in February.
But earlier this month, when participating in the Pakistan Super League, he complained of lower back pain. Scans performed after his return to the UK indicated a second stress fracture.
"The last couple of years have not been easy for me," he said. "I have had a lot of time and this isn't a decision that I've taken lightly.
"Some choices in life I don't think you will ever be 100 percent sure of and this is definitely one of those. But where I find myself at this exact moment, I feel like it is the right decision for my body and for my mental health.
"I'm definitely not ruling out playing red-ball cricket again in the future, and I feel like I have unfinished business in this format for both Surrey and England.
"But until I can feel 100 percent committed and confident in my body to be performing day in and day out for Surrey in the County Championship, I feel that putting all my time and focus into our Vitality Blast campaign this year is the right thing to do."
He was forced to miss over seven months of play due to a stress fracture in his lower back, which included the first half of the county summer.
He came back to play in the Hundred, the Blast's conclusion for Surrey, and his first County Championship games since April 2019 in September.
Curran scored his first-ever first-class century against Northamptonshire in the first of those matches at Wantage Road, but he won't be available for their championship defense this summer.
"Tom Curran returned early from the Pakistan Super League and scans have shown he has suffered a stress fracture of the lumbar spine,"

Surrey, his county, said in a statement.
Curran's return was not given a timetable by the club, which stated:
"Tom will be out for a period of time whilst he recovers and undergoes rehabilitation at Surrey."
He is aware that his presence in the Blast on May 20 is uncertain and that, depending on his schedule, he might not even make it to the finals.
Moreover, he was recently signed by the Oval Invincibles to a £100,000 contract to play for them in the Hundred, which begins on August 1.
The just turned 28-year-old Curran has played 60 times for England in all forms, but he has fallen down the international food chain. July 2021 was the date of his most recent ODI and T20I appearances.
He played in the inaugural ILT20 tournament for Desert Vipers and the Pakistan Super League (PSL) for Islamabad United during the first two months of the year.
Tom Curran, the oldest of the three Curran brothers, has represented England in two Tests, 28 ODIs, and 30 T20Is but hasn't played since 2021. In 61 games of first-class cricket, he has taken 195 wickets and scored 1,367 runs.
Alec Stewart, the cricket director, added:
"Obviously when you lose a player of Tom's quality from your County Championship squad it is a blow, but I have spoken to him at length about his decision and understand why he has made it.
"He has suffered from injuries in recent years and if this can help strengthen his body and keep him on a cricket field more regularly over the coming years, I fully support the decision.
"I look forward to seeing him back in May for our own T20 season."