Time to panic? No, South Africa just need to 'raise our intensity' a bit, says Klaasen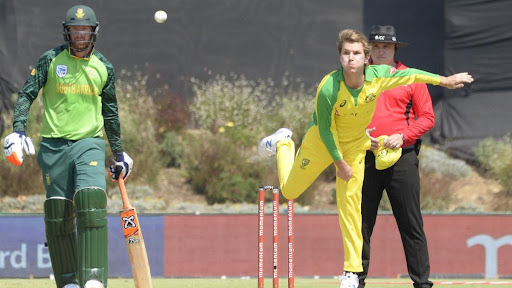 South Africa is currently trailing Australia 2-0 in the ODIs after losing the T20Is 3-0
What stage of panic should a team reach after losing five straight games in white-ball formats? If that sounds harsh, another option is to ask when that team should start exhibiting indications of anxiety given that the World Cup is just over a month away.
Heinrich Klaasen says no, not yet.
The team's dismal performance—they lost the T20Is 3-0 and are currently trailing Australia in the ODI series 2-0—was attributed by South Africa's No. 5 to the straightforward but significant problem of subpar execution of the fundamental tasks.
"They [Australia] are doing the basics very well and we are quite far off on our basics,"

Klaasen said in Potchefstroom ahead of the third ODI.
"And the intensity they are playing at at this moment is far, far higher than ours. We need to raise our intensity a little bit."
He saw it as "a good challenge" for South Africa to win the last three games in order to win the series, and he thought it was even better that it was being thrown down in Potchefstroom, a place where, in Klaasen's words, "opponent teams don't particularly enjoy."
Marnus Labuschagne, who grew up in Klerksdorp, 40 kilometers from Potchefstroom, and whose friends and relatives are anticipated to show up in large numbers, would disagree. But for Klaasen, South Africa has the advantage since there are no outside distractions and because of its successful track record.
"We all stay in the [student] village. It's nice and quiet here. We don't give them the glamorous life that you get elsewhere in South Africa, so speaking to the guys, teams don't particularly enjoy it," Klaasen said. "But we love this venue."
South Africa has won seven out of the eight one-day internationals it has played in Potchefstroom, including a six-wicket victory over Australia in 2020 when they shut them out 3-0. After a time of mainly administrative upheaval, it seemed like the team had finally turned a turnaround.
With only three competitive games remaining before the World Cup and, as Klaasen put it, a minimum 20% improvement being urgently needed, they will now attempt to accomplish the same.
"We're performing at 60%, if we're honest, perhaps even lower. If we can get that around 80% to 95% – I don't think anyone gets it to 100% – we'll be in a good position."
They will have to accomplish that while addressing three important problems, the first of which is who is qualified to play.
Sisanda Magala, a death bowling expert for South Africa, was out of the series at the beginning due to a knee ailment. Anrich Nortje has been ruled out due to lower-back spasms for the third ODI, although he is still available for selection.
Nortje missed the first game of the series as well for the same reason, and he played only five overs in the second. The medical professionals in Johannesburg will be holding their breath as he undergoes scans.
Nortje suffered hip and back problems in 2021–2022 that required more time to heal than anticipated, keeping her out of action for seven months. Nortje will not want history to repeat itself after missing the 2019 World Cup with a fractured thumb. He is one of six quicks in the South African World Cup team.
In light of the doubts surrounding both Magala and Nortje, it is likely that South Africa will turn to Wayne Parnell in the event that they need to replace one of their players. This could improve the squad's overall balance.
They now have much fewer allrounders than most other teams' rosters, with only Marco Jansen among the World Cup 15's 15 players. In direct contrast, Australia has five all rounders in their playing lineup, which lengthens their batting order and allows them a variety of alternatives with the ball.
Klaasen asserts that "if we nail our basics, then our balance is perfect," yet one look at some of the other squads makes one wonder whether this is a claim that should be regarded with some skepticism. New Zealand, the Netherlands, and India each have five all-rounders, while England has six all-rounders, including two spin-bowling all-rounders.
Magala, Kagiso Rabada, and Keshav Maharaj may all be considered almost-all rounders by South Africa, and Aiden Markram is a second allrounder, but even so, they must all perform better to keep the starting XI from being incomplete.
Though it may just be a matter of shaking off the rust, a pretty comparable team defeated England earlier this year to deliver South Africa much-needed World Cup Super League points.
In advance of Australia's arrival, South Africa was out of commission for five months. Although several of its players participated in T20 leagues over the southern hemisphere winter, it's possible that they are still adjusting as a team.
Once more, Klaasen disagreed, but he counseled patience with the playing group as they attempted to correct the situation over the course of the following six days.
"We are professional cricketers and the majority of the guys have been playing around the world. We are just off our game at this moment,"

he said.
"It's just a matter of time. Maybe we are trying a little bit too hard. We are getting there. Hopefully we'll get it right tomorrow."