Tamim Iqbal blames the batting errors for Bangladesh nightmare at the end of day 2, the second Test at Sher-e-Bangla stadium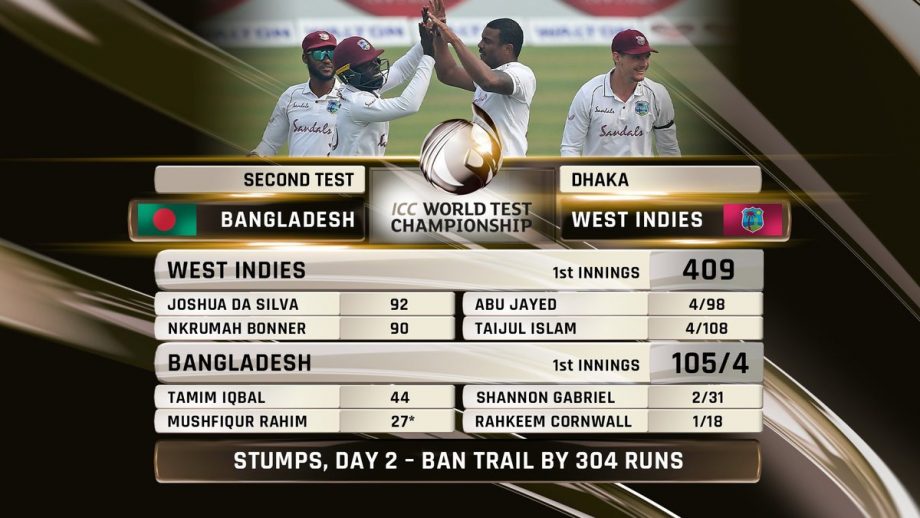 ICC/ Twitter
It wasn't a bad day for Bangladesh on day 2 but it was a nightmare after their top order collapsed terribly before reaching 105/4. West Indies put on a huge total of 409 in the first innings, Ban trail by 304 runs.
Bangladesh looked out of colours as West Indies took hold of day 2, the second Test at Sher e Bangla Stadium at Dhaka on Friday.
Bangladesh top order collapsed terribly before reaching the total of 105/4, trail by 304 and need 104 runs to avoid the embarrassing follow on, Mushfiqur Rahim is standing on unbeaten 27 alongside Mohammad Mithun on 6 not out.
Bangladesh offered no resistance in response to the huge 409 runs scored by West Indies in the first innings on the back of Joshua Da Silva (92) and Nkrumah Bonner (90).
From Bangladesh, openers Soumya Sarkar and Nazmul Hossain paid the price early for their impatience, wanting to hit over the top on a wicket that did not have much to offer for bowling.
Tamim Iqbal and Mominul Haque tried to dominate but they also lost their concentration in front of disciplined bowling from West Indian bowlers.
With almost half of their team back in the pavilion, Bangladesh will now face a real Test match skills and temperament when the day 3 play will continue on Saturday and Tamim Iqbal feels that the tone for the day and perhaps for the match will be set in the opening session of day 3.
"The wicket did not behave in such a way that we need to worry,"

the Bangladesh opener said after the second day's play.
"The most important thing is the first session tomorrow. We cannot afford to lose wickets then because we don't have too many batsmen left. A lot will depend on this partnership,"

he said.
Tamim feels that top-order batsman should take the responsibility for the irresponsible and insipid show on Friday.
"Certainly we gifted our wickets away. Naturally, the wicket was extremely good to bat on and when we were batting there was nothing happening as such to cause trouble to the batsmen.
"All four wickets that have fallen were not due to good balls; because if you see all four batsmen made errors. If we were two wickets down then we would have been in a comfortable position still. But as we lost four wickets they certainly are on top."
However, Tamim defended himself for an aggressive play of 44 off 52 balls including six fours and a six. The 31-year-old opening batsman would have backfired to him earlier if he did not opt for the aggressive play.
"I think I played a bit aggressively but apart from me, no one was batting with the same mindset. I think my intent was good and apart from the delivery through which I got out, there was hardly any bad shot that I played. 
I felt that I should hit the ball that is there to hit because batting too defensively would hardly be helpful. If you don't get out playing rash shots then it is alright but unfortunately, I got out to a delivery that should have been kept out."
While Bangladesh batsmen surrendered easily, their spinning department also failed to perform when West Indian batsmen played them with quite an ease and lost wickets only when they tried to accelerate the innings after lunch.
The flop show of spinners raised the question of whether the spinners did not perform up to the mark or the hosts have played short of one pacer, but Tamim felt that the decision of playing spinners backfired as the wicket did not have much to offer.
"It is not rocket science, as when the home-team picks three spinners in the playing eleven, it is evident that we expected the wicket to spin a lot more, but unfortunately it didn't. This tactic appeared fruitful when we had faced the West Indies before, but it didn't seem to work this time around,"

he concluded the argument.